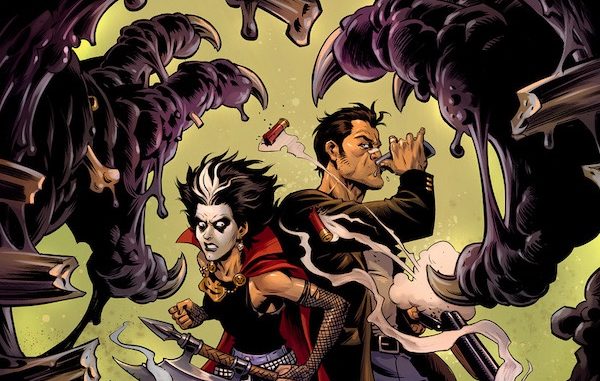 Steve Niles' "Criminal Macabre" and David Dastmalchian's "Count Crowley" are two of "Dark Horses" surprise hit horror comedy series. Of course, as with any comic series, they have a crossover which is a one-shot called "From the Pit They Came" with artist Lukas Ketner.
While attending a convention in Los Angeles that Jerri's agent says will "expand her audience," Cal is chasing after a monster. Both bump into each other they decide to work together to try to fight off this monster that's attacking. What starts off as a normal monster attack turns into a fight to save mankind.
It's a decent plot that fits into both series. Of course, the downside to this plot is the forced romance between the two. Neither character, especially Jerri, need a romantic partner. One thing this comic also does is it proves how much cooler Jerri is compared to Cal. Jerri is this awesome monster fighting badass and Cal is a semi-useless drunk that comes off as someone's sidekick. It's almost as if Niles lost a bet with Dastmalchian over whose character would look cooler in the comic.
Ketner's art parallels the story. Jerri has all the amazing art given to her and Cal looks OK. Again, Jerri is cooler than Cal here. Besides that, the rest of the comic has some high spots too. For Example, in the convention there are a ton of references to horror such as Feddy, Jason and even horror TV host Svengoolie. The monster on the other hand looks like a generic tusked monster. That may be because this is a one-shot so the monster was meant to look generic.
"From the Pit They Came" seems more of a "Count Crowley" story since she's written to be way cooler than Cal, but it's still a decent one-shot story with art that has more high notes than it does low.