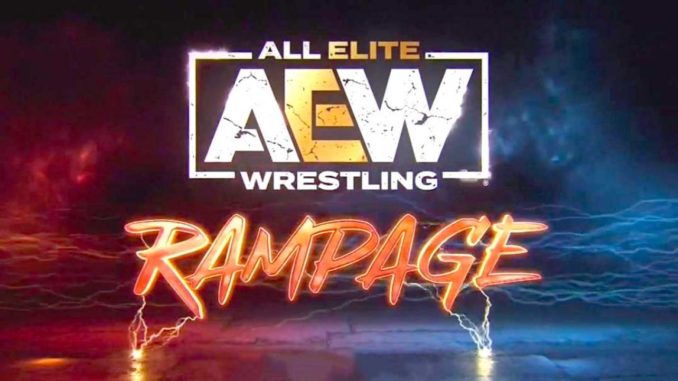 Rampage lacked that big "must see" match on paper this week but delivered a solid show regardless with some underutilized talent. So let's get to ranking it!
Honorable Mention: WarJoe, Adam Page and Trent Beretta. Wardlow says together the power, mayhem and chaos is limitless. Joe says all who stand before them will fall and be left wanting. Moxley says Page might be the future of AEW but he is the here and now. We'll see about the "Cowboy Shit" Page says the only thing he's ever needed and when the cameraman reminds him the match is in Cincinnati he says "Oh Shit" Trent Beretta v. Pac for the All Atlantic Championship was announced for Battle of the Belts. Trent says one of the things his Mom taught him was you never hit a man with a hammer. Pac broke one of Sue's rules and now Orange Cassidy isn't there. He's going to hurt Pac next week.
5. Hook. After 10 months of Hook I think I've finally exhausted my NSync and Justin Timberlake references but Ryan Nemeth came out and said Rocky wasn't real and Ben Franklin was nothing more than a 2 pump chump who moved to Philly to die. But they have a long standing wrestling tradition with Extremely Crappy Wrestling. With that Hook comes out. He jumps over the ropes and obliterates Nemeth before locking in the Redrum as Nemeth passes out. But on the ramp Ari Daivari, Sonny Kiss and James K (maybe, I couldn't make out the name, it was the former VSK but it sounded like Excalibur called him James K) dressed like a butler presented an envelope addressed to Hook that they left on the ramp. Hook took it and left. This was short enough to be inoffensive. Nemeth had grown on me with his awful comedy on BTE so it was nice to see him on TV for a second and the use of Hook as the center of the low card universe to make all these other acts feel slightly more important is nice. I don't think for a second Hook is aligning with The Trust Busters but him running through them could be fun and I enjoyed seeing VSK on my screen because that guy has been grinding for years. I saw him with his former partner EJ Risk in a fatal 4 way TLC match 8 years ago with The Bucks, The Addiction and Tony Nese & Jigsaw so it's cool to see him finally make it.
4. The Firm. Lee Moriarty was joined by W. Morrisey and Stokley Hathaway Moriarty as he faced Fuego Del Sol. Moriarty dropkicked Fuego then stomped him repeatedly against the ropes until the ref stops him. Commentary mentions that Moriarty was one if the young names Danielson mentioned prior to the BCC along with Yuta and Garcia. Moriarty locks in the Border City Stretch and Fuego taps and the ref has to pull him off. Excalibur reminds us that he's had his eyes set on Garcia's ROH Pure Championship and Morrisey plants Del Sol with a massive 1 armed chokeslam. The Gunn Club and W. Morrisey are in the back with Stokley Hathaway. Lexy has to yell to get their attention and asks them about FTR. They say they "Firmly" get TV time and FTR don't. FTR hold the "Ring of Horror" titles, the "Triple A Battery" titles and the "IWGPR2D2" titles but they don't have the AEW tag titles and even though they've had their #1 contender spot for like 8 years they haven't made a move so the Gunns are going to make the move every other tag team does here and leap frog FTR and go straight for the titles. They finish off with "Top Gunns; out." in a final dig at FTR. This coupled with Ethan Page snitching on Private Party made for a well rounded night for The Firm and I wouldn't mind Rampage becoming the unofficial brand of the faction. I will always love Stokely having multiple clients and how old school it feels.
3. Jamie Hayter. Her and Willow Nightingale squared off tonight. Willow comes in with a perfectly even 5-5 singles record to Hayter's 5-3. Hayter has Baker and Rebel with her. They start by rolling around on the floor and Nightingale hammers her with headbutts. Nightingale hits a bodyslam, back senton and low crossbody for 2. Willow hits a fisherman's suplex for 2. Willow cartwheel's out of a whip attempt and Hayter cracks her with a kick. Hayter delivers running knees to the corner. In picture in picture Baker works over Willow's leg in the corner as Hayter has the ref's attention. Hayter hits a backbreaker that hit closer to her neck on her knee for 2. Willow pounces Hayter into the ropes. As Willow goes to get Hayter from the floor Baker distracts her. Willow yells in Baker's face and scares her but Hayter uses the high ground to get the jump on Willow but Willow pushes past and hits her with a Death Valley Driver for 2. Willow climbs the ropes and Baker grabs her leg. Hayter carries Willow to the center of the ring and delivers an impressive high German suplex followed by a short arm lariat for the win. Hayter and Willow are great and both should be getting more exposure. Willow is the best face AEW has in the women's division in my opinion and I'm starting to think she could eventually be the one to beat Jade Cargill for the TBS title despite taking a loss to her already. Though it seems like we'll see Cargill face Nyla next as Rose and Shaffir interrupted her and Grey in the back and stopped Jade as she started talking about "these fat asses…" before challenging her and Rose called Jade's eyebrows ashy which got a chuckle out of me.
2. Rush. During the pre-match segment Silver says La Faccion Ingobernable trying to poach 10 is coming off creepy. Andrade says they're losers and reminds us that Rush eliminated Silver from the battle royal last week. We get "Johnny Hungee!" chants as Tony tells us the referee Bryce Remsburg graduated summa cum laude from the location of tonight's show, Temple University in 1976 which made me laugh because according to cagematch he's only 39. I love it when commentary can just be goofy. After a quick sequence Silver sends Rush to the floor with an uppercut. He feigns a dive but instead rolls and mockingly does Rush's taunt where he lays on the floor and poses with his head in his hand. "El Toro Blanco" then kicked (or pretended to) something we couldn't see out of the ring that commentary speculated it could have been a tooth. Outside he whips Silver into the barricade. Rush stops short of delivering a bull's horns dropkick into the corner and instead just disrespectfully kicks him with 1 foot. Rush tries a back senton off the top but Silver rolls out of the way. Silver deadlift German's Rush twice and catches Rush in mid-air with a powerbomb for 2. Rush hits a northern lights suplex for 2. Silver hits combination kicks and a brainbuster for 2. Alex Reynolds pulls Jose off the apron as Andrade distracts Silver so Rush can hit him. Rush follows up with The Bull's Horns for the win. After the match Andrade and Rush jump Silver and Reynolds but Uno and 10 come down. Butcher and The Blade come down but Adam Page follows. He makes a beeline for Rush and sets up for a Buckshot Lariat but Rush ducks out and Page flattens Jose with it instead and we were told Rush v. Page was added to Dynamite this week. Earlier in the night Andrade challenged 10 to a match for his mask and 10 accepted if Andrade put his AEW career on the line. Ethan Page and Stokley Hathaway also told Andrade they're no snitches but he needs to pay attention to Private Party because it seems like Matt Hardy might be involved in contract tampering. As lame as the WWE shot is I could see Full Gear or a show before having some combination of Andrade, Rush & 10 v. Matt Hardy & Private Party v. Hangman, Reynolds & Silver and either a triple threat trios or any combination of those trios are all matches I'd be excited to see. But it all hinges on 10 actually turning and aligning with Andrade and with the way AEW swerves us and prolongs stories that's far from a lock.
1. The Acclaimed. Their first defense of the AEW Tag Team Championship came tonight as they took on Private Party and Butcher and The Blade in a triple threat match. Matt Hardy was watching on a screen backstage. Kassidy hurricanrana'd Bowens. We were told Wednesday is National Scissoring Day on Dynamite. The Acclaimed hit a neckbreaker/backstabber combination on Kassidy. Marq Quen runs in to try to save him but Caster knocks him down and holds his leg so Bowens could deliver a scissor like leg drop off the middle rope to his nether regions. Butcher and Blade then come in and jump on The Acclaimed. Blade pulls a lifeless Kassidy to the corner to make the tag. He tries to toss Kassidy out of the ring but Quen is on the apron. They try for a Silly String but Blade stops it and tosses Kassidy back while Butcher knocks Quen off the apron. Butcher and Blade hit a leg drop/side slam combo on Bowens. Butcher knocks Caster off the apron to prevent a hot tag. Quen tags himself in and crpssbodies Blade and moonsaults Butcher. Kassidy hits a springboard bottom rope cutter to Butcher on the apron and then Private Party hit Poetry In Motion on The Blade. Quen vaults over the top on to Butcher on the floor and Private Party hit a Hardy-like neckbreaker/swanton combo on The Blade but Max Caster breaks up the pin attempt. Caster vaults Quen over the top but eats a lariat from The Bucther. Butcher and Blade hit an assisted gut buster on Kassidy and a doctor bomb but Bowens breaks up the pin and Butcher tosses him out. Kassidy sends Blade into Butcher to make him tumble outside and then sends Blade out. He follows it with a springboard crossbody to Butcher and The Blade on the floor but Bowens made a blind tag. Caster dives off the top on to all 3 men outside and The Acclaimed hit The Arrival/Mic Drop combo for their first successful defense of the AEW Tag Team Championship. Later on we saw highlights of Swerve with Kevin Gates at Rolling Loud and Tony Schiavone questioned if he'll have anything to say about National Scissoring Day this Wednesday. This was a great first defense for The Acclaimed and the triple threat element helped added a shred of doubt that they could lose the belts even if we all knew there was no real shot at that. I'm hoping Swerve gets stopped from interfering in the celevration by Keith Lee because while I'd be fine with a 3rd match between the 2 teams I think AEW takes entirely too long to do their splits sometimes and waiting to do a trilogy match just to then finally do the Lee/Swerve break up feels unnecessarily drawn out. But we shall see. Dynamite looks great this week so hopefully it lives up to the card on paper.