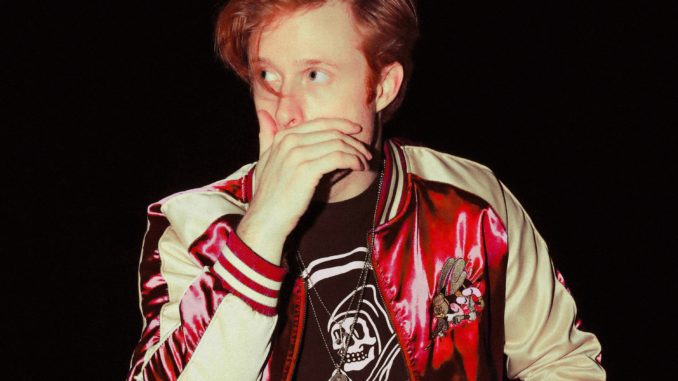 Review Fix chats with singer/singer writer Hake Hays, who discusses his new single and so much more.
About Jake Hays:
The Southern California native has a knack for the performing arts, with songwriter, actor, and director titles to his name. His band, Maudlin Strangers, signed with BMG/Vagrant Records in 2015 after he spent his youth touring professionally and diving into the songwriting process. Throughout his career, he's shared the stage with many well-known bands, including Bad Suns, Cold War Kids, and LANY. As a songwriter, his credits include writing with Matt Sorum (Guns N'Roses, Velvet Revolver), Grammy Award-winner Holly Knight (Aerosmith, Pat Benatar), and Cherie Currie (The Runaways). As a producer, he amassed over 69.8 million streams with his work for HUNNY's "Televised," and 7.1 million streams for his own work, including his lead single, "Sleep Talk." The release of his debut EP, "Room 13," was the first-time fans and critics got a glimpse at his self-titled musical style after a house fire ruined the body of work he was making for Maudlin Strangers.
Review Fix: What makes your tunes unique?
Jake Hays: To my own ears, after hearing my songs for hundreds of hours, they sound like absolute mush to me but I've been told I have a unique dark pop rock sound with elements of Arctic Monkeys and Glass Animals, and that my voice seems to be the the standout aspect. I've been told it sounds nostalgic and classic but yet still modern. I'll take it!
Review Fix: What kind of stories do you want to tell through your music?
Hays: I tend to go between either real life experiences or a completely made up story based off of an idea that'll come to me randomly. I strive to have songs that make you visualize and daydream whatever the context is about.
Review Fix: What inspires you to write?
Hays: Over time, I've realized that writing for me is like therapy. When I put it off for too long, I can feel that congestion and need to purge whatever stress is subconsciously weighing on me. And whenever I do write after that feeling, I always feel lighter and an element of relief.
Review Fix: Who are your favorite performers? What do you borrow from them?
Hays: I'm a huge fan of Josh Homme (frontman of Queens of the Stone Age), he's got some cool essence to him that's so intriguing, and his music is perfectly fitting to that vibe. I also love Alex Turner from Arctic Monkeys, and it doesn't bother me that my voice is often compared to him.
Review Fix: How was "All I've Got To Say" written?
Hays: I originally wrote the chorus in 2016 when I was writing an EP for my project Maudlin Strangers, but I was never sold on the rest of the song I had written around it. Fast forward to this year, I sat down in a writing session with one of my best friends Alexander Morgan (who produces under the moniker Schmorgle), played him the chorus and asked him to help me reimagine everything surrounding it. Nearly instantly, he grabbed an unplugged electric guitar, quickly dabbled out the chords, and under his breath he hummed to himself "It's irrelevant, one thought got stuck in the room like an elephant," and immediately I was like, "That. That's exactly it." The rest just started flowing so easily, so that day we mapped it all out and tracked it. It was the first song for this project that Alex and I wrote together and I feel we clicked on a level I've experienced with very few people. He's one of the most creative producers and songwriters I know. My future ears are excited to listen to all the new stuff we'll end up writing together.
Review Fix: How has your time with Bad Suns, Cold War Kids, and LANY influenced this one?
Hays: Touring with those amazing bands was so beneficial, even just for the life experience alone. Those were not the easiest tours (vans breaking down, storms, homesickness, logistical issues, long drives, little sleep), they were absolutely exhausting, but so much fun. Going through those experiences really challenges you as a person, and I feel that ultimately I've learned a lot from then to now, and only feel more capable and more ready than I ever had before.
Review Fix: What about your other writing credits? How did they prepare you for this?
Hays: I'd say the experience that's come from working with different artists has only expanded my view of what music could be. Every writer has their own voice and brings something different to the table, and that's always refreshing to experience. It helps pull me out of my own head sometimes, and I get really inspired collaborating with the seedlings of ideas that other people bring to the table.
Review Fix: What's your favorite element of this track?
Hays: There was a last-minute piano part that I added to the track before mastering that ended up driving the song forward in a way that I had been missing for so long and couldn't figure it out, so that's probably become one of my favorite elements.
Review Fix: Who do you think will enjoy it the most?
Hays: I'd say anyone that's into a bouncing alt-pop rock track, as well as anyone that's a fan of Arctic Monkeys. And probably my mom.
Review Fix: Why does it belong in my Spotify playlist?
Hays: I'd say it'd add a solid three and a half minutes of whimsy and edge to your playlist that'll leave you wanting to re-listen.
Review Fix: Where do you want this track to be a year from now?
Hays: Ideally in a bunch of different playlists with solid streaming numbers, and even synced in a TV show if I'm really lucky.
Review Fix: What's next?
Hays: Currently putting together a new body of work that will either be released as an EP or trickled out as singles, but there's already a group of songs with an evolving sound that I'm very excited about.
Review Fix: Anything else you wanna add?
Hays: I'd say follow me on Instagram (@jakehays) and TikTok (@jake_hays) to stay up to date, as well as see the goofy content I post, and if you like the music, feel free to DM me and tell me! I love responding to messages, and those always make my day.
Review Fix: Where can people find out more about you?
Hays: People can find everything they need at www.jakehays.la, and I post the most updates on my Instagram (@jakehays) and TikTok (@jake_hays)