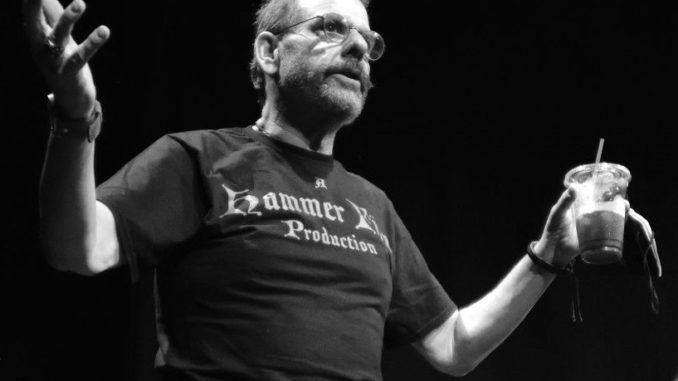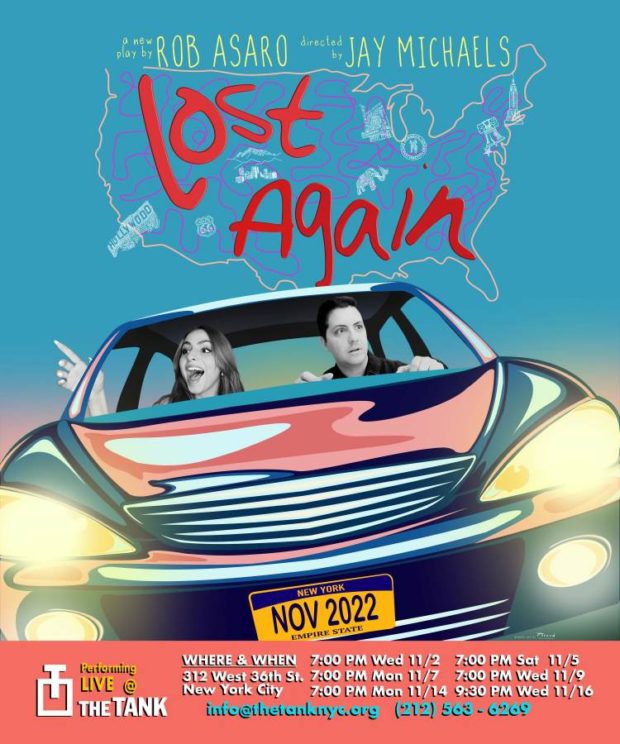 Review Fix chats with actor and playwright Rob Asaro and director Jay Michaels, who detail their newest production.
About "Lost Again":
An unlikely pair travel cross-country in Rob Asaro's new play Lost Again. The limited run plays November 2 – 16 at The Tank in New York City. The production is directed by Jay Michaels.
Lost Again is a road dramedy about two mismatched strangers paired up by a mutual friend: Ilona Young, a type-A, know-it-all travel blogger on a cross-country assignment and Casey Calvino, a jaded comedian on a tour of the U.S. Their story is one of identity, pain, adventure, friendship, moving on and moving forward. Each act will take place in a city, or town, en-route from New York to Los Angeles. The story is part misadventure, part self-discovery, and part buddy dramedy.
The cast stars Rob Asaro and Katie Lyons (Hideout/Amazon), and features Mike Allen, Jack Barry, Ed Friedman, Helen Hood, Gail Payne, Michael Pichardo, Ashlyn Prieto, Lauren Rathbun, Mikayla Sherfy, Kelly Thomas, and Isaac Williams.
Lost Again performs Wednesday, November 2 at 7pm, Saturday, November 5 at 7pm, Monday, November 7 at 7pm, Wednesday, November 9 at 7pm, Monday, November 14 at 7pm, and Wednesday, November 16 at 9:30pm. The Tank is located at 312 West 36th Street (between 8th & 9th avenues), 4th Floor, New York, New York 10018. Subways: 1, 2, 3, 7, A, C, E, N, R, Q, W to 34th Street. Audience members must show proof of vaccination. Tickets are $25 (general), $20 (students), $15 (senior).
Jay Michaels (Director) was part of the original off-off Broadway movement and appeared at Lincoln Center's tribute to the movement and Caffe Cino. A prominent figure in the independent theater and film communities, Jay is a stage director, live event and film producer, event marketing professional, and published professor at several universities. He is also a noted horror film historian and on-air personality for FearCon TV on ROKU. www.jaymichaelsarts.com
Review Fix: What was the inspiration for this project?
ASARO: I tend to write about similar themes and ideas: Meaning, death, identity, loneliness, and show business. This time around I knew I wanted to write about a road trip because they can be
spiritual, weird and it can scramble your brains a bit. I liked the idea that as the setting changed, in some small way maybe the genre or storytelling shifted as well too. I also write for myself as I am an actor, – so I write projects that I would want to play in!
Review Fix: What's your creative process like?
MICHAELS: I enjoy asking questions of my cast and building a show from there. It makes all the difference as to their take on time, location, feeling, their life experiences. Sometimes even the actors' chemistry can give my staging. Just recently, we staged a scene which showed me the varied energies of the actors. It entirely governed how I placed them on the stage and even guided how we formatted delivery. I engage the cast as much as possible in my decision-making so they "own" the characters and feel totally invested in the process.
ASARO: My creative process is three parts doubt, two parts excitement, and nine parts panic. When I'm in the flow – I feel invincible. And when I am struggling to write, I feel like I'll never write again. In order for me to engage in a project I need to believe (or delude myself into thinking) that I can make the project. I never wrote a script without the intention of making or producing it.
One of the few positives of the pandemic for me was Lost Again. Originally a series, the first and second episodes were written pre-pandemic (without any notion of writing future episodes) but I reread them and was jazzed about it and wrote the final eight episodes during the quarantine but did not adapt the series to a play until late 2021. The potential of the work as a play did not even occur to me until then, and even when it did, I was not sure it would translate. I used eight of the ten episodes in the translation, so in many ways each act is its own story. It was interesting writing a series about folks on the road during semi-captivity because there was tremendous research that went into where they were. I watched travel videos and read blogs, and so on. So, in a way I felt I was living vicariously through the characters as opposed to actual reality where I was trapped inside, mostly ranting to an apolitical cat about how a gameshow host could get away with berading our nation's top immunologist. That said, I regret that nothing I wrote was as stunning, or smack-you-in-the-face wild as a U.S. president suggesting that we all drink bleach as a remedy for sickness.
Review Fix: What makes this different or special?
MICHAELS: Rob is a film/TV guy so there is a "cinematic" quality to this work – which intrigued me. He also juxtaposed flashback/dream sequences giving it a "Fellini" touch. Both made this a tempting piece for any director who enjoys the grander scope AND the intimate human drama-style.
ASARO: Road Trip stories are usually a race against the clock, or about a mad rush to get somewhere. They are made with the destination front and center I wanted their inner-life to influence the story, and for them to be able to be where they are – which is to say I wanted this story to be deliberately paced so that each place they visited mattered as much as the final destination. In many ways they are going on the road to escape reality – so they aren't in any rush to get anywhere, but the drama comes from how they are trying to work out their inner turmoil as new experiences present themselves along in the present, during their journey.
Review Fix: What did you learn about yourself through this process?
MICHAELS: I came to the realization that I can immerse myself into each character as much as the actors. This might seem expected, but I didn't feel separated, like I was watching the whole picture. I tapped into my own experiences per character while filling in a broader picture. It's like completing a puzzle – I could see the big picture, each section, and even the minute shape of each piece simultaneously. Again, maybe that was always there but I felt it clearly during this show.
ASARO: I really believe that I learn about what matters to me through my writing. I don't purposely set out to write about certain themes, it just works out that way. I think we repeat themes because
certain aspects of life inspire, torture, confuse or fascinate us. I become consumed, obsessed even with certain aspects of life and so I write about them.
Review Fix: What are your ultimate goals for this production and for the future?
MICHAELS: Rob has his own thoughts, but I'd like to see this become a limited Netflix series. Knee-jerk is to say a bigger run but I think we have universal themes that need a place to be fleshed and a broader audience to enjoy it.
ASARO: I want to perform it on stage as much as possible. We are talking with a few theaters and trying to figure out where to go after this initial limited run because our cast is off-the-charts-amazing, and we all feel really jazzed about the project. It's an absolute joy to work with these people. Chemistry like this doesn't come along every day. It is an absolute thrill to work with our director Jay, and Katie (Ilona) and everyone else without exception and this is a thirteen-person cast! You'd think there'd be one guy where you'd say – "Ugh him!" But no! All of them! Stunning! Across the board! Ultimately, this is meant to be a series. I've never fought harder for a project in my life. And trust me I've jumped out of planes for an indie I wrote, I've poured my money into a pilot, and two web series, I even came very close to getting shot out of a cannon…. But I've never believed in the future of a project more than Lost Again and I intend to do everything I can to get it made. I love what this project became as a stage play but ultimately, I want to see these characters in the settings they were intended to be in. I want them to take the actual journey and I want a wider audience to be able to be part of it. The biggest part of our promotional campaign is about getting those decision makers on television to come see what we have, because all ten episodes are ready to go.
Review Fix: What's next?
MICHAELS: I just got out of a development meeting for the next level of a musical I'm producing called RELAPSE; I'm reading a sci-fi musical for possible direction called ELLIPSES; I'm awaiting word of date and place for a stage reading I'm directing of Doug DeVita's play FABLE; I'm producing a concert directed by my wife, Mary Elizabeth Micari called LIVIN' LIFE LIVE. That's it… But the day isn't over yet.
ASARO: I have a reading for another project – Night at the Diner approaching soon. But who am I kidding – I can't think of anything other than the November show and the future prospects of Lost Again.