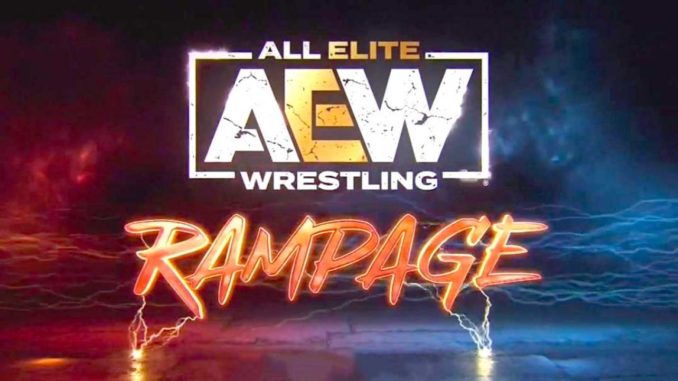 Twas the night before Full Gear and all through "The Rock" wrestlers were stirring and their mouths getting socked. With the PPV 1 day away there were tournament berths and titles and more at play. We're less than a week from giving holiday thankings so let's get to this week's rankings!
Honorable Mention: Sammy Guevara and John Silver. Jericho and Sammy are in the back with Schiavone. "The Ocho" said that Danielson and Castagnoli's egos will get the better of them and they'll come to blows, but Guevara has his back and he'll make sure it stays within the J.A.S. and specifically on him. As he walked off Sammy shook his head and said "We'll see about that," but on commentary Jericho reassured everyone Sammy has his back before questioning what Sammy said. Jericho said Sammy is good, but not ready to be champion yet and said the student doesn't beat the teacher unless it's a dumb karate movie. In the back, John Silver and Jose The Assistant had an exchange where Silver said he was going to beat this "Rush bag" and that he wasn't worried about a guy whose last name is "The Assistant" Rush told him his problem is he jokes around too much and Silver said the 2 of them (talking about him and 10) could beat the 2 of them. 10 walked off. I like them going back to the 10 story because I do think Preston Vance could have some success without the mask teaming with Rush or another more firmly-aligned heel. AEW seems to always have chances for a heel turns they tease, but don't take. But 10 attacking Silver could get a great reaction if done right and in the right city. 
5. Orange Cassidy. We got The Best Friends challenging The Factory to a 5-on-5 match tomorrow. When QT Marshall said there was only 3 of them they said "Rocky's here!" and Rocky Romero showed up and then Orange Cassidy handed a VHS to Renee Paquette and told The Factory to watch the spooky video while Renee questioned how she was supposed to play it? Trent said he also emailed it and as The Best Friends walked off a dark Danhausen video played and QT seemed unbothered because it's clearly Danhausen. Later the match was announced as including a "very nice, very mysterious" partner as the 5th man for The Best Friends and it being so obviously Danhausen tells me it's somebody else. Likely somebody much bigger who would be willing to do the Danhasuen shtick. Paul Wight is my guess but I could also see Dustin Rhodes doing it or Erick Redbeard which feels like the most likely choice. I'l also throw out a curveball and say with it being in Jersey Nick Gagehausen would be HILARIOUS! Nothing more evil than MDK. All night and all day. 
4. Hook. "The Cold Hearted Handsome Devil" put his 15-0 undefeated streak and FTW title on the line in his fourth defense against The Firm's Lee Moriarty. This looked like it could be Hook's most competitive match-up to date and it was. There was a decent back and forth but Hook ultimately moved to 16-0 with the Redrum submission. I feel like these 2 are capable of doing so much more than they did here but it still showed a step up in competition for Hook without him ever feeling like he was in real jeopardy so it made some sense. I just wish Moriarty would be treated like a more serious threat. 
3. Athena. Athena took out Madison Rayne with a new finisher. After the match she locked Rayne in a submission and when Aubrey Edwards tried to force her to break it Athena decked her. This brought out a returning ROH Women's Champion Mercedes Martinez who Athena dodged. This was a good way to reinforce/introduce Athena as a heel for a crowd that likely doesn't follow Dark but Martinez coming out did make me groan for a second because I was hoping Athena could be Saraya's first feud after Baker but with Final Battle coming up in a few weeks, it makes sense to start building that card now and Athena is a worthy challenger. I just hope Athena can keep this run going either by winning or being covered for in a loss because I'm really enjoying her as a heel. 
2. Eddie Kingston. He and "Monkey" faced Jun Akiyama and Konosuke Takeshita from DDT in tonight's main event. Backstage Takeshita said Eddie is going to have to fight for his life tonight. Takeshita and Kingston started things off and exchanged holds before Ortiz tagged in and Eddie took a shot at Akiyama on the apron. Akiyama tagged in and landed a return shot on Kingston. Jun piledrove Ortiz and started to civer before breaking it because he saw Eddie ready to head in. Akiyama & Takeshita pulled off a double team on Ortiz. The DDT duo continued working over Ortiz during the picture in picture but Ortiz was able to hang Takeshita up on the top and hit a cutter before tagging in Kingston who started working over Konosuke and taunting Akiyama as he fired off chops in the corner. Ortiz threw Takeshita into a DDT for 2 as Kingston stared a hole through Akiyama. Eddie pulled his singlet down and exchanged chops with Eddie before Takeshita hit a leaping lariat and both men tagged in their partners. Akiyama hit a jumping knee on Ortiz and he grilled Eddie and looked for an exploder suplex but Kingston came in Akiyama hit him with elbows before Kingston chopped him. Ortiz knocked Akiayama down with a kick before eating a Blue Thunder Bomb from Takeshita. Eddie hit Konosuke with a backdrop driver. Eddie and Jun exchanged shots again and traded exploder suplexes. Akiyama kneed Kingston to the face, kneed Ortiz in the back of the head and hit him with an exploder suplex for the win for team DDT. The story here was simple but fun of Eddie wanting to get his hands on Jun but being unable to. I started thinking towards the end that they might have held back and limited the Eddie & Akiyama stuff to do a singles match on Zero Hour for Full Gear and I stopped myself mid-sentence just to make sure it hasn't been announced but IT HAS! That makes me very happy since I have tickets. 
1. Ricky Starks. While the announcers were showing the graphic for the first-round match in the Eliminator Tournament they cut to Lance Archer tossing Starks into the loading gate and some production cases. Archer tried to toss a crew member at Starks who just got out of the way. They entered the arena and Ricky nailed him with a garbage can. They continued brawling in the crowd and Starks jumped at Archer.  Archer leaped over the barricade to take him out and all this before the match could even get started. Starks wrestled in a Devils jersey (which makes him a heel to me as a Rangers fan), black pants and dress shoes as commentary questioned if Archer attacked him in his locker room. After the bell, Archer Chokeslammed Starks on the apron from the floor. Starks fought out of a Blackout attempt and after some more back and forth Starks got a quick win by spearing Archer and rolling through to hold a high stack pin. After the match, Brian Cage and Prince Nana came out to confront Cage's opponent for tomorrow in Starks which allowed Lance to attack from behind and chokeslam Starks on the side of the stairs. I thought this might go longer than it did but it was fun while it lasted. Starks is a star and Archer should be such a bigger deal than he is. This was a great way to start the weekend and I expect Cage and Starks to be as good as any Buy-In/Kick-Off/Zero Hour match is allowed to be.