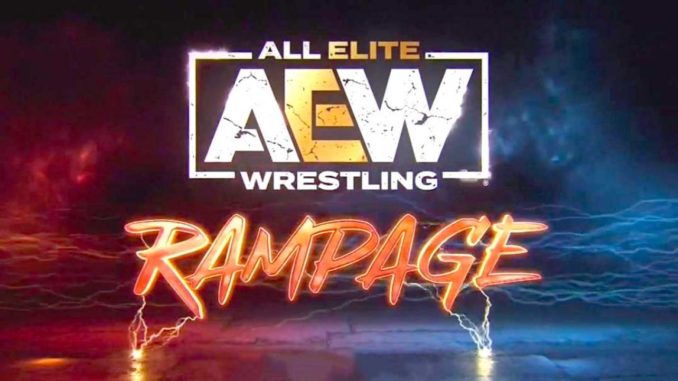 Maybe I'm still riding the Thanksgiving high but I thought this was a really solid edition of Rampage even if there are a couple of ROH feuds I really need to just die already. So let's pop some leftovers in the microwave and rankings on this digital paper!
Honorable Mention: Powerhouse Hobbs, Claudio Castagnoli and Toni Storm. We got a video package of Powerhouse Hobbs going through his neighborhood. He said whatever you believe in you should look up high and down low because just like everyone has taken everything that meant something to him he's taking everything that means something to you. Jericho came out with the J.A.S. and his chest bandaged up from his war with Ishii Wednesday. Jericho asks who is going to uncrown the king of Ring of Honor because it won't be Claudio Castagnoli. This brought out Claudio who says he knows he can beat Jericho because he did it twice but he started doubting himself because he couldn't do it when it mattered most. He doesn't just need to beat Jericho. He has to. "The Ocho" said Claudio should be more worried about the BCC falling apart. Claudio needs another shot at the title. Jericho tells him forget it because there's nothing he has that he could offer him. "Daddy Magic" interjects and says there was a time Claudio was a great sports entertainer and he'd make a great addition to the J.A.S. The idea "makes (Jericho's) nipples hard" and says he'll get his rematch but when Claudio loses he'll become the newest member of the J.A.S. Castagnoli says he is a great sports entertainer but he knows he's a better professional wrestler. He says he'll beat him at Final Battle and bring honor back to the title. I love both of these guys but I absolutely hate this as the Final Battle main event. People who've already held the title going to get it back has always felt pretty lame to me and it's twice as bad when this whole thing feels rushed, thrown together and forced like this does. They have not done a good job at all building to this rematch. I'd have much rather seen a different challenger for Jericho. This should have been done this Wednesday to set up a new challenger for Jericho. Hell, Claudio isn't even in my top 3 choices of Jericho's oplonents for the belt just out of BCC members. A very defeated Toni Storm looking exhausted was in the back with Renee Paquette and she said Jaime may have won the title but she had to cheat to do it and that could never be her. That title was never interim to her. She broke her face losing the title and she'll break it again to get it back. Storm looking as out of sorts as she did really helped the story of her being broken up by losing the belt and was something we don't see enough of with former champs. 
5. Athena. Athena was interviewed in the back where it was mentioned that she was suspended a week for putting her hands on Aubrey Edwards. She says she was fined and what more could they want? Lexy Nair said she has to publicly apologize to Aubrey so Athena gives a half-hearted apology and Lexy says she guesses she'll be reinstated Monday. Athena dismisses her and tells the camera she was wondering how long it'd take Mercedes to show up. She beat "trash bag wrestler after trash bag wrestler" and finally she showed up. When is she going to put the ROH title on the line? Because she's ready and she's game. I like this so much more than the men's ROH Title match for Final Battle. 
4. Hikaru Shida. Hikaru Shida was scheduled to take on the 0-2 Queen Aminata when Penelope Ford and The Bunny came out. Aminata took advantage of the distraction to get the jump on Shida and hit a running kick on the apron with Shida's head between the ropes. Shida hit a Falcon Arrow and Kitana for the win as the evil duo looked on smiling before retreating up the ramp. 
3. Darby Allin. With Sting in his corner Darby took on fellow Evolve alumni Anthony Henry accompanied by Work Horsemen teammate JD Drake. Darby avoided a baseball slide attempt by Henry and flew out of the ring onto Drake. Henry back heel tripped Darby on the apron. There was a fun spot during the picture-in-picture break where Darby tried to springboard off the ropes into a Coffin Drop but Henry caught him in a German suplex for 2. Henry peppered Darby with kicks as he hung upside down in the corner and then landed a dropkick and a neckbreaker out of the corner for 2. Henry came off the top with a double knee drop but Darby avoided and Henry landed right on both shins. Darby followed with a Code Red for 2. Henry escaped to the outside and after Darby rolled him in Drake seized on the opportunity of the ref checking on Henry by tossing Darby into the ropes from the floor and nailing him with a big forearm and tossing him inside so Henry could get a near fall. Sting hit Drake with a clothesline and weakly whipped him into the barricade as Henry looked on shocked. Henry pointed at Sting as he delivered a superplex to Darby. He held on and tried for another suplex but Darby dropped down and hit a Scorpion Death Drop and a Coffin Drop for the win. I had seen a little bit of The Work Horsemen in Evolve but this was by far the most impressed I've been by Henry. I know he's been used regularly on Dark but I wouldn't mind seeing him used on TV more. I know he and Drake have been a team for a while and I like the bigger guy/smaller guy dynamic but something about Henry's look makes me want to see him teaming with Kip Sabian. Maybe make both of them and Drake a trio? Just throwing it out there. And Darby is always entertaining and never fails to make it look like he's just been in a way. This week that happened via a bloody mouth. 
2. FTR. The ROH Tag Team Championship was on the line as they took on on the youngest tag team in AEW, the reunited Top Flight. Excalibur told us this was Top Flight's first 2 on 2 match since April 6th because Darius was involved in a serious car crash. Top Flight hit a nice leg sweep/DDT combo early. Darius tried to sunset flip Wheeler but Harwood held his hand to keep him up until Dante came flying in off the ropes with a knee to Dax that allowed the elder Martin brother to finally complete the flip for stereo covers for 2. They followed up with simultaneous hurricanranas and dual covers for 2. Top Flight sent the champs to the floor and Darius hit a tope followed by Dante stumbling a bit on a no hands leap to the top and hitting the floor with a single arm axe handle like strike. Dante followed with a crossbody on Dax in the ring for 2. Dante tried to vault over the corner and headbutted Cash. They started to climb and Wheeler sent him off the corner and on to Dax' shoulders who hit a slingshot powerbomb followed by a splash from Cash that Darius was able to break-up at 2. Darius was able to break up a Big Rig attempt so Dante could try another sunset flip with a high stack pin but Harwood broke it up. Darius hit a tornado DDT followed by a big splash from Dante but Cash was able to push Darius into the pin to break it up. Darius was able to whip Cash off the ropes for a standing Spanish fly but Dax then hit him with a brainbuster. Dante then caught Dax in a victory roll for 2, a cradle and a cazadora roll through for another pair of near falls. Dante tried a Nose Dive but FTR avoided it and hit a Big Rig for 3. After the match The Gunn Club came out with an obnoxiously large bag of popcorn to mockingly applaud FTR. This was only a little over 10 minutes but packed with 20 minutes of action. FTR is great but the sky is pun fully intended the limit for Top Flight. I had initially heard a report on a podcast that Dante seemed to be injured and after a few missteps I wouldn't be shocked to hear he was concussed but it didn't look to me like it could be anything else so hopefully the doctor's checking on him were either a precaution or good selling because I really want to see Top Flight finally get a run of good health and great matches. Later in the night FTR was interviewed in the back and Dax loves Cash but he's gotten to do more as a singles guy this year and he wants to shoot his shot before 2022 is out and he challenges Danielson for Dynamite and it's made official. That should be an old-school hoot! 
1. 10. 10 wasn't with Silver & Reynolds for the pre-match interview with Mark Henry. Reynolds is sure 10 will be there. Blade says it doesn't matter what number shows up and Butcher, in the first time I can ever remember him speaking, says tonight there's an ass-kicking party and the only ones invited are "(Dark Order) you crumbs!" and I'm struck by how much The Butcher sounds like "Daddy Magic" Rush is ready to fight and needs to fight and with 10 nowhere to be seen Mark Henry tells us it's time for the main event. The 2-0 trio of Rush, The Butcher and The Blade took on the more established Dark Order but 10 was still absent at the start of the match. Butcher and Rush got the jump on Silver on the outside as Reynolds clashed with the Blade in the ring. Silver tried to dive into The Butcher but he was caught and Rush delivered a forearm. After Silver tried to valiantly hold his own to no avail Uno and -1 came out on stage and ushered 10 down. 10 ran to the ring and stood toe to toe with Rush before flattening Johnny Hungiee with a lariat. Uno ran down but Butcher and Blade held him and forced him to watch as Rush hit Silver with the Bull's Horns for the win. After the bell Butcher and Blade sent Uno into the stairs and Renolds went at 10 but ate a discus lariat of his own. 10 flipped off the crowd as -1 looked on with a broken heart. 10 delivered one more lariat to Uno before he and Rush ripped his mask apart. Rush and 10 double chokeslammed Reynolds through the time keeper's table and they raised their fists together as Tony Schiavone delivered a great line of "From the hand open to the fist clenched in one fell swoop for 10" 10 made a beeline for -1 and he ripped his mask off and threw it at -1 who crouched down sadly on the ramp as La Faccion Ingobernable celebrated around him. This was one of the best heel turns in AEW's short history even if it, like most AEW stories, had been stretched out for a long time. I think had Andrade been on better terms 10, Rush and he may be gunning for the trios titles right now but I'm still curious where this goes. Vance has the star build and look so now we'll see if he can put it all together. And Dark Order should be even more sympathetic, beloved faces coming out of this. I'm hoping the long term goal is Hangman Page helping the Dark Order. Time will tell.