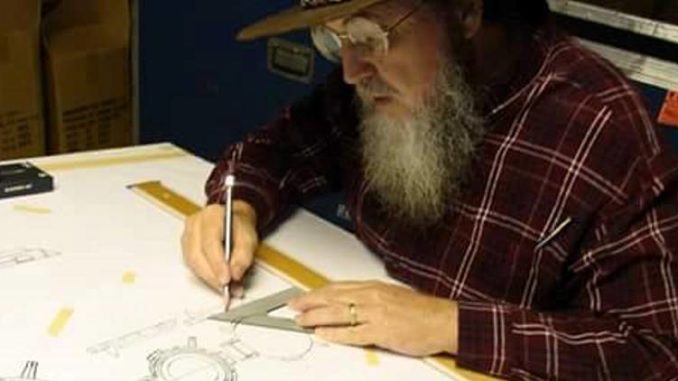 Review Fix chats with World's Fastest Drummer creator Boo McAfee, who discusses the game's development cycle and so much more.
Find out More Here:
Drumometer— www.Drumometer.com
World's Fastest Drummer- www.WorldsFastestDrummer.com
SpeedE— www.SpeedEtheWFD.com
Riseup Labs- www.RiseupLabs.com
Review Fix: How was this game born?
Boo McAfee: Well, we have to go back about 40 years to when I started working on the speed detection device now known as Drumometer. I have been a professional drummer in Nashville, TN all my life. In the late 70's at the tender age of 19, I was inspired by an argument between two legendary drummers over who was the fastest drummer in the world. The first drummer claimed to be the fastest and the second was legendary Buddy Rich who simply asked "oh yea, what machine did you use that tells you this?" After 24 years or so on the quest to invent such a machine, we finally got the Drumometer built. Shortly after we started marketing the Drumometer and with the primal human instinct to hit things fast and get a quick reward an extreme sport broke out called WFD for World's Fastest Drummer. As WFD grew it just became a natural progression to move into the gaming realm.
Review Fix: What is your role in the game?
McAfee: As founder and CEO of McAfee Enterprises Inc. creators and IP owners of World's Fastest Drummer entertainment and gaming properties, I over saw the development of World's Fastest Drummer Mobile game along with Ershadul Hoque and Sheikh Robin Emon of Riseup Labs Bangladesh.
Review Fix: What has development been like?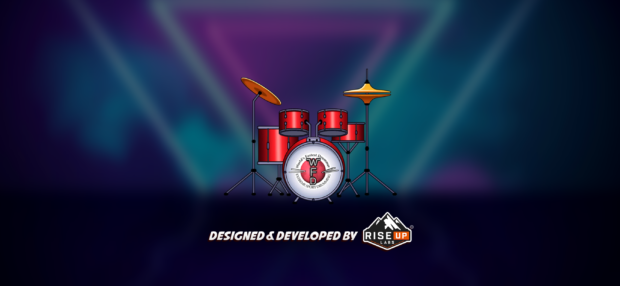 McAfee: Once we found the right partner in Riseup Labs, which is the leading technology and game developer in Bangladesh, things went amazingly well, especially to be on such a fast track. We are talking three months from partnership negotiations to an ios/android beta test version at google play and app store. I have been extremely pleased and downright impressed with what the team at Riseup Labs have been able to accomplish in such a short time.
Review Fix: What makes this game special?
McAfee: WFD Mobile Game is a game for everyone, not just drummers. As Aaron Fechter the inventor of Whack-A-Mole says- "WFD Game is like Whack-A-Mole on Steroids!"
I mean, WFD taps into that primitive instinct of hitting something as fast as you can and receiving an instant reward. Although it is the only game built around our movement called WFD-Extreme Sport Drumming, the game is made for anyone in the family, school or friendly gathering. WFD mobile game is for anyone who knows their right hand from their left.
Review Fix: What games influenced this one the most?
McAfee: I mentioned Aaron Fechter above, and I have to say he and his mega contribution to gaming and entertainment with not only 'Whack-A-Mole' but also his ShowBiz Pizza animatronic band, 'Rock-afire Explosion' all influenced me greatly! Aaron as an inventor was so far ahead of his time. I mean the guy invented Whack-A-Mole when he was twenty one years old. Also the old school game 'Field and Track' has been an influence.

Review Fix: Any fun stories or wild moments during development?
McAfee: Like many creators the rejections were fast and furious. However, I had pitched Drumometer, WFD and WFD IP's for over 22 years so rejection became almost a 'no brain-no pain' daily activity. The most common rejection reason by far was "WFD seems like just a niche game for drummers only!"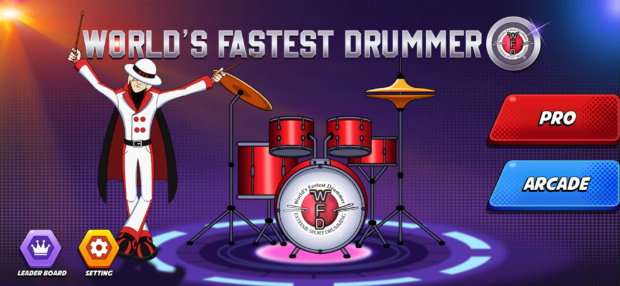 After pitching WFD IP's for better than 20 years, I had out lasted multiple toy and game relations executives at the top companies, so I found myself pitching the same company every couple years when the executives moved around. I kept hearing the same reply; WFD is a game for Drummers only! So one day I was talking with my mentor Aaron Fechter and told him the common replay, Aaron said, next time one of those guys say that say "Yea WFD is a game for drummers only just like Whack-A-Mole is a game for only EXTERMINATORS!"
Not sure how much it helped my pitch, BUT it was always fun hearing their corroded mental gears actually grind to a halt……lol
Review Fix: What were the major lessons learned?
McAfee: After almost 50 years with WFD and the 'World's Fastest' family of brands, I have adopted the attitude of a G.O.A.T…. G.O.A..T.= Go On And TRY! If you are tied into your 'Truth against the World' meaning you are doing what you are supposed to do, then the proper tools will be put in your path.
Above all do not let the little people try to shrink your world, because that is all they can do. It's easier for little minded weak people to shrink your world than it is for them to enlarge theirs.

Review Fix: Do you think preserving older gameplay mechanics in new games is important?
McAfee: I do and that is why we believe so much and are using such the primal instincts and game play in WFD gaming. And honestly that was an advantage in selecting Riseup Labs. I had studied game development companies and found that Riseup Labs had the technology already in place in a game called 'Speed Tapping', so it made perfect sense to partner with them instead of trying to reinvent the wheel.

Review Fix: The marketplace is crowded. How do you think you stand out?
McAfee: World's Fastest Drummer is a highly charged, twenty two year old, internationally recognized brand with a loyal fan base. We are hoping those two decades of events and goodwill with our fans and name recognition will carry over into WFD gaming and give us some fuel and edge to stand out in the crowded marketplace.

Review Fix: How have your previous experiences in industry helped this game?
McAfee: Yes for sure, before WFD mobile game we, did an online flash version of WFD for MTV's 'Addicting Games' that did over 1.6 million plays in the first 60. We had also done an Arcade cabinet version of WFD game which tested really high pre Covid so we knew as far as proof of concept, that WFD gaming was strong.

Review Fix: How do you want this game to ultimately be remembered?
McAfee: FUN!

Review Fix: What's next?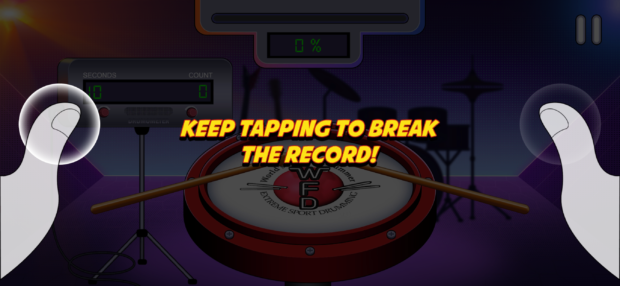 McAfee: The long term plan between WFD and Riseup Labs is to start with WFD Mobile, take the data and results from the mobile game and use that data to continue growing the WFD brand into other platforms such as PC, VR, and other areas of entertainment.
Review Fix: Anything else you'd like to add?
McAfee: Yes, we are extremely excited about our action character that has taken legs via the World's Fastest Drummer Mobile Game. That is SpeedE the WFD. SpeedE is the alter-ego of Stanley, a well-mannered band nerd that transforms into SpeedE when injustice of any kind occurs.