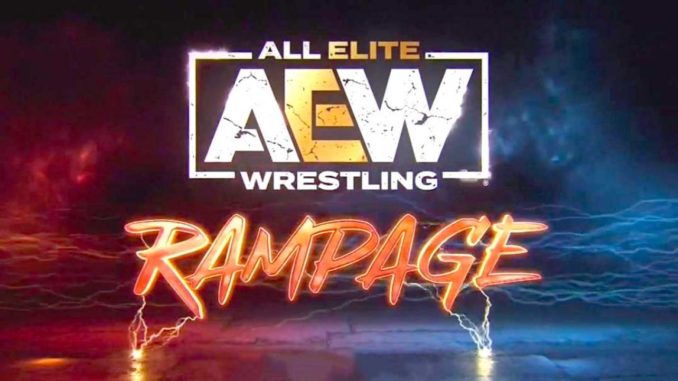 My Christmas wish was nearly granted this week as there was virtually no Ring of Honor stuff on Rampage and it's no coincidence that I found this to be a more enjoyable episode than the last few even if it's still an across the board largely inconsequential show compared to Dynamite. That being said let's get to ranking this week's episode!
Honorable Mention: Hade Cargill and Preston Vance. Jade Cargill questioned why Red Velvet looked so salty last week as Velvet was behind her mimicking her. Vance said Dark Order wasn't his brothers because he was hand-picked by Mr. Brodie Lee and the other guys weren't. He was a college athlete and Dark Order aren't on his level. LFI are his real brothers. Vance is sorry for what -1 went through losing Brodie but says over the last 2 years he's turned into a snot-nosed spoiled brat. He says if he had 1 message for Little Brodie it'd be that it's time to grow up. 
5. FTR. A heavily bandaged up FTR came out. Cash talked about how disappointing the last week has been. Not just because they lost or Dax "broke his ass bone" which caused Dax to moon the camera. They were disappointed because they felt like they let the fans down. But the "Dumb Ass Boys" won't be the ones to end their legacy. Dax joked about how after Final Battle his daughter noted people liked them, but wasn't sure why. He said it's because they make people feel their love for wrestling and The Gunn's robbed then of that chance. He said this Wednesday they're going to do what Daddy Ass should have done a long time ago and whip their ass. 
4. Dr. Britt Baker D.M.D. faced off against Skye Blue. Baker used the numbers game to her advantage quickly as Hayter and Rebel stopped Blue from climbing the corner allowing Baker to hit a twisting neckbreaker. Blue tried to fight back with a knee to Baker as she turned around from putting the glove on and attempted to set-up a Code Blue but Baker shook her off and hit the stomp for the win. After the match Britt went for Lockjaw but Shida came out and my Sling feed awkwardly cut to the middle of a Preston Vance sit-down with Jim Ross.  The match wasn't much but really this seemed like it was just to further the Shida v. Hayter stuff. 
3. Wardlow. He took on the debuting Exodus Prime and won with 4 (or 5, I lost count) powerbombs. I knew nothing of Prime before this but his selling on the 2nd powerbomb was so comical that I really enjoyed it and want to see more of him. He just bounced his whole body and then lifted just his head as if even he was shocked to survive. It's hard to describe but funny to watch. Wardlow grabbed the mic and called out Joe after the match and Joe said he's going to give Wardlow a Merry Christmas and wait to beat him until December 28th. 
2. Dustin Rhodes, The Best Friends and Orange Cassidy. The unlikely foursome squared off with Kip Sabian, Trent Seven, The Butcher and The Blade in tonight's main event. During the pre-match segment with Mark Henry the best line came from The Best Friends who responded to The Butcher asking why nobody called 1-800-SeeYa this week by explaining there that's not a real number and it has letters in it. Eventually I'll stop being thrown off by how much Butcher sounds like Daddy Magic when he talks but tonight's not that night. Sabian was complimentary of Cassidy when he quoted Arnold (Schwarzenegger) who said you can't climb the ladder of success with your hands in your pockets but somehow Cassidy had managed to.   The entire time Danhausen had his back to the camera with his eyes locked on Dustin. The Trents had the first exchange of the match. Sabian used Penelope Ford and The Bunny to stop Cassidy from flying into him allowing The Butcher to capitalize and jump Orange from behind. Cassidy ate a sidewalk slam/leg drop combo from the Butcher and The Blade for a near fall. Sabian used it as an opportunity to tag in and take some shots at Orange before tagging out. The home town (or at least home state) guy Dustin Rhodes got the tag and cleaned house which included evading a Seven attack that resulted in Seven flying on to Sabian. After an action packed stretch that saw Trent and Chuck hit stereo leaps over the top to the floor, Sabian hit a seated springboard moonsault to the floor and Dustin hit a cannonball splash off the apron Cassidy fired up in the ring with Sabian. But as Ford distracted the ref The Bunny came in and Cassidy decided to flop on the ground and roll around like he was hit with a low blow. As the ref was dealing with Bunny Danhausen got in Ford's way and then did the same thing as Cassidy. The crowd was eating it up as referee Bryce Remsburg tossed both women from ringside. Danhausen was celebrating with Remsburg but turned around and got hit with his signature crotch punch by Sabian. Sabian ducked an Orange Punch and hit a pop up knee strike. Chuck Taylor took out Butcher and Blade outside but Seven countered Beretta into an Emerald Flosion off the middle rope which Dustin broke up at 2. Dustin tagged in and hit Sabian with what Excalibur dubbed a "Dallas Destroyer" and tried for the "Unnatural Kick" (the former Shattered Dreams) but while Bryce was trying to stop him Cassidy peppered Sabian with his lazy kicks in the corner. But as Bryce pushed Cassidy away Dustin hit the kick he was originally going for. He sent a charging Trent Seven into Sabian in the corner before Cassidy hit an Orange Punch and Dustin followed up with a bulldog to give the face foursome the win. This was a hoot and I feel like a broken record but Cassidy's creativity in finding new ways to use his shtick always impresses me. 
1. Jon Moxley. He opened the night against Sammy Guevara as Daniel Garcia remained in the back watching the match on a monitor. They went back and forth brawling both in and out of the ring with Mox hitting a superplex and Sammy landing a double stomp to the apron before Sammy found a new way to make Moxley bleed when he tore and bit the earring out of Moxley's ear. Sammy rubbed the blood all over his own face before Tay grabbed some herself while Mox was in the ropes. They started making out by Mox hit a tope suicida on Sammy to break up the love birds. There was a mice sequence where Sammy tried a GTH, Mox turned it into a powerbomb attempt but Sammy was able to counter into the Walls of Jericho. Moxley hit a Set Rollins-esque stomp that only got a 2. Guevara hit a Swanton Bomb off the top corner through Mox on a table outside. He followed up with a diving crossbody in the ring but Mox rolled through and hit the face stomps and piledriver for 2. He locked in the bulldog choke but Sammy rolled him back for a 2 count to force Mox to break the hold. Moxley hit a big lariat and tried for a Paradigm Shift but Sammy kicked out the leg and hit a Death Rider of his own followed by a senton but still only got a 2! Sammy hit a Spanish Fly but Mox held on and turned it into another choke and Sammy passed out as Garcia watched on shaking his head. Justin Roberts announced the winner as "ultimately Jon Moxley" and that felt apropos for the war they had. After the match a bloody Moxley grabbed the mic and called out Hangman who fought past Uno to brawl with Mox. Security tried to separate them but Page hit a Buckshot on a guard in the process before they were finally able to be pulled apart. I know there's a recipe for Moxley matches (blood, nearly passing out and near falls) but it's a dish I've enjoyed a lot this year! I hated Ambrose in WWE as a solo act because his matches almost always built up my hopes with good stories then underdelivered in the ring but Moxley has had the exact opposite this year in AEW. Very little or lackluster builds but then matches that just deliver. I'm not sure if he's my "wrestler of the year" for 2022 just yst but he deserves to be in every conversation about it and I can't wait for he and Page in what I still assume will be a Lights Out match.