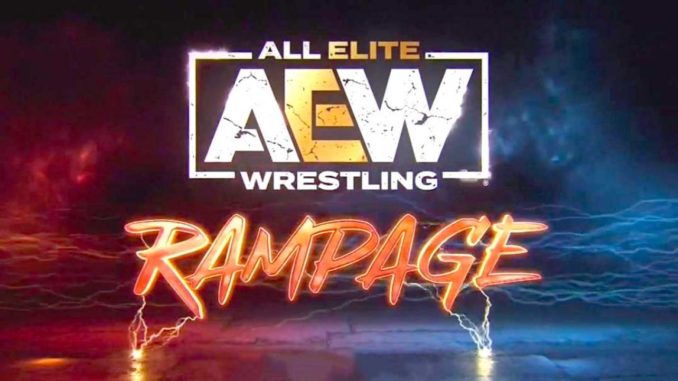 Just over a week out from ROH Final Battle Rampage was used once again as a proxy TV show for ROH and I still hate that this is happening. But the show wasn't all bad so let's find some good in it with this week's rankings!
Honorable Mention: Keith Lee, The Dark Order, Hikaru Shida, Saraya and Juice Robinson. Keith Lee was interrupted by Shane Taylor who asked what his deal is with leaving family. He left Swerve two weeks ago, left JD in Dallas and left him 6 years ago. He then laid out a challenge for Taylor and JD Griffey to face Keith Lee at Final Battle. Taylor said lee might want to get some help. As Taylor walked out of frame Swerve appeared behind Lee and Lee asked if he could even trust him? I am a super nerd and while I knew Taylor because his build always throws me off Griffey didn't ring any bells so I wish they'd have given more backstory on him despite how much I really, really want to be done with ROH in AEW. Reynolds and Silver said they'll get over Vance's betrayal, but it was horrible for him to do what he did to -1. Hikaru Shida challenged The Bunny and said she'd defend her Regina Di Wave title. Saraya put all the women on notice because she wants that title. Juice Robinson issued a challenge to Samoa Joe for Final Battle and said he's done a lot in Japan but he needs to prove himself in America by being on TV as the TV Champ and that Joe may be the king of TV but kings get dethroned. This was a good promo for a match that makes no sense as of now. 
5. The Acclaimed came out and Caster had lines about Belenciaga, The World Cup and Kane. Bowens said Lethal and Jarrett are going to have to get in line but there's a team that has been waiting too long for their shot. That the people have been screaming that they want to see The Acclaimed against…and with that The Gunn Club cut them off. Austin Gunn said they were the best team before they were cut off by Lethal and Jarrett with Sonjay Dutt and Satnam Singh. Billy Gunn said he thinks they misunderstood what they said because they want the best and with that FTR came out. FTR and The Acclaimed shook hands and we'd find out this match is scheduled for this week's Dynamite which is a huge relief because I almost thought I'd have to buy Final Battle just because I want to see this so badly. But sadly, if they have a shady finish and run it back at Final Battle I probably still will. 
4. Jay Lethal and Jeff Jarrett. After hitting the ring to try to confront The Acclaimed they took on Private Party. On the outside Matt Hardy confronted Sonjay Dutt but Satnam Singh stepped in front of him. Kassidy hit a springboard cutter to Jarrett over the top rope. Quen hit Jeff with a tope suicida and they hit a Silly String on Lethal but as Quen climbed the ropes Jarrett targeted him. Quen was able to shake him off and try a 450 but the distraction from Jarrett bought Lethal time to move. Lethal tried to grab Kassidy and pull him into the ring but he kicked him off and into Quen who rolled him up but as the ref dealt with Kassidy being in the ring ignoring the roll-up Jarrett attacked and he and Lethal hit a combination Stroke and Lethal Injection for the victory. The finish actually looked awesome. I don't hate these two tagging as a more regular thing but it's weird to see Jarrett wrestle without being advertised. 
3. Darby Allin. Darby beat Nick Comoroto with the bat and then dropped it. When Karter went to pick it up Darby hit him with a low pei. After rolling him in the ring the bell sounded. Cole threw Darby off the top turnbuckle to the floor and hit Darby with a powerbomb to the apron. They continued to brawl outside and Karter sent Darby into the stairs. Darby eventually recovered and hit a Code Red for 2. Karter went for a 450 but Darby moved. Allin hit a Scorpion Death Drop with a hammerlock followed by a Coffin Drop for the 3. J.R. mentioned Darby being influenced by Sting but wanting to be his own man as well. Later on Darby said he was out to settle scores and he wants the TNT title back. He said Joe would accept if Wardlow was banned from ringside but he'd do him 1 better and ban Sting too. Fans chant "Joe's gonna kill you" but they're going to have to bury him with the TNT title. Like a few other matches announced tonight this came out of the blue but should be a blast! I just wish there was more story development to it. I wonder if Darby wins and faces Juice at Final Battle so Joe can face Wardlow. That makes more sense than Juice v. Joe to me. 
2. Athena. Athena squared off with the 0-1 local Dani Mo. Athena decked her at the bell and delivered 2 suplexes and a twisting neckbreaker but she pulled Mo's head up at 2 to continue the punishment as she mocked the crowd with the fake shocked face. She backed the ref into the corner and Mo rolled her up for 1. Mo hit a roundhouse kick which Athena no sold before nailing Dani with another shot. She added a vaulting stomp to Mo in the ropes and her twisting gut buster finisher for the victory as commentary hyped up her match with Martinez at Final Battle. After the bell Athena sent Mo to the floor by just dropping her from the ring in a front vertical suplex position. She followed up by tossing Mo into the barricade and steps as she said "Alright Mercedes" and pancaked Mo with double running knees against the steps. 
1. Orange Cassidy. QT said he made this challenge for a lumberjack match because after the House of Black stuff last week he wanted a clean match and that might be the most sensible thing on AEW this week. He said Cassidy and his friends make a joke out of wrestling which prompted The Best Friends and Danhausen (in a flannel shirt and winter hat but still Danhausen make-up which was a great visual) to pull out axes and ask if those were jokes. Orange asked Mark if they were allowed to bring axes to the ring and when he said no they discussed a chainsaw. Mark started to do his tagline but Cassidy said they were still talking and asked if they could have 2 more minutes. Mark said no and finished telling us it was time for the main event. Cassidy and Mark Henry have become comedy gold together. During the entrances officials had to take the axes from The Best Friends and Danhausen. Cassidy opened with his quick hands in the pockets dodge sequence before QT hit the outside and the face lumberjacks sent him back in. QT sent Cassidy outside and he started lazy kicking the various heel lumberjacks before QT came out and Cassidy sent him into the barricade. QT caught Cassidy coming off the ropes inside with a backbreaker and followed it with a tilt-a-whirl backbreaker before sending Cassidy to the floor again where Ethan Page ordered Matt Hardy and Private Party whose contracts he and Hathaway still control to attack Orange. But Hardy helped Orange up and sent him back in the ring. Hardy and Page bickered on the floor and Page sent Matt to the back. Hardy tried to take Private Party but Page held them back. During the picture-in-picture commercial break Cassidy hit a lazy elbow drop from the top for 2. The Factory hit the ring and the Best Friends sent them out and vaulted on to them. QT and Cassidy had a back and forth inside that included Orange hitting a stundog millionaire, eating an pop-up uppercut and landing a tornado DDT. The Factory pulled QT from the ring and QT threatened Cassidy with an apron piledriver but Danhausen cursed him and as Danhausen was pulled off by The Factory Cassidy delivered a Beach Break on the apron before going off the top rope on to everyone outside. In the ring Cassidy ascended the ropes but Penelope Ford came out and Kip Sabian sent him off the ropes into a cutter from QT but Cassidy kicked out at 2. Orange delivered an Orange Punch and second Beach Break to beat the odds and retain. After the bell Cassidy and Sabian brawled up the ramp as the lumberjacks started to go at it in the ring. The lights went out and House of Black hit the ring. They laid waste to everyone but Black stopped them from hitting Dante's Inferno on Ortiz only to go kick Ortiz on the floor anyway. The ending of this was like when you overstuff a suitcase and have to jump on it to close it. The House of Black stuff was interesting with Ortiz but then Black just attacking him anyway seemed stupid. On a positive note; Orange Cassidy is carrying this show every week. There is no world where QT Marshall should be in a title match period, let alone a main event without a massive character overhaul and rebuild but Cassidy still got the best out of him in this situation.