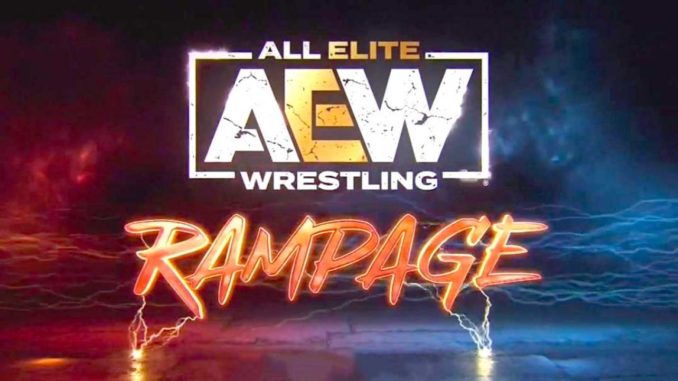 You thought the holiday was over but I just looked under your tree and found one more gift Santa left for you! My weekly power rankings! Sure, maybe it wasn't on your list but consider it a bonus! So was the Christmas Eve Eve Rampage a great stocking stuffer or a lump of coal? Read on and find out! 
Honorable Mention: Sammy Guevara and PoRenee interviewed Daniel Garcia about being asked by Jericho to shadow Sammy Guevara. Sammy tried to take the mic but Garcia stopped him and said we're not doing this. He doesn't like anything about Sammy but he's a team player. Sammy tells Garcia he needs to loosen up and he needs a hug. He hugs him as Garcia shrugs him off and Sammy says they're going to do great things next year. This could become a fun odd couple tag team. That'a one of my favorite story types in wrestling. Powerhouse Hobbs had some unknown kid against a wall in the parking lot and he said he was taking everything. It was nice to see him do something more than the repetitive Book of Hobbs segments. 
5. Willow Nightingale. Ruby Soho said she was supposed to close the chapter on her feud with Tay last week but since Jay wouldn't let her she found the perfect partner. Willow Nightingale came out and tried to fist bump and after a slight hesitation and Ruby saying she doesn't do that she did. I'm all for anything that gets more Willow on my screen. Personal attraction aside (sorry Rex Lawless but good for you!) as a wrestler she's maybe the best face in all of women's wrestling. In my opinion, a Willow v. Athena feud could be money!
4. Eddie Kingston and Ortiz came out and Kingston said they sent the contract to House of Black and they didn't sign it so he's not waiting for the pretend power outage. Instead, the lights flashed and Julia Hart came out and pointed to the screen where House of Black appeared. Black said if the enemy of my enemy is my friend then if the friend of my enemy is influenced by me would he then be his enemy too? This led to Eddie questioning Ortiz in the ring before walking off. Kingston was funny and this would have been perfect if not for House of Black turning and attacking Ortiz after initially refusing to. I wonder if maybe that was just a misstep on their part, or of the camera didn't catch it but for this one time I'll roll with them pretending that didn't happen for the sake of the story. They need better quality control on that going forward though. That's a glaring mistake. 
3. Jade Cargill. The TBS Champion had an eliminator match against Vertvixen who was making her Rampage debut. We learned she was trained by Jazz. Jade dominated before hitting an axe kick and pump kick to run her record to 45-0. 
2. Jeff Jarrett and Jay Lethal. During the pre-match interview, Bowens said Jarrett's a geriatric Kid Rock which got a chuckle from me. With Caster not cleared from the guitar shot last week we got Bowens and Billy (now formally listed as Daddy Ass) representing The Acclaimed tonight. Caster still joined them despite not being allowed to wrestle and he had solid jabs about sending them back to the Impact zone and them rolling with the not so Great Khali. For most of the match the team dubbed "Triple J" by Excalibur isolated Bowens. Lethal hit a Lethal Combination but taunted Billy Gunn before covering Bowens twice for 2 and once for 1. Jarrett came in and peppered Bowens with shots but Bowens hit a superkick and started to crawl to his corner. He got the tag as did Jarrett and Billy went to town on Jay Lethal only to be distracted by Satnam Singh. He sent Singh out of the ring with a lariat but the "Not so Great Khali" landed on his feet. Lethal tried to capitalize with a Lethal Injection but Gunn blocked it and hit a cobra clutch slam but Jarrett broke up the pin. As the ref checked on Billy Dutt got on the apron and when Bowens tried to knock him off Jarrett hit him with The Stroke. Caster tried to get involved but as Aubrey Edwards stopped him Dutt low blowed Billy and Lethal hit a Lethal Injection for the win. The match wasn't that special but considering Jarrett is 55 and Gunn is 59 it could have been much, much worse. Both of these guys are still in phenomenal shape for their respective ages and in much better shape than I am at 34. Depressing. I don't mind Jarrett and Lethal as a short-term feud for The Acclaimed with the PPV still a few months out. 
1. Top Flight and A.R. Fox. Rush, Dralistico and Preston Vance, The Best Friends and Orange Cassidy, The Butcher, The Blade & Kip Sabian started the match. The Best Friends and Cassidy started by all ducking attacks and all 3 hugging in the middle of the ring. Cassidy rolled outside and Rush followed and choked him with a production wire. Preston Vance sent Chuck Taylor out fir the first elimination. BCC were the first trio added to the mix. The Dark Order were next and they went right after Vance. They turned their attention to Adam Page's foe Jon Moxley but couldn't eliminate him. Cassidy tried to fly off the top into Claudio and The Dark Order but they caught him and tossed him over their shoulders. He tried to put his hands in his pockets but Blade and Sabian attacked before he could. Blade, Cassidy and Sabian were all eliminated in quick succession as Cassidy and Sabian brawled up the ramp. Spanish Announce Project was out next; walking off the commentary table to enter the match. Angelico of the S.A.T. rip-offs were quickly tossed out. John Silver tossed Dralistico but Rush tossed Johnny Hungiee. Mox got Uno out as Yuta stopped Alex Reynolds from making the save. Claudio tossed Luther. Nese, Woods and Ariya Daivari (no idea when he got added to the group) were out with Mark Sterling and "Smart" Mark had a funny line where he said in Texas you can't milk another man's cow which means nobody will ever touch the fan's cow wives. They pulled Trent out and hammered on him before tossing him into the barricade. Yuta knocked Alex Reynolds out. Rush hit the Bull's Horns in the corner and tossed Yuta. Vance threw Serpentico out next. Top Flight & A.R. Fox were the last team to enter. Sterling celebrated Daivari barely hanging on only for him to be eliminated by Claudio the second Sterling turned to celebrate which was an amusing spot. Mox saved Claudio from elimination and took out Preston Vance in the process. Dante Martin tossed Woods out and Darius had a very cool elimination of Nese when he sent him flying off the middle rope to Woods on the floor during an attempted springboard moonsault from the outside into the ring. Trent piledrove The Butcher on the apron to eliminate him but then got eliminated himself by a basement dropkick from Rush. With only 6 men left Rush and Claudio exchanged shots. They fought tp the apron and continued exchanging blows. Claudio sent him into the post and uppercut him to take out Rush. Mox knocked out Fox to leave Top Flight, Mox and Claudio as the final 4. Hangman Page ran in and attacked Mox but security broke them up. In the fray Darius eliminated Mox and he and Page continued to brawl. Mox dove off the top corner on to Page and security.
Back in the ring Claudio caught Dante Martin coming off the ropes with an uppercut. He put both Martin brothers on his shoulders at once but they got down. He managed to get them both on the apron but they fought back in. He got Darius on the apron again with a gut wrench. Darius snuck back in one more time and after a fun sequence that saw Darius stop Claudio from sending Dante into him and instead launch Dante back over Claudio to hit an assisted tornado DDT they double clotheslined Claudio to the apron. Claudio got back in and Dante flew off Darius' back and tried to hurricanaran Castagnoli but Claudio blocked it and held him. After a superkick from Darius and the older Martin helping Dante complete the hurricanrana Top Flight and A.R. Fox won and captured the $300,000 prize! Battle Royals are one of my favorite things in all of wrestling but AEW does them better than most. They crammed a lot of stories (Dark Order v. LFI, Sabian v. Cassidy and Page v. Mox) into 1 match and gave the win to a trio whose matches I enjoy watching as much as any in the company. I was slightly surprised at the ending because the money felt perfect for either a heel trio to use to shove in people's faces or Dark Order or Best Friends to use in some comedy segments. Still, I'm curious to see if we get any use of it as character development for Top Flight and Fox or if it's just a talking point to make them seem more credible. Either way, it was a great opener and could become a fun Christmas week tradition.