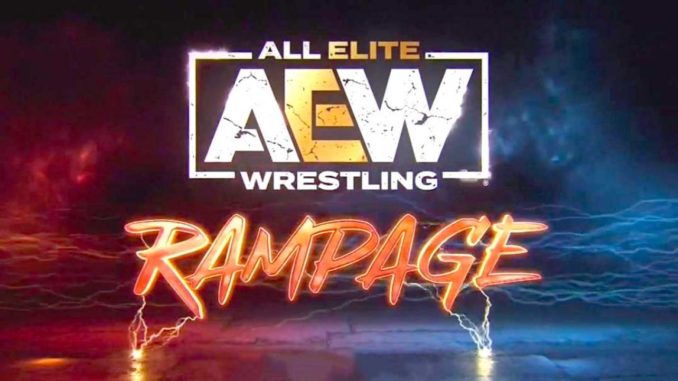 This week the underdog Action Andretti was eyeing another upset, this time of J.A.S. member Daniel Garcia in the main event. Did he get it? Let's find out in this week's rankings!
Honorable Mention: Darby Allin. In a bit of a random video Darby said he's going to fight until the wheels fall off. He has unfinished business with The House of Black and despite he and Sting sending them away he wants to prove he can beat every member of the House so while he beat Black and King he's not waiting for anyone to answer his challenge. He's issuing one to Buddy Matthews for this week. The match came out of nowhere like all of Darby's defenses in this reign but as somebody who thinks Matthews is a main-event caliber talent I can't wait for the match! I know it won't happen but I'd shock the world and have Matthews get the upset. But whether he wins or loses I do want this to add some tension to Sting and Darby with Sting essentially reminding Darby they were supposed to be done and moved on from them. It'd also help this feel a little more purposeful. 
5. Eddie Kingston. Ortiz came out for an interview with Tony Schiavone where he said Eddie lost it because he crossed a line when he was going to hit Julia with the chair last week and he called Eddie out. Apparently Ortiz, like most wrestlers, did not think to DVR the show and watch the match back. This is fine because Eddie didn't think to suggest that or explain himself either as he came down angry with a chair. Ortiz said he got Eddie not tagging him in but what would Homicide have said about Eddie hitting Hart with a chair? Ortiz may not realize Homicide is alive and could have expressed his opinion on this himself. Ortiz said his mother and father didn't raise him like this and Homicide would say he's a coward and fake tough guy. Kingston hauled off and hit Ortiz with a chair to the mid-section and back before walking off furious as the commentary team saif The House of Black was getting their way. I like Ortiz a lot. I love Kingston. And this now feels like Homicide will be showing up on AEW TV to smooth things over and likely have a 6 man match against House of Black. The match should be a blast and the story would almost be good if not for both Ortiz and Kingston looking pretty dumb by not watching the show and AEW constantly teasing then holding off on break-ups of alliances like once a month. But at least it's a story that doesn't involve a title and it has talent I like so it's not all bad. It just could have been done much better. 
4. Jade Cargill and Leila Grey. In a quick match the heels beat the debuting Jaida and Jordyn Vanity. Making them the second set of twins in the AEW women's division along with The Renegades. The Vanity twins had nice gear and that's about all I could say about them as Grey, who commentary reminded us was basically a replacement baddie turned sole surviving one hit one of the twins with a sit-out facebuster. She went for the cover but Jade told her to tag her in and Grey literally bowed to Jade and tagged her in so she could hit Jaded and the win as her 49-0 graphic hit the screen. Commentary also mentioned Grey having a lot of ring time over the years and while I assume it's to lend more credibility to her when she inevitably faces Red Velvet during Velvet's build to a Jade match I wouldn't be mad if we got Grey v. Jade after Jade hopefully beats Velvet. 
3. Brian Cage. My dream of an AEW hoss division came one step closer to a reality as Willie Mack made his AEW TV debut against Cage tonight. Excalibur hinted that it reminded him of PWG and Jericho mentioned making Excalibur a lot of money with J.A.S.' appearance there a few weeks ago to which Excalibur hilariously replied that they were a surprise and didn't make him a dime. These guys started off on fire, showing athleticism guys their size shouldn't possess and making all the Jim Cornette types furious. Mack cartwheeled and did a front handspring to escape a wristlock and Cage kipped up out of one. Mack did a leap frog ober a charging Cage and backrolled as Cage dove through his legs. Willie hit Cage with a Samoan Drop, kipped up himself and tried a standing moonsault but Cage avoided it. Cage fought back and pump kicked a seated Mack in the corner and Willie had the best dazed look into the camera. Cage hit a ura nage to Mack on the apron. Mack his a leaping kick on Cage to which J.R. made me chuckle by calling Mack a "Man who is near wink wink 300 lbs" Mack hit a spinning uppercut and a pop-up forearm and Sky High for 2. Cage hit an F5 but as he arrogantly covered Mack and counted with the ref into the camera Mack kicked out. Cage followed with a powerbomb, knee strike and Drill Claw for the win. Willie Mack looking like somebodies out if shape, past his prime Uncle who drives trains for the M.T.A. but wrestles like the third Lucha Brother will never not impress me. I know AEW has a bloated roster with tons of names they don't use already but I want Willie Mack either there or in WWE. He deserves to be on the big stage. 
2. "Jungleboy" Jack Perry. He kicked off the night against "The Firm's" Ethan Page and they started out hot as Page wisely tried to catch Perry in an Ego's Edge as he stood in the corner during his entrance. But Jungleboy escaped. On the outside Page pulled Isaiah Kassidy in the way of an oncoming tope attempt but then ate one himself as he argued with Matt Hardy over pulling Kassidy. After getting control back Page forced Hardy to give him a high 10 and hug. Page threw Perry into the post and then chopped him down to the floor leading to the funniest line of the night when "All Ego" looked in the camera and said "You wanna slap tits?! I'll slap tits!" Jungleboy hit a combeacker lariat but Page then hit a coss armed Iconoclasm turned right into a lift and powerslam in a nice looking sequence. That didn't get the finish though. Page mocked Matt Hardy's dancing and tried to hit a Twist of Fate but Perry nearly countered with a Killswitch a la his former mentor turned mortal enemy before getting shot off. Jungleboy mounted Page in the corner for the 10 punches but on 10 Hathaway climed the corner and Perry punched him which allowed Page to drop him on the ropes and hit a Twist of Fate but Perry got a foot on the ropes to break the count. Hook came out on the ramp and In maybe the most creative leverage spot I've ever seen Jungle Boy tried to side sunset flip Page but Page sat down and grabbed Matt Hardy's ponytail through the ropes as leverage. With Matt looking at Hook he slapped Page's hand away and Perry rolled Page up for the win. After the match Matt Hardy said he thought it was Jungleboy grabbing his hair and Page challenged JungleHook to face him and Hardy on Dynamite before Stokely said Kassidy and Matt are in a time-out until Dynamite. This was a hot opener with a really fun finish and as much as I don't need Matt Hardy on my TV these days I enjoy everyone else involved here. 
1. Action Andretti. For the second week in a row we got a video package to hype the main event closed with Mark Henry delivering his line in the back at the end. It's taken some getting used to but I like it and imagine it's more helpful to fans who may be tuning in for the first time. Andretti did have a solid closing line he delivered well when he said "A pro wrestler beats a sports entertainer and Action Andretti beats a little bitch every time!" The match was very good but my biggest complaint was how telegraphed the winner was. Jericho reminded us that if Garcia won it'd be Garciaco v. Andretti and Starks on Dynamite rather than Le Sex Gods but Excalibur did his pre-main event Dynamite card read and the graphic had Jericho and Sammy with no mention of Garcia. As it weird as it is to say with Garcia just getting built up over the last year this was really a showcase of Andretti more than anything else. I assume that's in large part to dip back into the Garcia/J.A.S. split we were teased with in the past and not that Garcia is simply being forgotten about but it still feels a bit unsual. Andretti hit an impressive torneo off the bottom rope for 2. There was a smooth exchange where Andretti hit a tope suicida on Garcia and rolled him back in the ring but Garcia rolled right out so Action tried for a baseball slide but Garcia ducked and leveled him with a lariat on the floor. When Garcia tried to avoid an oncoming attack Andretti leapt off the corner to the apron and then hit a seated springboard moonsault to the floor followed by a split-legged one inside for another near fall. Garcia caught Andretti trying to do a handspring off the ropes with a body lock but Action rolled back for a 2 count. Garcia hit a nice looking pump handle sit-out side slam for another close count that I don't think I'd ever seen before. It'd make for a unique finisher in the future. Jericho and Sammy stood up on commentary to encourage Garcia who tried a Dragontamer but Andretti rolled through for 2 again. Garcia cross chopped Andretti's throat and rolled him up with a handful of tights but still couldn't get the win. Finally after a mid-rope torneo that didn't connect cleanly and a running Shooting Star Press Andretti moved to 2-0 against Jericho Appreciation Society members.