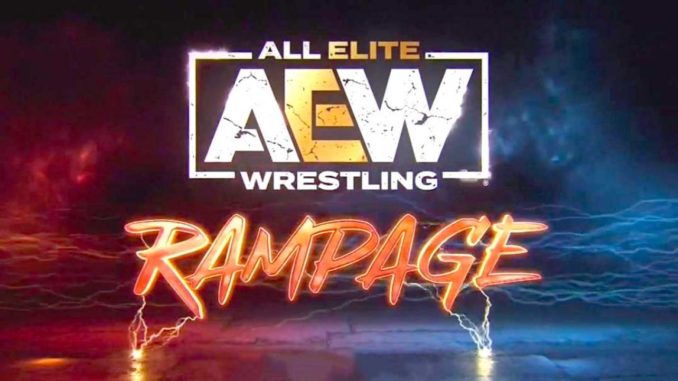 For most of the last year, Rampage has steadily lost steam and become more and more skippable. There were points where it got so dull even Don West would have struggled to sell anyone on it. Speaking of which, the show opened with a memorial graphic to the man who passed away earlier today so R.I.P. to the man who sold the hell out of a Brown Bag Special to me on multiple occasions. Prior to the days of streaming 4 DVDs plus a shirt, toy or some other collectible and a drawstring TNA bookbag was an absolute steal! Sadly this show still wasn't gem mint 10 quality but was a slight step up from the ROH loaded episodes. So as we bid farewell to 2022 let's hope for a better year for Rampage and all of us in 2023 with my final Power Rankings for the year!
Honorable Menrtion: Darby Allin, Perro Peligroso, Jeff Jarrett, Jamie Hayter and MJF. Tony Schiavone announced Darby Allin will get his TNT title shot in his hometown of Seattle next week. Darby said when he graduated H.S. he was 115 and everyone, even his own father, didn't think he could. And he was dying inside. He doesn't know if his hometown believes in him. He doesn't even know if Sting believes in him. Sting says if he says he doesn't he's just another guy who doubted him. But if he says yes Darby loses the chip he needs to beat him. It doesn't matter what anyone thinks. All that matters is what Darby thinks. Sting says he needs to shut his mouth and win his title back. This was a really good segment. Preston Vance wants to be called by his new name Perro Peligroso. He questioned who he was wrestling next week but didn't really care. He has no remorse. If he knew all he had to do was belittle a child to get the spotlight he would "have done that shit 3 years ago" and that got a chuckle from me. Jarrett says he's got more shower time than Caster has ring time. Caster will regret that rap because he's not just going to end The Acclaimed's reign but his career. Jamie Hayter doesn't care who Sarya brings at the Forum because Hayter hits hard. Mark Sterling said he's tired of Danielson messing with MJF so he made the decision to do pro bono work on his behalf and he's going to have the biggest chance of his career when he faces Tony Nese in Seattle.
5. Jon Moxley. Schiavone interviewed him and reminded him that doctors have yet to clear Page despite him wanting to fight every week. Mox says he and Page stood above everyone else early in AEW and the only one they didn't beat was each other. But he proved he was going to be the last man standing. Page woke up in the hospital the night of their match but he slept like a baby because the BCC puts that work in so they deserve to sleep like babies because when that bell rings they don't care about the safety of the athelete. He's been hurt for 10 years. Mox will be waiting for him at the Forum in L.A. on January 11th and if Page makes it there he's going to remind everyone of how tough this business can be. He ended with "Hangman, keep your hands up bitch!" before a literal mic drop. This wasn't a lot but was solid work from Mox and he continues to help Cassidy keep this show watchable.
4. Kip Sabian. After a fun stint on commentary during the opening match Sabian teased doing Cassidy's hands in his pockets but instead hit his opponent. He followed up with a cannonball to the corner and a double stomp off the top. Ford gave him Cassidy's elbow pad and he put it on but threw it off and hit an Orange Punch for the win over some jobber who was quickly named but I missed. We found out prior to the main event that Sabian will face Cassidy for the All Atlantic Championship at Battle of the Belts V next week. While I fully expect Cassidy to retain this is the most build I can remember for a Battle of the Belts match in a while and even though it's only a week away one of the earliest match announcements for one too.
3. Jade Cargill. Former baddie Kiera Hogan was Jade's opponent in tonight's TBS title match as she sought to run her record to 46-0. Hogan dropped out of a delayed vertical suplex into a roll-up for a 2 and a chokeslam from Jade. Hogan dropped out of a powerslam attempt and kicked out of a pumpkick. Leila Grey held Hogan outside and Red Velvet stopped Jade from slapping her. Jade tried for Jaded but Hogan turned it into a bulldog, hip attack on the ropes and 2 superkicks to a kneeling Cargill. A sliding dropkick followed but it wasn't enough to end Jade's streak. Cargill hit Jaded for the win as Velvet walked off. Later we'd learn that Jade and Velvet will team up this week against Skye Blue and Kiera Hogan and PLEASE FOR THE LOVE OF GOD TONY KHAN STOP WITH ALL THESE MORONIC SOFT SPLITS OF TAG TEAMS! JUST LET BREAK-UPS HAPPEN ONCE NOT A DOZEN TIMES BETWEEN 2 PEOPLE! EVERY TAG TEAM OR FACTION DOESN'T HAVE TO BE SOME DYSFUNCTIONAL TEENAGE COUPLE THAT KEEPS SPLITTING AND MAKING UP!
2. Swerve Strickland. During the pre-match interview Moxley mentioned Swerve's former Lucha Underground persona Killshot being his favorite wrestler for years. Swerve said BCC is falling apart but while they lost members Swerve ditched his. In a rare good line Yuta said he'll leave the BCC in the back because unlike Swerve he doesn't need 2 rejects from Tattoo Redo to win. They opened the main event with some grappling and submission exchanges. Yuta hit a tope suicida and as he turned his attention to Mogul Affiliates Swerve capitalized with a pump kick sending Yuta off the apron. He came off the apron with a kick to Yuta's leg outside and then continued working it over in the ring during picture-in-picture. Swerve tried for a JML Driver but Yuta rolled through for a 2 before Swerve rolles through abd hooked the tights for 2. Swerve sent Yuta outside but he rolled right back in and hit a modified Olympic Slam for 2. Swerve got Yuta in the corner and dropkicked rhe knee of Yuta with his leg draped in the ropes. Yuta got him in a seatbelt pin but Sweve escaped and hit a House Call kick. That didn't finish Yuta off. The ref got distracted trying to avoid both men charging into the corner and Swerve took it as the chance to hit Yuta with a low blow kick as he floated for an up and over. A JML Driver later and Swerve got his first win since forming Mogul Affiliates. This wasn't as good or memorable as a lot of Rampage main events past but wasn't bad. Parker Boudreaux seems like nothing special but I do like the look of the other guy in the duo and think Mogul Affiliates as Swerve's heavies could help boost Swerve's status as a main eventer since Jericho and MJF have shown AEW likes to attach stables to their high level heel acts. It could also be cool to have a tag team of just 2 big guys since that's the one element they don't seem to have (Where did Bear Country go?) in the division. Commentary sold Swerve's stomp as strong enough to break a cinder block which, while ridiculous, is a nice use of a past moment for not just the moment but to reinforce the strength of a move. Yuta is still terrible on the mic but the guy can go between the bells. He might be the closest thing we have to a modern day Dean Malenko and if BCC breaks up getting Dean on TV as his Coach/Mentor might be interesting.
1. Orange Cassidy. He opened the night against his best friend Trent Beretta. They started with a prolonged handshake that got the crowd fired up! Cassidy tumbled to the floor and Danhausen did quick weak kicks to him. Trent tried a tope suicida but almost landed on Chuck Taylor who instead stopped him so they could hug. Beretta eventually got frustrated and elbowed Cassidy and sent him into the barricade. When he went to charge at Orange Cassidy he leap frogged and got his hands in his pockets before dropkicking Trent against the barricade. Trent hit a superplex during the picture-in-picture break but Cassidy got up and hit a series of lazy chops before a thunderous one and and elbow exchange series. Cassidy tried for a Stundog Millionaire but Trent blocked it and hit a half and half suplex which Cassidy then followed with a Michinoku Driver. They continued to go back and forth before Trent caught Cassidy rolling backwards into a twisting tombstone for 2 which got "This is awesome!" chants. Trent pulled Orange off the ropes with a piledriver for 2. Kip Sabian's wife Penelope Ford came down to ringside as Sabian pretended to be unaware of what was happening on commentary. She distracted Trent and Cassidy hit a Beach Break for 2 followed by an Orange Punch which he had previously hesitated on delivering for the win. After the match Trent walked off without acknolwedging Cassidy. Sabian sauntered down to the ring for his match, dancing past Cassidy as he left. Cassidy continues to carry Rampage every week in fun and unique ways. If it wasn't for him I may have stopped doing these by now. Trent getting a bit darker and more serious, with or without a turn might help freshen the Best Friends act up a bit too.