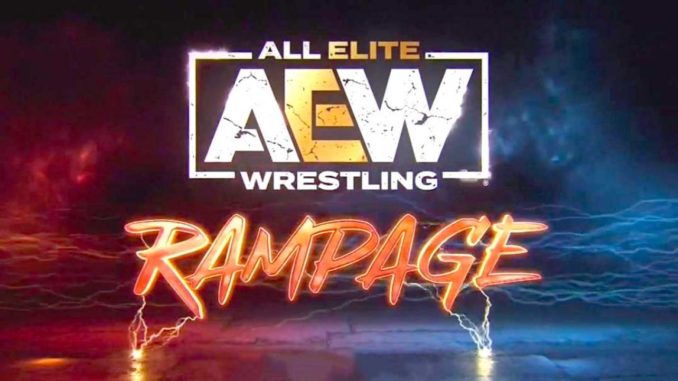 With Wild Card weekend and THE New York Football Giants back in the playoffs for the first time in six years teams all around the league are looking to etch their names in the history books. But on Rampage we were back to high-quality entertainment as two teams left lasting impressions tonight but in very, very different ways. So that said let's get to this week's rankings!
Honorable Mention: Powerhouse Hobbs, Swerve Strickland. Hobbs said the good book says the phoenix rose from the ashes but he took that phoenix and broke its neck. And he took the ashes like his hopes and dreams were taken from him and he's going to spread those ashes all over everyone he hurts in AEW. Swerve and Mogul Affiliates were in the back with Renee. Swerve introduced us to Diddy's son King Combs and Quincy and King said it's Bad Boy for life and if AEW wants the smoke he's there. Swerve said not only that but in 2023 they're going to be the most violent, gruesome faction AEW has ever seen. Jade Cargill said she shouldn't be asked about Red Velvet but how her upcoming 50th win will feel. Leila Grey said Velvet was out and she was in and Jade said they had bigger things to do. None of these were that great or memorable but Hobbs has really solid mic skills even if I don't love the Book of Hobbs material. I like Swerve constantly bringing in rich and/or famous guests and Grey seemed to tease the idea of her vs. Velvet before Velvet gets to Jade which is slightly interesting. But I still don't want Velvet to be the one to take Jade's zero away in the loss column.
5. The Acclaimed. They were getting a star on the Hollywood Walk of Fame and Caster had lines taking digs at Gavin Newsome, President Biden and the rumored Saudi deal to buy WWE. As The Acclaimed went to cement their scissors Austin and Colten Gunn interrupted and said The Acclaimed are only popular because they stole their Dad! Billy said they were right and a Dad has to do what a Dad has to do and invited his boys to cement themselves instead but as they raised their hands The Acclaimed pantsed them and Billy sent them butt first into the mixture to cement them as "The Ass Boys" forever in history. This wasn't great as most things involving Billy's boys aren't but it got a laugh from the crowd and I always enjoy a Caster rap.
4. The Kings of the Black Throne. The larger duo from The House of Black were out without Julia Hart or Buddy Matthews to face Eddie Kingston and Ortiz. Eddie didn't acknowledge Ortiz as they entered and Ortiz pushed past Eddie to start the match. Ortiz pulled King into the corner with a front facelock but got upset when Eddie hesitated to tag in. Kingston tagged as did Black and when Black ducked a spinning backfist attempt Eddie sat cross-legged with his hand under his chin mimicking Black's signature pose. Black dropped down to match him. During the commercial break Eddie refused to tag out despite Ortiz' please and after the break King squashed Kingston with a cannonball in the corner. He followed with a lariat but Eddie powered up and hit a half-and-half suplex but still hesitated to tag his partner despite more pleading. Ortiz sprung in any way with a DDT off the bottom rope to Black and Kingston hit an Exploder Suplex to Black for 2. Black kneed Eddie and then Ortiz as he flew in off the top rope to try to save him but Eddie took advantage of it and hit a Saito suplex and lariat for 2. He backfisted King outside but Matthews and Hart hit the ring with Buddy holding a chair. Eddie stopped Matthews and grabbed the chair and spun around ready to swing thinking Black was behind him but seeing Hart. Ortiz pulled the chair away and shouted "You gonna hit a girl?! Are you serious?" As he shoved Eddie Black spun Ortiz around to hit a Black Mass but Ortiz ducked and Eddie ate it instead. Ortiz tried for a Fisherman's Buster but Black tossed him from the ring and Black covered Kingston for the win as Matthews held Ortiz outside as Black told him "You did good" Because of Kingston and Ortiz' characters both being "Street smart" and House of Black going back and attacking Ortiz after initially refusing to after the battle royal (which in hindsight was probably a lack of thinking in the moment and not intentional) I wasn't crazy about the idea of them being at odds and questioning each other coming in but the match did a good job of telling that story and helping Eddie feel vindicated in his questioning of Ortiz while still making it pretty clear to us that Ortiz is not aligned with the House of Black at all and Eddie is paranoid.
3. Darby Allin. He opened the show defending his TNT Championship against Juice Robinson. After a more traditional, slow start Darby got backdropped over the top rope to the floor and grabbed at his knee. Juice sent him back first into the barricade and steps before dropping him torso first on top of the steps. Darby eventually sent Juice flying into the corner and then rolling to the floor with a shotgun dropkick that set-up a low-pe. Juice tried a back senton off the middle ropes but Darby evaded with a back roll. Darby tried to catch him in a crucifix pin but Juice rolled through and lifted him into a double knee gutbuster for 2. He tried to follow with a cannonball splash but Darby avoided it and hit a Code Red for 2. Darby climbed the corner and got crotched by Juice. He backed away on the ropes and Robinson hit him with a lariat off the ropes and a Jackhammer but couldn't get a 3. In the spot of the match Juice tried a superplex off the middle rope but Darby turned it into a Scorpion Death drop in mid-air! The TNT Champ retained with a Coffin Drop for 3 in a really solid opener. After the match Sting came down and commentary reminded us he'll be teaming with Sting and The Great Muta in Muta's last match. I'm a Darby mark so anytime he wrestles he's probably making this list
2. Paul Walter Hauser. The Golden Globe winner was in the ring with Renee and she told us that he gave a shout-out to wrestling during his speech. He said as much as he loves acting he's always loved wrestling most. And given the opportunity, he always bypasses Connecticut and heads straight to Jacksonville because in AEW you never know what's going to happen. This brought out Danhausen who said he won an award himself as the #1 merchandise seller in AEW but he was not given a physical award so he wants the Golden Globe from Hauser. Hauser asked if the award should now be the Golden Globehausen which brought out Jeff Jarrett and his crew. Hauser chimed in with a funny line of "How many people are coming out here?" Hauser cuts Jarrett off before he can even speak and says this isn't Memphis, this is his town so before he can say "Slapass this" and "I'm a hall of famer" and "I invented the figure four" he wants to tell him he looks like a woman who owns a Crunch Fitness, he never plays the guitar he brings literally everywhere and his guys look like they're dressed for a home school prom. Dutt grabbed Hauser and Paul clocked him before Lethal decked PWH with a shot. Singh comically leaned on Danhausen in the corner with his arms folded as Lethal and Dutt held Hauser while Jarrett broke a guitar over his head! Lethal went to hit Danhausen with the Golden Globe but Cassidy and the Best Friends ran (well, Cassidy walked) off the evil quartet left with the Golden Globe. The spot was beautiful! I knew Hauser was a wrestling fan from his appearance a while back on WWE Backstage but this was such a fun segment and I was SHOCKED he ate the guitar! I'm not ready to put him in the Bad Bunny/Logan Paul celebrity tier but he's pushing Rick Ross and leaps and bounds above Action Bronson.
1. Ruby Soho and Willow Nightingale. In the back rather than our usual segment with Mark Henry we got pre-recorded videos from both teams in the main event. Anna Jay talked about wrapping her arm in barbed wire to take out The Bunny and Tay Melo brought up growing up in the favelas of Brazil and her whole life being a street fight. Ruby said these "prissy bitches" think they're hardcore because they did this before but she promises they're going to end this. Mark Henry said "Well, looks like these women are about to get violent!" before delivering his usual main event line. As Melo and Conti came out in matching red and white gear Soho and Nightingale attacked from behind wearing white shirts and purple, black, gray and white camo pants a la the Dudleys. I can never properly express my appreciation for tag team matches where the tag teams wear matching gear. Nobody gets how much teams not doing so bugs me. With the Dudley-like gear on Ruby told Willow to "Get the tables!" Jericho reminded us how far back this goes when he mentions the car door being slammed on Ruby's hand. Jay put Soho in a trash can on the floor and Melo double stomped it off the apron. Soho came out a bloody mess. During the picture-in-picture break the 4 women set up chairs in the ring and sat down and did the "Yay/Boo" strike exchange. Back from break Anna dropped Willow with a Gory Bomb on the trash can they used earlier. Melo passed Jay barbed wire and she wrapped her arm and locked in the same Queenslayer she used to beat The Bunny with. Willow backed her into the corner while Soho climbed outside and peppered Jay with chain wrapped punches. Tay hit Soho with a trash can lid and the crowd chanted "ECW" Tay piled chairs in the ring and they tried a double superplex but Willow turned it into a Tower of Doom into the chairs. There was a great camera shot of Soho in pain that reminded me a lot of the Britt Baker and Becky Lynch bloodied faces that became t-shirts. Willow shoved a trash can in Jay's face in the corner but Melo hit her in the back with a chair. Willow gave her a spinebuster and delivered a cannonball splash into the trash can and Jay in the corner for 2. Willow nailed Jay with a Death Valley Driver on the apron and tried to follow with a Doctor Bomb but Melo hit her with the can lid again. Ruby hit a No Future on Melo as the fans chanted her name. Jay and Willow fought up the ramp and they flew off the ramp with Willow delivering a powerbomb that saw her go through the table and Jay land on the floor just beyond it. As this was happening Soho pulled a table over to ringside and her and Melo exchanged shots on the apron. Melo did a throat slash gesture and hit Soho with a Gotch style piledriver through the table but after rolling her back in the ring it somehow only got a 2 count! Melo grabbed for a black bag as Jericho hoped it contained a tiny snake because if not we're all in trouble. Needless to say it wasn't a snake. It was tacks! She tried for the Gotch style piledriver again and tried to put Ruby's face in the tacks but Ruby instead grabbed a handful of tacks and threw them in Tay's face! She sent Tay into a chair in the corner that she didn't hit hard enough to budge but then a Destination Unknown into the tacks for the win! Ruby was an absolute bloody mess as she and Willow celebrated the win. This match was crazy and a light tube or 20 away from being a GCW deathmatch. It, like seemingly every hardcore style match, had it's share of botches but it felt like a war between women who really hated each other and was definitely worth the watch! One thing that doesn't get talked about enough in AEW and maybe it's because they're wise enough to space them out is just how tremendous their women's weapons matches are. They go just as hard and get just as violent as the men and it's the one thing we haven't gotten to see enough of from mainstream women's wrestling over the years. It was also great to FINALLY see Willow getting a big win even if the match was more about Soho getting her revenge.