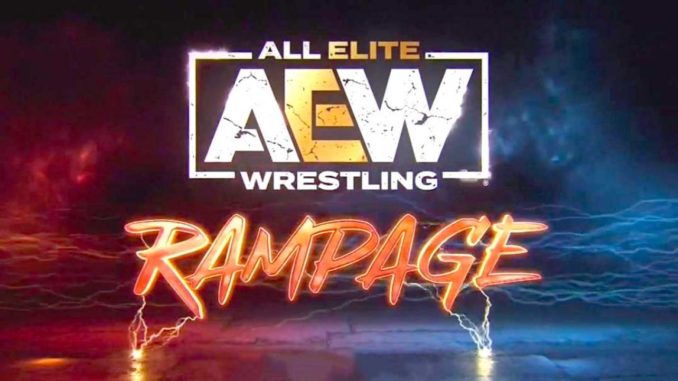 AEW put on a pretty solid Rampage this week so let's rank it!
Honorable Mention: Eddie Kingston and Red Velvet. Kingston said he can't get away from his demons and the real Kingston had to come out. Ortiz can take it up with him if he has a problem with it. He understands House of Black and they just have to accept him. He's ready to go home. Personally I'm still hoping for Homicide as the peace maker for the 6 man here. Velvet with Kiera Hogan said Leila Grey has no self-esteem because of what Jade does to the baddies. She may have been Jade's first but she'll also be the 1 in 49-1. The story makes sense but I stand by Velvet not being built up enough to end her streak right now. Though with how long they've spent getting here it does at least feel possible in a way no Jade matches have in a long time.
5. Swerve Strickland. Dustin Rhodes was being interviewed in the back thanking fans and AEW for their support during his recent absence and while the reason for him being away was never addressed Google tells me it was his mother's death which is sad to hear. He was cut off by Swerve flanked by Mogul Affiliates. Swerve asked if he has to take out another old guy like he did to Billy? He said Dustin's brother "ain't shit" and his Dad…Dustin stopped him and said to keep his Dad's name out of his mouth. Dustin refused to "step-off" when Swerve told him too. Dustin is one of the better actors in AEW and Swerve's character being a slimeball is enjoyable. This should be a solid TV match and this was more of a build than we got for tonight's main event.
4. Powerhouse Hobbs. Hobbs made quick work of the debuting Tony Mudd with a Torture Rack turned into a Death Valley Driver like slam. This was a pure showcase for Hobbs speed and strength but it was a step up from the packages they've been doing and he had The Book of Hobbs with him.
3. Jeff Jarrett, Jay Lethal & Satnam Singh. After wrestling Mark Briscoe on Dynamite Jay Lethal pulled double duty tonight as he and his teammates took on The Best Friends and Danhausen. Commentary mentioned Chuck Taylor being a local Kentucky boy and that might have made me think they could win if not for Danhausen as their third member. This had the usual comedy you'd expect from a Danhausen match. Danhausen countered Jarrett's guitar by bringing out his own ukulele. Sadly though Lethal snatched it and Satnam Singh snapped it over his leg. Danhausen got to stand on Jeff Jarrett and flex alongside The Best Friends which shouldn't feel as normal to write as it does. The good guys had another good comedy spot where Taylor had Jeff in a Figure 4 and then just sat up to avoid Jay Lethal's diving elbow drop. Satnam Singh ate some absolutely vicious strikes from Danhausen before catching the crotch punch. The Best Friends, Danhausen and even Orange Cassidy all took turns snapping Singh's neck on the top rope and Cassidy Orange Punched Sonjay Dutt on the floor but it wasn't enough for the win. Danhausen tried to hit Singh with the guitar and score the upset of the century but as Bryce Remsburg took it from him Jarrett clocked him with the Golden Globe award they stole from Paul Walter Hauser 2 weeks ago. Despite me being clueless as to why Lethal pulled double duty this was a fun match.
2. Jamie Hayter. The AEW Women's World Champion main evented tonight's episode in a championship eliminator against the 20+ year vet Emi Sakura. While Hayter is known for being flanked by Rebel and Dr. Britt Baker D.M.D. and Sakura had her court with her this was still essentially a clean match. Sakura had a creative idea early in the match when she whipped Hayter back and forth between the ring apron and barricade before delivering a body press against the barricade. Hayter came back and hit 3 exploder suplexes and then a backbreaker for 2. Sakura had Hayter held up in a stalling double underhook which was a nice display of power before dropping her into a backbreaker of her own. Emi countered a sliding lariat attempt into a pin for 2. Hayter hit a Death Valley Driver on to her knee and a sliding lariat for 2. In an ode to ROH legend and former NXT UK commentator Nigel McGuunness she hit Sakura with a Tower of London. Hayter tried to follow up with a moonsault and missed and Sakura cradled her for 2 and then hit a Tiger Driver for 2. Emi hit a moonsault of her own for 2. Hayter hit a lariat for 2. Sakura countered a Hayterade with a backdrop driver but Hayter hit a lariat and finally the Haterade for the win to stave off a potential challenger for her title. This was very good but like a lot of Championship matches on Rampage had zero build or story coming in and Sakura has not been featured on TV at all lately so the result never felt in doubt. But still, kudos for them for delivering one of the better women's singles matches on Rampage in a while.
1. "Hangman" Adam Page. Less than a week out from his big trilogy meeting with Jon Moxley Page squared off with Mox' fellow Blackpool Combat Club member Wheeler Yuta. They opened the night and made it hard for the rest of the card to follow. Yuta is such a contradiction. I can never care about his matches going in because he has all the charisma and mic of a guy who writes overly long B show Power Rankings every week. But like Sheamus his ring work usually pulls me in and it did again tonight. Yuta started hot right out of the gate delivering a dropkick right as the bell rang. Page sent Yuta to the floor with a fallaway slam and springing lariat on the apron before vaulting outside with a crossbody. Yuta being as ring savvy as his BCC elders capitalized on Page throwing him back in and flew out of the ring on to Hangman with a tope. But not to be outsmarted when he tried it again Hangman caught him and smashed him against the apron with a pop-up powerbomb and then a Liger Bomb inside for a near fall. Page hit Yuta with machine gun headbutts in the corner followed by an Avalanche Death Valley Driver for 2. There was a really original sequence on the apron after a suplex series inside that started with Yuta tried to German suplex Page on the apron but Page threw hit head back hitting him with more headbutts. Still on the apron Yuta drop stepped a charging Page and sent him into the post before delivering a German suplex on the apron and without breaking the hold hitting another release German on the floor! Yuta hit a diving crossbody off the top to Page on the floor and tried a splash inside but Hangman got the knees up and rolled him up for another close call. Page hit a big lariat like the one he flattened Mox with and then tried for a Buckshot Lariat but Yuta instead caught him in a modified Olympic Slam and a top rope splash for a 2 count of his own. After a strike exchange Yuta bit Page a la Mox and then we got the end with a beautifully done string as Page tossed Yuta between the bottom 2 ropes and Yuta rebounded immediately pulling himself back in. But as he did Page went between the top 2 ropes and was able to catch Yuta off guard with a Buckshot lariat. Intent on sending a message to Moxley Page then hit a Death Rider that looked really high and actually looked less impactful than when Moxley does it but I'll give him a pass since it wasn't his move. With how much Page used his head on headbutts and how many German suplexes he ate I can only assume the story of Wednesday's match will center heavily around Page's brain being rattled which only adds to this match for me. Even if it doesn't this was still a stellar opener and my favorite match of the night.