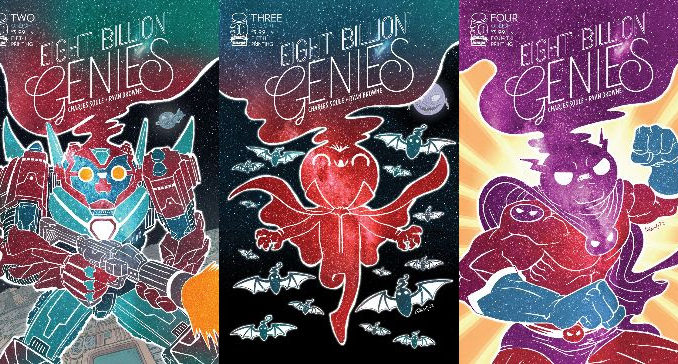 Unstoppable hit series Eight Billion Genies by Charles Soule and Ryan Browne—recently picked up by Amazon Studios for adaptation—will see a number of issues rushed back to print by Image Comics this week in order to keep up with escalating reorder activity. The momentum building with these chapters all leads up to the highly anticipated, penultimate, extra-length 40 page issue #7.
"Seeing Eight Billion Genies connect with the readers the way it has is one of the great thrills of my writing career so far," said Soule. "Literally a wish come true. When Image suggested reprinting not one, not two, but every single issue so far of the series, I had to stare at the email for a while to let it sink in; thank you so much for supporting this story. Ryan and I are working on the big finale issues as we speak—for everyone who's been following the genie journey… we will not let you down!"
The Eight Billion Genies comic book series asks, If you had one wish… what would you wish for? Now, what if everyone else on the planet had one wish too? At exactly the same moment, everyone on earth gets a genie and one wish. Eight seconds later, the world has transformed forever…and that's just the beginning.
Eight Billion Genies #1-6 reprints will be available at comic book shops on Wednesday, February 1