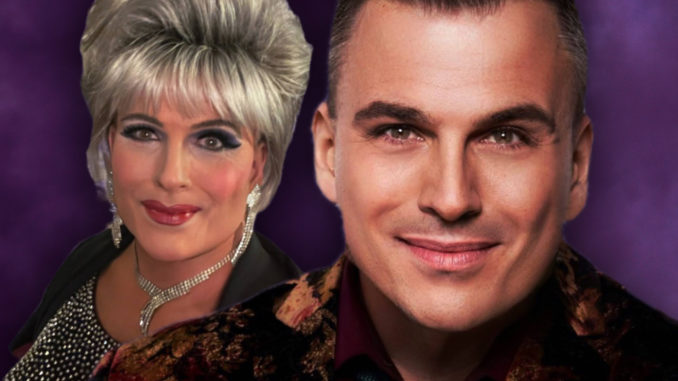 Review Fix chats with David Sabella on his role in Amanda Reckonwith Returns and so much more.
About David Sabella:
David Sabella — who originated the role of Mary Sunshine in the current Broadway revival of CHICAGO —  celebrates his return to drag, after 25 years, with his critically acclaimed one-person show "Amanda Reckonwith Returns" in a special performance at Pangea on February 7, 2023, AT 7PM. 
This performance, a special "for your consideration" appearance for the MAC awards (MAC members/voters receive "no cover charge" tickets for this performance only), kicks off an international tour for Sabella – a legendary artist in the worlds of Broadway, opera, and drag — with performances as far as Mexico and the United Kingdom. The tour continues with performances of "Amanda Reckonwith Returns," "The Razzle Dazzle of CHICAGO" and "Amanda & Lee" (a special duo show with David Maiocco as Liberace), at Incanto Vallarta, (Puerto Vallarta, Mexico) Feb 14 – March 11, and "Razzle Dazzle" at The Pheasentry (London, England) on April 21-22.
Amanda Reckonwith Returns features Sabella as the hilarious presence and brilliant voice of "opera diva and Broadway legend, Amanda Reckonwith," returning to stage after a 25 year retirement/rest cure. Once a lyric soprano, Reckonwith reached international stardom on both Broadway, and Opera stages around the globe, before settling down (way down) to have children, raise them, and have them eventually leave her (they all do). Now, known to the world as her generation's leading "Spento" soprano, (otherwise known on Broadway as a belter), Amanda Reckonwith returns to stage with her unique interpretations of Broadway and Great American Songbook favorites.
Ironically, the stories she tells are true – they are taken from David Sabella's own fascinating life and career.
In The Razzle Dazzle Of CHICAGO Sabella appears as himself, singing Kander & Ebb favorites, while sharing very real stories of the creation of the mega-hit musical, his time in the show, and his very personal life-story of being one of the first gay men in America to marry and adopt children, all while starring on Broadway.
Review Fix: What was the inspiration for this project?
David Sabella: This is a much longer story than you may realize. Literally decades in the making
The inspiration for the return of "Amanda Reckonwith," after a 25 year hiatus, came over this past summer. A friend of mine, David Maiocco, who is the world's leading Liberace impersonator, asked me to perform on his Gay Pride show last June. In the spirit of Gay Pride, I decided to appear as Amanda Reckonwith. David had been one of Amanda's musical directors (along with Mark Hartman) so it seemed like an easy fit and a fun thing to do. Then, the very next week, I was performing at national conference of The National Association of Teachers of Singing. I decided to stay at the conference a few days because the theme of the gathering was "non-binary and non-gendered voice training.' I have been a voice teacher for 35 years and have always worked in a non-binary voice model. I have performed as a female presenting singer (in "drag"), just as much as I have performed as a male presenting singer (also a kind of drag). Years in opera, as a male soprano, and then years on Broadway in the musical CHICAGO (also as a male soprano) has made me a bit of an expert in this use of voice. However, I was not prepared for what happened at the conference. Much to my surprise, several of the research presentations actually cited my work. I heard my name being mentioned, my recordings being played, and even some of my writings on the subject being cited. It had never dawned on me that others looked at me as standard barer for this type of use of voice. It was revelatory and absolutely life changing and affirming.
For many years I have tried to steer away from this type of reputation, and tamp down the male soprano aspect of my voice, in favor of a more tradition use of voice, as a male presenting singer. I don't know why I did this. Maybe I felt I had something to prove, or maybe I just didn't want to embarrass my kids (I have two daughters who are now both teenagers). In any case, I spent years shelving my male soprano voice, even though my greatest professional successes have come from that voice.
But then, at the conference, hearing my work and my voice held up as a gold standard for this use of voice, something shifted in me. I realized that the world had caught up. The idea that the voice was a non-gendered instrument had finally taken hold in the mainstream voice teaching community. As soon as I realized that I thought to myself "Why have I been tamping this down?" "Why am I not doing this now?" And so right then and there Amanda was reborn with a brand new show.
It was a cellular change in me. I realized that I had also been tamping down my own non-binary self-expression. Now I realize that singing in a suit is just as much a costume for me as singing in a gown! This realization has liberated me to realize that I am indeed a gender non-conforming male. And, everything in my life now expresses that proudly. Now, I don't think it was as much Amanda that was "reborn," as it was ME. She has really liberated me and brought me to the most authentic expression of myself to date!
Review Fix: What's your creative process like?
Sabella: Working on these shows has been like reacquainting with an old friend. It's like a stream of consciousness conversation for me. I walk around the house talking in her voice and the script just emerges. She just comes out. And sometimes she completely cracks me up! So, I record my conversations into a voice recorded and them transcribe it all, to see what works. She's funny without ever knowing it. And then there's the musical aspect of it because I REALLY sing. I sing both soprano, and female belt, which is very different than how I use my voice as a male presenting singer. Sometimes I think she just takes over. And the music is beautiful. I mean, I don't make fun of the music. I try to sing it as beautifully as possible, through the prism of comedy. I give myself only a few times in the show to (hopefully) knock the audience out with the voice. And everything else is, and has to be (as someone else put it) "Densely funny." She is the type of entertainment that I could never do as a male presenting singer, singing in this voice. The "Countertenor" voice always includes an element of educating the audience. It's Handel, Bach, Britton. It's beautiful, but it's also educational. Amanda is just FUN! She uses the same voice but is only there to entertain. The image helps to complete the gesture and then we're off in another land, the world of Amanda Reckonwith.
Review Fix: What makes this different or special?
Sabella: She appeals to everyone from Boomers to Millennials because she is dealing with all the same changes in the rules that we all are. The convention is that after a wildly successful and international career as an opera singer, she's been "away" (maybe vacation, maybe psych ward) for the past 25 years, and now she doesn't know how to act. She is completely politically incorrect but doesn't know it. And, on stage, she receives quite an education (from "the Maestro" Mark Hartman) about what to say and how to act in today's world. The boomers are right there with me, and the millennials appreciate what she's going through and how much she's trying to get it right. It's a fascinating combination of audience response, and all affirmative. I think Amanda gives us permission to think about all the things that everyone tells us we shouldn't think about. "Why can't we say the word 'Gypsy' anymore?" "Why can't I call that person a 'Man?' " and "Why can't a white woman "of a certain age" sing a spiritual?" She's just figuring it out, and so it gives US permission to think about it as well.
Review Fix: What did you learn about yourself through this process?
Sabella: Well, like I said, my life changed drastically. I learned more about who I really am. After being married (to a man) for nearly 19 years (he passed away in 2019), and raising two children, being husband, dad, teacher, friend, etc, I realized, maybe for the first time, who I am when I don't have to be something for someone else. I am a gender non-conforming, queer male. I've also been a husband, a widower, and a single Dad. That's a pretty rare space to inhabit. In 2022, I won a MAC award (Manhattan Association of Cabarets) for "Major Male Artist." This year (2023) my category of submission is "Female Impersonator/Characterization/Drag." Yeah. I learned a lot about myself.
Review Fix: What are your ultimate goals for this production and for the future?

Sabella: I want Amanda Reckonwith to become the next Dame Edna Everage. I want to be working non-stop with her, singing around the world. I want her on Broadway! And also, I want HER to do the big roles on Broadway that SHE is right for (Mama Morton, Edna Turblat, Zsa Zsa, ect) I am fully committed to living in this non-binary, non-gendered voice space. This is my truth, my authenticity. This is ALL of who I am.
Review Fix: What's next?

Sabella: What a great question! I get to brag, Yay! Next up is a special performance at Pangea (178 2nd Ave, NY), which will kick-off our International tour to both South America and Great Britton. After that we come back to NYC for a residency at Pangea (3rd Sat of every month) and travel for more gigs across the country as they come up. Several things are in the works now, cruise lines, residencies in vacation resorts, and like I said, maybe even a Broadway (or off-Broadway) show. It is super exciting to see where this/SHE may go. Thanks for asking.