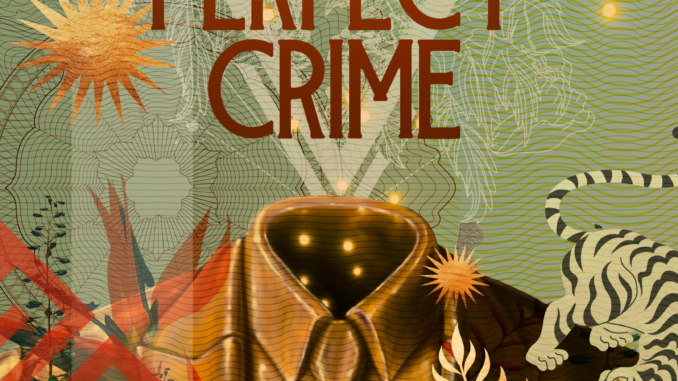 Review Fix chats with Ransom and the Subset Frontman RanDair Porter about their new single, Perfect Crime.
About Ransom and the Subset:
Seattle-based Ransom and the Subset return with a retro pop-rock track that keeps the good vibes rolling on new single, "Perfect Crime," out on February 23rd, 2023. Known for their dynamic blend of power pop, modern rock, and addictive hooks, the band is inspired by hit maker artists like Elton John, Steely Dan, and Ben Folds Five. Their newest release is a follow-up to the debut album, "No Time to Lose," lauded by the Daily Vault as "a tasty power-pop confection, full of the sort of airy, energetic, acoustic-rhythm-guitar-driven tunes." The affinity for melodic-forward, infectious hooks continues as they embark on their newest project, led by single "Perfect Crime."
Love makes people do crazy things, and on Ransom and the Subset's new single, "Perfect Crime," it convinces the protagonist to purloin in dedication to his demanding love. The earworm track begins with a 1960's style rhythm wrapped in a tight pop structure and witty lyrics. Lead singer, RanDair Porter, uses his unique rhythmic vocals to wax poetic about what he's willing to do to please his love, while Grammy Award Winner, Jay Graydon, guests with melodic guitar and unexampled solo style. Aggressively catchy and full of clever lyrics that demand a second listen (I can break it / I can take it / I can run away / down the road the car is where my baby waits), the Subset's "Perfect Crime" is a must hear.
Review Fix: How have you changed since your last release?
RanDair Porter:I think the last release, No Time to Lose' was about trying to achieve something musically before my perceived 'time' ran out. 'Perfect Crime' is about accepting where I am at musically and in life in general, and, trying to be amused by it including the miss-steps (crimes)
Review Fix: What inspires you now that didn't before?
Porter:As time passes, we all begin to observe more and more of the realities of our humanity. As sad as that is ,it also brings attention to the wonderful experiences and memories we shared with others. In each of these there is a memory, a story, a laugh, a song … something that can be turned into something interesting for others to enjoy.
Review Fix: How was Perfect Crime born out of all that?
Porter:'Perfect Crime' is a playful tale of an exaggerated sense of devotion to his girl. We've all heard cliché expressions like "I'd walk through fire for you" … the hyperbole in this song is we're smashing a jeweler's case or cracking a safe, and the little angst leading up to too it.. she's perfect for him.. gotta prove it
Review Fix: How would you describe your sound to someone who has never heard you?
Porter:It's got a vibe, if that can be said without coming off pretentious. It's got that subtle quality that finds your toe tapping while you are focusing on a shiny harmony or a memorable lift in the chorus. Texture in the rhythms, rocking forcefully at times, but always a nugget of a hook that makes its way back into your consciousness while you go about your day.
Review Fix: How are your live shows different from your studio work?
Porter:We take great effort in presenting a listening experience when recording the songs. An experience while driving a car, or working out, doing the dishes, or everyday life. Live, we try to cater to the show environment at the same time bringing the essence of the songs. Little different from listening while doing the dishes.
Review Fix: What are your goals for 2023?
Porter:We'll be doing everything we can to get the album released and heard in April. Platforms, radio, interviews, podcasts, etc. Nearly every song on the album has a guest that has been involved in hit music. Players from Joe Jackson, Elton John, Smithereens, Joan Jett, Ben Folds 5, Jellyfish, Brian Wilson, etc. We plan to do some co-promotion. Telling a little bit more about how these great players participated in the songs.
Also, Japan received our last album really well. We plan on doing a special Japan release of the album later this year.