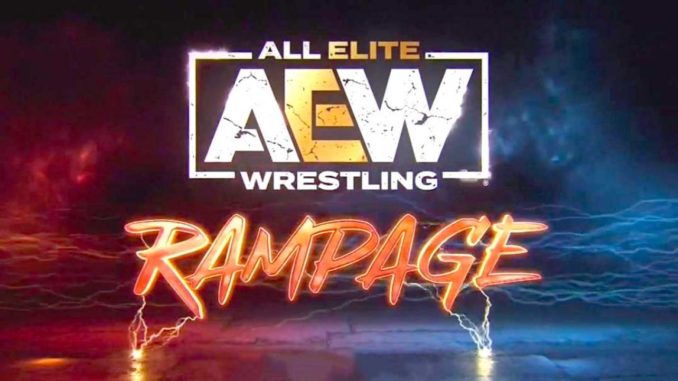 This week I do a lot less recapping of moves and a lot more speculating on the short-term future of the people featured on Rampage so let's jump right into this week's rankings! 
Honorable Mention: QT Marshall, Swerve Strickland, Mark Briscoe, Matt Hardy and Jungle Boy. QT said next week on the first-ever QTV they'll give everyone the scoop on who really broke into Wardlow's car. QT has been such a goober and treated like such a joke that this feels like it's pulling Hobbs down already where he may have been better used to help a pretty stale Wardlow turn and let Hobbs grow as a face but I'll give it some time before I fully judge. Swerve said he may have overestimated Keith Lee. He took out the Mogul Affiliates. Lee got this battle but Swerve will win the war. He's got something in store for Keith he won't see coming. He's turning into a cannibal because everything is food. Keep eyes in the back of your head Keith. Hoodies stay up. I don't know if Swerve will actually be adding to Mogul Affiliates (please replace Parker at least because he really just doesn't seem to be the special, baby Brock people were rumored to see him as) or what but just give me Swerve v. Lee already! Revolution was great but I still think it could have been even better if that had made the card. Mark Briscoe announced the Reach For the Sky Ladder match for the ROH tag team titles at SuperCard of Honor and introduced the first team in the match, the Lucha Bros. WrestleMania weekend is so loaded with events that I hadn't planned on ordering SuperCard but this might be enough to sway me. Matt Hardy promised to personally train Stokely Hathaway and those bits could be comedy gold! I'm fine never seeing Matt wrestle a real match again but I forget how fun Matt can be out of the ring as a character and it's a golden chance for Stokely to be that fun, modern version of an 80s heel manager we know he can be. Jungle Boy says the hardest part was closing not just the casket but the book on that part of his life. Every man with a championship is on notice because he knows momentum is hard to come by. All the current singles champs would be strong opponents for Perry but as much as I don't want to see Cassidy lose the belt Jarrett winning then dropping it to Jack Perry and letting him start almost a face version of the legend killer gimmick could be a lot of fun! 
5. Darby Allin. Darby said he's a little too real and little too crazy. He wants to go out in a blaze of glory and there's some things he wants to accomplish before his time in AEW is up and next week he'll make that a little more clear. The phrasing here opened up a lot of questions. Is Darby's deal up soon? Or is it more just him figuring with his style he doesn't have long for this business? Either way he's probably my favorite person to watch wrestle in the whole company so I'm very excited he's back! 
4. The Acclaimed. The former tag champs faced off with GCW staples Starboy Charlie and Jack Cartwheel. As a big GCW guy I was excited to see Charlie and Cartwheel and thought they might get a little bit of shine before inevitably losing. Sadly that didn't happen. The Acclaimed hit The Arrival and the Mic Drop and got a quick win before Charlie or Cartwheel could show any of their skills. If Charlie ditches the overalls and Cartwheel scraps the tassels maybe we can get them some matching tag gear and run this back in a more competitive showing down the line. After the match Angelo Parker and Matt Menard came out on the ramp and offered J.A.S. shirts to The Acclaimed. Tony Schiavone said they wouldn't fit because they don't cheat and Jericho brought up the very good point that maybe if they did they'd have the titles right now. With the J.A.S. in the trios title match Wednesday quickly moving the belts to them to have a trios feud with Billy Gunn and The Acclaimed could be fun. Or we could just have The Acclaimed beat Menard & Parker, then Garcia & Hager before Le Sex Gods. I just want to hear Caster rap about Jericho more than I care about any match here. 
3. Konosuke Takeshita. In our "Big Meaty Men Slappin' Meat" match of the night "Perro Peligroso" Preston Vance took on Takeshita. Vance had his necklace made of stolen lucha masks on and I still love that look. Don Callis was on commentary and said Takeshita has Lou Thesz like proportions. Takeshita hit a Blue Thunder Bomb for 2. He followed with a big knee but Jose The Assistant (commentary again questioned if "The Assistant" is his last name which is one of my favorite running gags) put Vance's foot on the rope. Takeshita ducked outside and took out Jose but came in and ate a lariat from Vance for 2. Takeshita broke a Full Nelson and rolled through for 2. He turned a discus lariat into a backslide for the win. Callis said it's one of his favorite moves. The match was fun but my big issue is that AEW had 2 out of 4 matches tonight end with pins and not finishers and the third have interference. I want more clean wins on this show. They're getting to feel very Vince McMahon "Keep everyone strong" in their thinking and ultimately nobody looks better for it. The ending here was a strange call. Vance winning would have given Takeshita another loss and a reason to start really considering Callis as his manager while also boosting Vance who I think has a lot of potential too. They could still have Callis put down Vance and sell Takeshita with the idea of like "What if it was somebody better than Vance, could you have won without somebody to even the odds?" but that only pushes Vance further down which I'm not a fan of. Some people might bash that as predictable but as the often used (I think Macho Man) drop on the Getting Over Podcast says "Sometimes predictable things are good" 
2. Riho. We were back to switching from the 3 box promo to a video package for Nyla Rose v. Riho in the main event. The package was actually useful here since Riho has only had the 1 Storm match recently as far as consequential moments and Rose has basically been non-existent on AEW TV the last few months. They tracked this back to the first Dynamite where Riho upset Nyla for the title then talked about the rematch months later when Nyla took the belt from Riho. Nyla came out with Marina Shafir. This was a fun back and forth contest with a lot of play on the size disparity. Nyla caught Riho on a diving crossbody to the floor and carried her around ringside between tossing her away. Rose turned a tornado DDT attempt into a powerslam for 2. Nyla hit the draping guillotine legdrop to Riho that commentary reminded us was how Nyla won the title for another near fall. In the best spot of the match and second best spot of the night Riho hit an impressive Northern Lights Suplex on her much bigger opponent for 2. Riho avoided being flattened by a cannonball corner splash. Riho landed a crucifix bomb for 1. Marina grabbed Riho's boot and Nyla almost hit a Beast Bomb on a charging Riho but Riho rolled through for a pin and the win. After the match Nyla hit a powerbomb and Shaffir mounted her and they both attacked. As they were leaving Saraya, Ruby Soho and Toni Storm who commentary is now calling "The Outcasts" came out and Rose & Shaffir let them walk past. Soho and Saraya held Riho while Toni spray painted her. Excalibur mentioned Storm being mad about that loss a few weeks ago to Riho. Nobody made the save which was odd but this did seem to point to Riho as another woman for Baker and Hayter to align with which would be an interesting grouping. Nyla and Shafir letting them walk past made it feel for a second like they could be the 2 added to create a 5 person team for the first ever women's Blood and Guts that I and I think most AEW fans are hoping to get to save this generally lackluster story. Shafir being a former WWE talent (albeit in NXT and shortly) would also make some sense but Nyla doesn't. Though they could always just have her be the 1 person that doesn't fot the mold that every faction seems to have or not formally join The Outcasts and just side with them for the match. On the face side of things it feels like 4 spots are locked up now with Baker, Hayter, Willow Nightingale and Riho but who is the 5th? I don't see how it makes much storyline sense, unless she says she was watching AEW and the caliber of the originals made her want to jump ship, but Mercedes Mone being the 5th would give a Blood and Guts match such a massive feel and really spark this division. However the safe money for the 5th is probably on Shida then Statlander in that order. Could Mercedes be the 5th person for the heels? Would Soho and Saraya take that backseat? I'm curious to see how this all goes. 
1. Sammy Guevara. This was a hot opener that had a lot of the fast paced action you'd expect to see from two of AEW's best young talents. The high spot here came when Action Andretti jumped off the top corner and splashed Sammy on the timekeepers table. Andretti rolled Sammy in and climbed the turnbuckle but as he did Garcia knocked him off allowing Sammy to recover and hit the GTH for the 3 as Garcia sat outside rubbing his hands. Commentary sold it as the J.A.S. stealing yet another win from Action Andretti. I'm not really sure where this is going since this whole thing started with Andretti beating Jericho. Are we building towards Andretti v. Jericho 2 to prove the first win wasn't a fluke? That'd be nice and I thought I had heard somewhere that Jericho out of character said he vowed to never get his win back over Andretti, though that may have just been somebody speculating. But if it's Jericho getting his win back this whole thing stinks. Andretti jist going through the underlings doesn't do much for anyone. Could they revisit the Garcia tension in the J.A.S.? We know Tony Khan likes to drop stories for months then pick them up like nothing ever happened. Then Andretti could pull the "If you can't beat them, join 'em" card and while it'd be a step back for him in the short term it could slingshot Garcia and make for a fun tag team with he and Sammy. Time will tell.