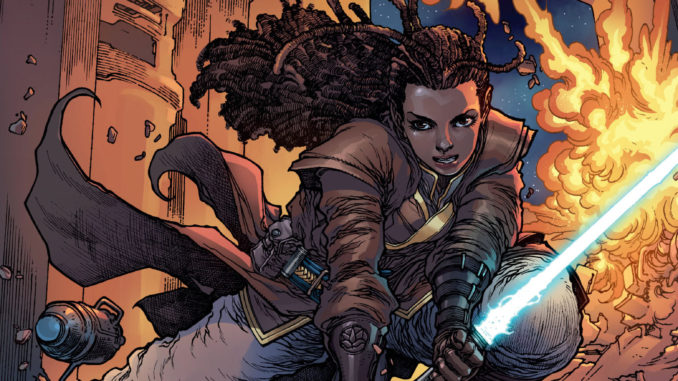 Dark Horse Comics is pleased to announce their Free Comic Book Day Silver offering: Star Wars: The High Republic Adventures/Avatar: The Last Airbender, arriving May 6, 2023 at participating comic shops.

Get set for adventure with a new tale from the farthest reaches of a galaxy far, far away; and a new story from the world of Avatar: The Last Airbender!
In Star Wars: The High Republic Adventures, the galaxy-wide conflict between the Jedi Order and the dangerous marauders known as the Nihil intensifies, and a shuttle full of younglings gets caught in the crossfire. This lost tale set during the fall of Starlight is written by New York Times bestselling author Daniel José Older and is illustrated by Harvey Tolibao, who also provided the cover art for this issue. Colors are by Michelle Madsen and letters provided by Comicraft's Tyler Smith and Jimmy Betancourt.
In Avatar: The Last Airbender, Aang and his friends come across a village decimated by the Fire Nation. One survivor—a young child named Luumi—refuses to open up to anyone except fellow Earth Kingdom native, Toph. This comic is written by Amy Chu, with art by Kelly and Nichole Matthews, and is lettered by Richard Starkings and Comicraft's Jimmy Betancourt.

Free Comic Book Day 2023 takes place on May 6, 2023. Check with your local comic shop to see if they are participating!
Free Comic Book Day is a day when participating comic book specialty shops across North America and around the world give away comic books absolutely free. Learn more at FreeComicBookDay.com.