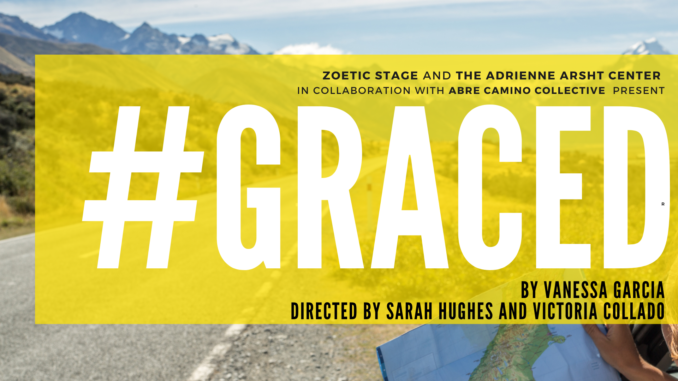 Review Fix chats with #Graced's Vanessa Garcia (WRITER)  AND Victoria Collado (CO-DIRECTOR), who discuss the performance and so much more.
Review Fix: What was the inspiration for this project?
Vanessa: Two main things. One, around 2014, when I first started writing this piece as a play, I was recently divorced. I wanted to go on the road and figure some things out, and to a certain degree I did – I put my stuff in storage and went from residency to residency, wherever they paid me to write. But, it actually began before that, before it was a play. In 2008, when I first had the idea to hit the road to discover America, writing nonfiction – myself, a woman at the helm. Not the 20th century Kerouac figure, but something new – a Cuban-American woman. The impetus for that was that Horace Engdahl, Secretary for the Swedish Academy (Nobel prize), said: "The U.S. is too isolated, too insular. They don't translate enough and don't really participate in the big dialogue of literature. That ignorance is restraining." And that made me think to myself that the world's understanding of America was, itself, full of a restraining ignorance. Because, here I was, a young woman from Miami, a writer, in constant conversation with my roots, with Cuba, with Latin America, with Spain, even France. My history inside me, making new roads. And then I thought: oh! Wait, I have to fix this. I have to be a part of the machine, the people, the writing, and the activity that shines the light on the Americans the world isn't seeing. And so #Graced began through a nonfiction project, at first, called STATEMENTS (still in development), and then later, this play…which was at one point called Grace, Sponsored by Monteverde. In other words, it's been a ten year journey… almost. 9 years in and there's a world premiere.
Review Fix: What's your creative process like?
Vanessa: I work a lot. I wake up early. I write before my kids wake up. I write any time I can write. I am a writer – that's sometimes what I say when people ask about process – I write. But, also – process is different depending on the genre or the project. For example, plays: Sometimes I build out the world before writing, using Elinor Fuchs' Visit to a Small Planet, meant to deconstruct work – sometimes I use that to construct worlds. Sometimes I have character bibles – literally books and novels through POVs that then allow me to know the character really well so that I can place that character in any situation I want or need to. I did this for The Amparo Experience. The novel hasn't been published, it just exists as a character bible. I discover characters that way. That's one way. With nonfiction, I really try to discover the story with the journey of research, which is why I understand Catherine from #Graced, for instance. Re:ACC and how I work with Vicky and in TV – I love to write toward productions, love working "in the room" and live. Vicky (Collado) and I work a lot that way in conversation. Sarah Hughes and I also worked a great deal this way, in a different way – more around the world of ideas. In general, when the thing is on its feet, it starts to sing, and responding live in a room that way is very exciting for me. Very exciting.
VICTORIA: I base a lot of my work in movement and music. So I tend to spend a lot of the prep time finding the music or visual inspirations in dance videos or paintings. I feel like I have so many folders on my Instagram account with content I save per project. With #GRACED in particular, I've been tracking trends since I was invited to come on board. So I look at the TikTok/ Reels dances that are trending, the travel content that gets created with particular sounds and I try to imagine how "Catherine" or any of the characters in the show would do it or if they would do it. When it comes to rehearsal, I tend to start generating physical language with the actors that we'll then apply to the show itself. I think it is vital to get the actors to learn how they each move and create a secret language that belongs only to them. I believe it's what makes them bond and the audience can sense that. I think it's going to be interesting to combine powers with Sarah and see how our different methods marry together. I feel like I'll learn a lot from her and this process, and I'm pumped to get in there with her!
Review Fix: What makes this different or special?
Vanessa: I feel like right now we are in a "I hate America" mode. It's easy to bash a place where you have the freedom to do so. It's not that we don't have problems, but I also believe it's a lot more complicated than some of the rhetoric out there right now. And we have to ask ourselves a lot of questions around that. As someone whose family was taken-in, protected, given safe-haven and a second chance in the U.S. (I am the daughter of refugees), I think the layers are much more complicated. This play lives inside those layers, inside the gray, and inside, too, the optimism and the grace that can come out of this deeper plunge.
VICTORIA: Let's start with the obvious – there's a Cuban-American woman at the helm of this road trip saga. I have yet to see that on stage and/or screen. I think there is something fascinating about how this crew of "misfits" find each other while also in the search of America. Vanessa's writing in this piece I feel is so real and there's a no BS approach to it. As someone who works a lot with plays about the immigrant/children of immigrant experience, I have yet to see a character that approaches America the way that Catherine does. Personally, this play feels like a defining moment in how the Latinx community is seen and how it interacts with the definition of being American.
Review Fix: What did you learn about yourself through this process?
Vanessa: I started out my artistic life as a painter, and one of my first teachers used to say (his name was Archie Rand, and he might have been quoting someone else), that "It's all positive space, there's no such thing as negative space." That makes sense for me and it really rang true with this project. Everything is in the foreground. There is no background…it felt like right now it all feels like that. I don't know if that makes sense, but social media has done something and not done something to us – we are the same and we are different.
VICTORIA: I don't think I've ever identified with a character in a play as closely as I have with Catherine, which has taught me how many more plays like this need to exist in the American play canon. I also think that this process is forcing me to really understand the way I work. Working with another director requires hyper-communication of each others' thoughts, wants, approaches and the exercise of that communication makes one analyze things that are usually taken for granted because it's just natural. This process feels kind of perfect at this moment of my life. I'm close to the age of Catherine and finding myself asking similar questions so not only is this play challenging me artistically, but also on a personal level.
Review Fix: What are your ultimate goals for this production and for the future?
Vanessa: Broadway. And also to get a TV show called Statements out of this where we do the thing (Vicky and I at the helm, in search of America today – what that means. What does it mean to be an American right now).
VICTORIA: Broadway, baby! It's time for a straight play about these characters to be on that grand stage.
Review Fix: What's next?
Vanessa: What's next for #Graced is we are looking for that company that wants to go into the second production with us, to keep developing this toward Broadway. We are looking for people as all in as we are. We are grateful for WP Theater (so supportive!) and Zoetic Stage (who will be our premiere and who have really believed in this piece, big time) for being the real birthplaces of this piece and will be forever grateful for them for that. Hoping another company with as much passion comes in to take on the next step.