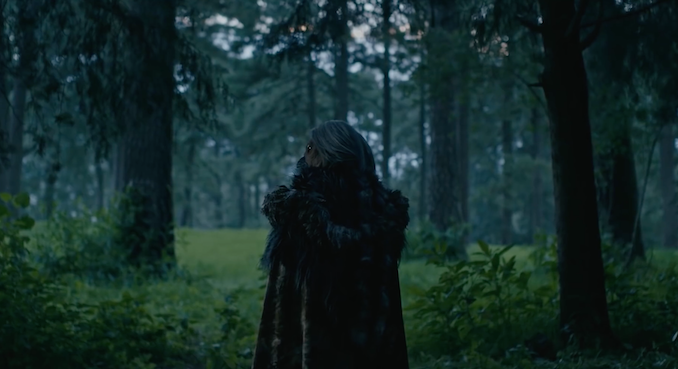 Review Fix chats with LECHUZA producer Sam Jimenez, who breaks down the inspiration for the film, their current Kickstarter and so much more.
Review Fix: How did this project start?
Sam Jimenez: It all started on a dark and stormy night. Just kidding. I want to say the idea for this project started in 2020. That initial lock down kept a lot of us at home and some of us, like our fearless leader, Miguel, took the newfound time at home to start thinking about projects they wanted to do. If I'm remembering correctly, this was one of a few ideas Miguel had in that time period. He wanted to film something small, with minimal cast and crew, sort of just to have something you know? To keep the creative juices flowing. And as an exercise, he took this particular idea (of a woman's grief summoning a deadly witch) and ended up writing a feature length script! A full 90 pages! So we started talking about what it would take to film that script and we eventually decided to sort of slim it down and make a proof-of-concept short film version that we could then take to festivals and show people, "This is what we can do."

Review Fix: What else inspired it?
Jimenez: Like I mentioned before, the lockdown in early 2020 kept a lot of us indoors and for film buffs like Miguel and I, we passed the time by watching movies. Horror movies in particular. We must have watched Midsommar a half a dozen times. We had our core group of friends Skype in for movie watch parties, the creepier the movie the better! We marathoned the Scream movies, a couple of the Evil Deads. Miguel and I would scour the internet looking for more movies to watch and then we watched them! It was a way for us to stay in touch and bond, and I think that was part of the journey that lead to LECHUZA. We wanted to make something that we would show our movie party crew, something exciting and fun and just the right amount of scary.

Review Fix: What does it mean to tell horror through a Mexican lens?
Jimenez: Horror is going through something of a Renaissance now and part of that revolution is pushing forward new voices both in front of and behind the camera. I don't know how revolutionary it is to say but every script Miguel and I write (be it together or separate) is populated with Mexicans. That's just who we have in mind when we write. "Write what you know" means that you pull from your own experiences and background. We grew up with stories about Lechuza and the Donkey Lady, you know, these figures from folklore. And they felt specific to us, to our people. So I think it was never really a question as to what lens we were telling this story through. We're Mexicans and we're telling stories about Mexican culture.

Review Fix: What are some Mexican horror products that you've learned from in preparation for this!
Jimenez: This might sound weird but I'm learning to speak Spanish with this project. To get personal for a second, my family had to leave Mexico when Pancho Villa was riding from town to town and recruiting all abled bodied men into his ranks. My family essentially packed what they could carry and left for America. And while here, my family did what they had to so they could fit in and make life better for their children, which meant putting them in public schools or Catholic schools, which also meant a greater emphasis being placed on speaking English and not Spanish. I didn't grow up learning Spanish because my parents were told not to speak it. And that's sort of something I've had to deal with my whole life, this particular aspect of my own culture I feel apart from. So projects like this inspire me to take control and learn to speak the language that was forced out of so many peoples' lives.

Review Fix: What else prepared you for this?

Jimenez: Miguel and I aren't strangers to Kickstarter. We've successfully funded our comic through Kickstarter twice now. I guess you can say we're pros at this! Our comic, Quetzalcoatl, was funded on Thanksgiving Day 2019 and the full graphic novel was funded just last year! Those two experiences really helped prepare us for how we were going to approach this project. We had good and bad experiences through both of those campaigns and that sort of grounded us, made us see how much work we needed to do, and kept our expectations in check.

Review Fix: What makes the Kickstarter special?
Jimenez: I think what separates us from other projects like it is that we are going into LECHUZA with the idea that, while we're not making the full feature (YET), we are making this proof-of-concept to showcase the talent of our cast and crew. We're a small team, spread out throughout the country, and we're all coming together to make this extremely personal film about grief, processing the pain of losing a loved one. I think that's something that everyone can relate to. We have a lot of great features going on this Kickstarter, one where you can be IN THE FILM as a disembodied voice that haunts our characters! And we're offering donors and participants the opportunity to meet with our writer/director, Miguel! He's been working in this industry for years now and his experiences are crucial to LECHUZA getting as far as it has. And one of our pledge awards will get you into a meeting with Miguel where you can ask him anything! He's a fount of knowledge, information, and experience and if you're an up-and-coming filmmaker, you're going to want to talk to this man.

Review Fix: What are your goals for this?
Jimenez: This is a huge step forward for many of us involved with LECHUZA. We've all sort of been in and around the industry for a while and, in my mind, this is a launchpad, a springboard that could open a lot of doors for us. My hope is that others start to see and recognize our incredibly talented cast and crew and new opportunities are afforded to them. And I hope this inspires other BIPOC creators to get out there and make their own works. Every creative industry is going through a cultural shift where the stories being told and who is telling them is changing, becoming more diverse, and I think that's a beautiful thing. My hope is LECHUZA inspires others to make their voices heard.

Review Fix: What's next?

Jimenez: Once the campaign is wrapped, it's time for the biggest endeavor of this project: making it! Our cast and crew are assembled, we have a location locked in, so all that remains is filming and editing. After that, we're going to be submitting LECHUZA to some festivals with the intent to find backing for the feature. The end of the Kickstarter is by no means the end of LECHUZA. It's only the beginning.

Review Fix: Anything else you'd like to add?
Jimenez: I just want to say thank you to everyone who has not only donated to LECHUZA, but also to everyone who has given us the space, like this, to spotlight the project. Getting the opportunity to connect with film and horror fans has been a wonderful experience and I'm so incredibly grateful for that support.

Review Fix: Where can people find out more?
Jimenez: To find our more, you can head to www.lechuzafilm.com and learn about our project, as well as how to support us.