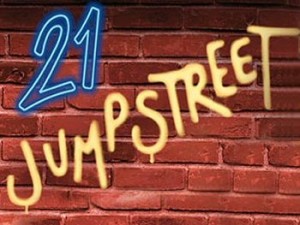 Long before the DVD Company Anchor Bay sold out to Starz, it would often release great horror films, comedies from yesteryear and rarely seen since their initial release television shows. (Now, they release direct-to-video or barely seen theatrical films, such as "Righteous Kill") Thankfully, they released "21 Jump Street Season One" before their merger, which allowed for the series to finally be seen again.
Aside from 1313 Mockingbird Lane, the second most famous TV address would have to be "21 Jump Street," which was an abandoned church that housed undercover cops who posed as high school students.
"21 Jump Street: Season One" is similar to watching "Saved by the Bell" and "Hill Street Blues" at the same time, only much more fun. It was a witty and intelligent drama that bridged the gap between teenagers and adults and launched the Fox Network. Not only that, but it had a theme song that was unforgettable.
What made the show so great was the fact it never talked down to its targeted audience in the way it tried to handle serious issues, which were often balanced by a light and amusing sub-plot to relieve some of the tension.
While many believe that a young Johnny Depp ("Pirates of the Caribbean") as Officer Tom Hanson is one of the major reasons the show was so successful and enjoyable, it isn't exactly the truth. Depp is delightful as Hanson, but the real star of the series is Peter DeLuise ("The Midnight Hour") as Officer Doug Penhall. He is a big, charismatic and often times hysterical bear of a man that never has a problem handling himself in tough situations.
The cast is rounded out by the beautiful Holly Robinson ("Hangin' with Mr. Cooper") as Officer Judy Hoffs and Dustin Nguyen ("Little Fish") as Officer Harry Truman Ioki, who are both perfectly cast in their perspective roles.
The first season of the show was also fun because of a few important revelations. Not many people remember that Steven Williams, ("Jason Goes to Hell: The Final Friday") was not the first Captain that ran the Jump Street unit, it was actually Frederic Forrest ("The Conversation") as Captain Richard Jenko. He played the role of the former hippie, turned captain for six episodes. Over time, it was obvious the role just wasn't for him. He didn't seem to enjoy the switch from feature films to episodic television and he was eventually written off the show. However, Williams is more than solid as Captain Adam Fuller. He managed to create a leader that knew how to take command and occasionally be one of the guys.
Season One is one of the series' weaker ones because it was still trying to find its basic tone, but with that being said, there were a few outstanding episodes. The show had a great start with the pilot, which showed Hanson not being taken seriously as a cop and being offered the chance to be part of a new undercover operation. It is a nice introduction to the cast of characters, as they uncover a high school drug ring.
"My Future's So Bright, I Gotta Wear Shades" features Hanson and Penhall going undercover to a prep school to investigate a rape. It features guest star Josh Brolin, ("No Country for Old Men") who was beat out by Depp for the role of Hanson. "Gotta Finish the Riff" is an introduction to Captain Fuller and deals with a high school that is overwhelmed with gang violence. It is one of the few episodes where the entire cast is on the same case and is exceptionally well done and features Blair Underwood ("Just Cause"). And finally, "Blindsided" is the first episode to feature Hanson and Penhall as the McQuaid brothers. Add all these moments together and it's easy to see what a solid box set this is.
After season one, the episodes became subsequently better, until an awful season five that saw the departure of Depp, DeLuise and Nguyen, stripping the show of the majority of it's talent and making the older seasons that much more important to the legacy the show would eventually leave behind.
Because of that, if you're looking for the place where you belong, "21 Jump Street: Season One" is a great place to start.