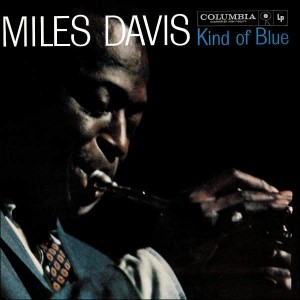 Miles Davis' "Kind of Blue" is a landmark recording in jazz history. It is the top selling jazz album/CD of all time and one of the most influential. Containing five tracks that are the closest thing to perfection (with a bonus alternate take on the re-issue), "Kind of Blue" redefined the parameters of jazz, the American classical music.
What makes this 1959 album so timeless and inspiring? Let us start with the "perfect storm" of Davis (trumpet), Julian "Cannonball" Adderly (alto saxophone), John Coltrane (tenor saxophone), Wynton Kelly (piano-track two), Paul Chambers (bass) and Jimmy Cobb on drums. These expert musicians, not knowing it at the time, were creating a "template" that every jazz musician would try to emulate for decades to come. Though jazz is a musical form that had been around from the "embryonic" stages of Bix Biderbecke and Louis Armstrong's improvisational brilliance, the confluence of the players on "Kind of Blue"created musical "nirvana" that will never be equaled and took jazz to new heights.
Taking melody lines that are memorable while exploring undiscovered "terrain" through stirring improvisational excursions, these virtuosos took bare "sketches" of what their lead solo breaks should contain and took off on flights of fancy that are pure bliss. Davis knew the caliber of the players he had in the studio and took full advantage of it, bringing out the best in all of them.
Davis, whose career included stints with Charlie Parker( saxophone), "Dizzy Gillespie (trumpet) Gil Evans(pianist and arranger), helped create Bebop and Jazz fusion ("Bitches Brew") and even covered Cyndy Lauper ("Time After Time") and Michael Jackson ( "Human Nature") late in his career. He is an iconic figure in jazz who allowed other musicians in an ensemble to "shine" around him. The "chemical reaction" of the brilliant musicians on "Kind of Blue" bouncing off each other was not planned, but pure, spontaneous kismet.
From the bass piano introduction of "So What," the listener is taken on an improvisational journey of epic proportions through Davis' lilting trumpet work. Coltrane and "Cannonball" Adderly's awe inspiring solo breaks follow suit and take the song to new heights. All the while, Bill Evan's piano and the rhythm section keep perfect time.
"Freddie the Freeloader" is a 12 bar blues track that despite its simplicity, brings out the best of the soloist and breaks new ground at every turn. Kelly's keyboard artistry is first rate and Davis' trumpet solo is soothing.
"Blues in Green" has the musicians playing in various time signatures all the while never losing their bearings and stunning the listeners with musical dexterity and mellifluous melody.
"All Blues," 11:33 minutes of slow blues heaven, is played in 6/8 time which produces incredible dynamics despite few radical changes in form. The moody, atmospheric saxophone breaks are calming and inspiring. Though Coltrane and Adderly play separate solos, they flow in and out of each other seamlessly.
"Flamenco Sketches," which is also an alternate take on the remastered Davis 75th anniversary CD, features scales played by each soloist, which makes a jazz aficionado's dream of musical "utopia" a reality. Each soloist takes his turn and does not try to outdo, but merely complement, the previous player.
The album, which was taken from two recording sessions in March 1959 is accessible to a jazz novice, but at the same time titillates the jazz purist. It is melody driven, yet allows the musicians to stretch out and deliver performances that defy all description and logical analysis. This album is a sonic experience that is heard and felt.
"Kind of Blue" serves as testament as to why jazz, a musical form created on these shores from African and European influences, has so much relevance. It is a shame that this style of music, long appreciated in Europe (especially France), is an ignored treasure among the masses here. It is music that is expressive, intelligent and complex, despite its forthrightness and simplicity.
"Kind of Blue" is a masterpiece that belongs in a time capsule with the compositions of Bach, Beethoven, Chopin, Ellington, Goodman, Gershwin, Porter, Simon, Lennon –McCartney and all other musical geniuses' work. Those who give it a listen should be prepared to be entertained, thrilled and transformed.