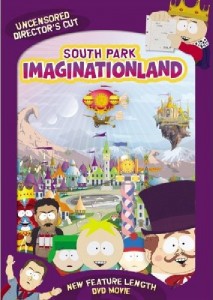 Ever wonder what would happen if your imagination was being held hostage by terrorists?
Luckily, South Park creators Trey Parker and Matt Stone have the answer.
A three-part episode on the eleventh season of South Park, "Imaginationland" addresses the war on terrorism and the imaginations of Americans and also touches on a few other topics in the South Park universe making it a fairly enjoyable story.
Watching "Imaginationland," you get the idea that Parker and Stone have decided to address a smorgasbord of ideas, including sub-par movie directors, bad sci-fi movies and the inevitable showdown between Kyle and Cartman. Usually in a situation like this, you'd expect the feature to be structurally flawed, but somehow "Imaginationland" puts all of these ideas together and presents them in a way where they are absolutely hilarious. Watching the transgression of events unfold will be a delight for hardcore South Park fans, while viewers unfamiliar with the series will still find them entertaining.
Featuring the likes of Mel Gibson, Al Gore, Michael Bay and every cartoon character you could imagine, "Imaginationland" has the biggest cast of characters since the South Park movie nearly a decade ago. Again, while many may think it would be nearly impossible to put all of these characters together in a cohesive and fluid work, "Imaginationland" gets it done and is an absolute blast from start to finish. In addition, the plot development involving Cartman, Kyle and Butters throughout the story is extremely fun to watch and gives the story the type of depth that isn't found in animated sitcoms anymore.
For that reason, "Imaginationland" is a worthy addition to any South Park fan's DVD collection.
The commentary on the disc is also probably the best ever done on a South Park DVD for the simple reason that it doesn't pull any punches. On every other South Park DVD available, Stone and Parker give mini-explanations of every episode and don't get as deep as you'd like them to. On "Imaginationland" however, Parker and Stone talk about the inspiration behind the DVD and a few other things on their minds, which ends up being another great reason to buy the feature.
That being said, "Imaginationland" is an entertaining 64-minute romp that combined with two additional bonus episodes and hilarious commentary is a definite must-own for any fan of the series.