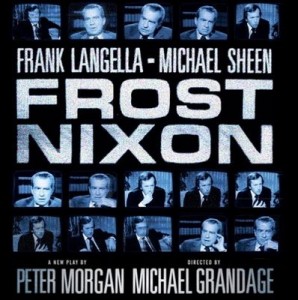 Ron Howard managed to direct one of the best films of his career in 2008 with "Frost/Nixon," a revealing exposé on the world of journalism. What could have been a dull, lengthy picture is transformed into an exciting, well-executed masterpiece of cinema.
David Frost, (Michael Sheen, "The Queen") is a charismatic British talk-show host that wanted to make his mark on television by interviewing someone that could pull in the ratings. When he notices that Richard Nixon's (Frank Langella, "Body of Evidence") resignation speech managed to do just that, he becomes determined to score an interview with him. However, through the course of accomplishing this task, he realizes that he has a chance to accomplish even more- getting Nixon to confess to what he did in office. So, what should have been an expensive and forgettable fluff piece quickly transforms into a David and Goliath story for the truth.
Sheen gives a commanding performance as Frost, a journalist who lacks the credibility to get the world to believe he scored the interview of his generation and manages to counterbalance his wildly fun playboy side with a serious, journalistic one. Sheen makes it clear that this interview was supposed to boost his sagging ratings, but when a chance for greatness is bestowed upon him, he jumps at it.
From Skeletor to Count Dracula, Langella's long career is finally given a chance to shine and in return, he delivers an outstanding performance as Nixon. Comedians have been doing Nixon impressions for so long that it seemed impossible to put his own-spin on it, yet Langella manages perfectly. Not for one moment does the performance feel like an impression of Nixon; instead, it feels as if Nixon was on-set. The performance also paints "tricky" Dick as humanly as possible and not the cartoon villain he has been depicted as over the years. In the film, we see Nixon as a man that knows he screwed-up his turn in office and is desperately trying to reclaim some peace, quiet and money in his years following his presidency. This allowed the performance to be 100 times better than Anthony Hopkins' over the top portrayal in Oliver Stone's "Nixon."
What makes the film even better is the fact that Howard made the smart decision to go Anti-Hollywood in this picture by sticking with the two leads from the stage-play, instead of going with marquee value names that may have sold more tickets. That is something to be commended for. He then filled the supporting cast with some of the more-talented ,yet underrated performers in the business, including Kevin Bacon, ("Criminal Law") Sam Rockwell ("The Green Mile") and Oliver Platt ("Martian Child"). Each of their performances built the strong structure for the two lead performers to lean on from time to time.
Howard also tried something new with his style in this picture. Instead of a traditional motion picture, it is shot as a documentary. While the main characters never talk to the screen as if they are being interviewed, the supporting cast offers stories about the process of the interview and what went into it. This allows you to believe that Bacon is Jack Brennan (Nixon's right-hand man), or that Rockwell is James Reston Jr. (The man that wrote the questions that exposed Nixon).
On top of all that, the film is directed in the way a great boxing-match is choreographed, which must have been hard because there is no real action in the movie. The adrenaline is all emotional, based on the audience's desire to see the underdog win, most of which works due to the film's fast-paced editing.
"Frost/Nixon" was nominated for five academy awards,  including Best Motion Picture of the Year, Best Performance for a Leading Actor (Langella), Best Achievement in Directing (Howard), Best Achievement in Editing and Best Writing, Screenplay Based on Material Previously Produced or Published.
With such a great movie, it is sad that Howard's follow-up was the popcorn-flick "Angels and Demons," however "Frost/Nixon" is the type of film that will stand the test of time.