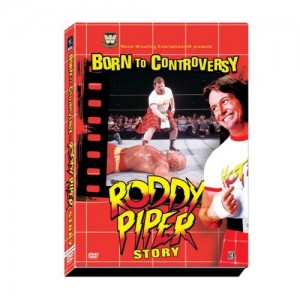 Of all the professional wrestling superstars of the '80s, "Rowdy" Roddy Piper is arguably the most controversial. Going as far as to paint half of his body black for a match against Bad New Allen, some of his antics remain legend to this day. However, the "Rowdy Scot" was much more than a big mouth, as some even say he was the most influential wrestler of his time, as even three decades after his debut, wrestlers often emulate his bad-boy style and toughness.
He was so tough and so iconic that he didn't need a title to win over fans. With a sneaky smile and quick fists that sometimes looked as if they were made of stone, the former gang member and homeless teen turned himself into a legend.
Simply put, Piper himself said it best in the mid-'80s before a fight with "Cowboy" Bob Orton: "I was rowdy before rowdy was cool."
Because of all of this, it was only a matter of time until the WWE released a box set of Piper's career and luckily,"Born to Controversy: The Roddy Piper Story," despite some bumps and bruises along the way, does an admirable job of showing just how talented he really was.
A three-disc set, "Born to Controversy" not only features a full disc documentary, but also a disc of his best matches, in addition to a disc of memorable spots on his interview show, "Piper's Pit." Because of this, it is easily the most comprehensive collection of anyone's career that the WWE has ever released, making it a must-own for any hardcore wrestling fan.
Nevertheless, the collection has its rough spots that hurt what could have been an amazing compilation.
On the first disc documentary, very little is said about his time in WCW, making it seem like it wasn't a big moment in his career. That may turn off many fans of that former company and will make the documentary feel a bit incomplete. There could have also been more interviews done with wrestlers that have been affected by Piper. Simply put, no one cares about how Kenny Dykstra feels about Piper. The WWE could have gone out of their way and gotten better wrestlers [Scott "Raven" Levy, for example who is basically a living, breathing combination of Piper and Jake "The Snake" Roberts] to talk about him. The other interviews done with the likes of Bruce Pritchard and a few others like Bob Orton are fun, but the most important one, with Hulk Hogan, lacks the depth and compassion needed to fully understand what Piper was all about.
Does this affect the quality of the documentary? A bit, but not enough for fans to be disappointed with it. Not by a long shot.
However, the second disc, much like the first, while doing a tremendous job of putting together some of Piper's best matches, misses some of his great ones from the days of WCW, especially the one with Bret Hart where he wins the United States Heavyweight title from Hart in 1998. Hardcore fans will be turned off once again, but the fact that all the great Wrestlemania matches and his infamous match with Goldust in '96 are on the disc makes up for it entirely.
While his spots on "Piper's Pit" haven't aged as well as you would have thought, they are still a blast to watch and make the DVD a special one. Without them, it would be like every other WWE DVD, but because of them, you feel like this is a once in a lifetime compilation.
When someone is as important to an industry as Piper once was, it's hard to satisfy everyone. In spite of a few small blemishes, this DVD set is a great tribute to one of the most respected and iconic athletes in the history of the sport.