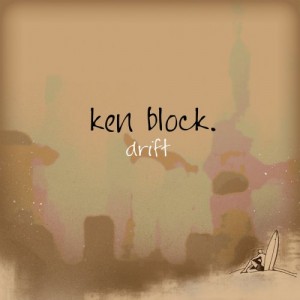 "You're Not Shaken" – Phil Stacey
The Christian genre is a label that may limit the audience for this song. That said, "You're Not Shaken" is a well-crafted rock song about self-doubt and the belief that given time, all your dreams will come true. Though not subtle, it is also not heavy-handed. A middle of the road melody with a strong message makes for a listenable song, unfortunately for this "American Idol" alumnus a forgettable one as well.
Drift – Ken Block
Why is this album free? With innovative lyrics like "trying to teach blue to a blind man" (Blue to a Blind Man), "While I'm swallowed in this suit of my self pity" (I Don't Mind), and "Watch the movie that's playin on their faces" (It's Alright), companioned with multi-layered melodies and solid guitar playing, there is no reason why you shouldn't pay full price for this download. The more talented of the group Sister Hazel, Block helped get the band together before he hit his teens. As co-writer on some of their more successful tunes, it's no wonder that they were chart toppers. If you want a comparison, think REM, only less suicidal. Get it before the-powers-that-be realize what they're giving away.
"People Say" – Portugal the Man
Reminiscent of a raw John Lennon track, "People Say" from the newly released album The Satanic Satanist is a deceptive tune. Its upbeat melody contrasts with the haunting, social-activist lyrics; which include "I'm a president's son I don't need no soul//"What a lovely day, yeah, we won the war. May have lost a million men, but we've got a million more.'" – makes this a band you should not ignore. Well worth a listen.
"On Vacation (Album)" – Aimee Allen
This song sounds like a Randy Newman ("You've Got A Friend in Me") rip-off with a little early Sheryl Crow thrown in for a badly copied storyline. There's even a happy-sounding chorus as a refrain. It's sad because she has a life that she could draw from that is far more interesting than what is in this song. This is not the tune to showcase an album that you don't want in the second hand bin. You would be better off buying Randy Newman and Sheryl Crow instead.
"Follow Me" – Brooke White
Reminiscent of Beth Nielson Chapman (Sand and Water), White's voice has a rich, soulful sound that's tinged with sadness. This makes the straight-forward, no nonsense lyrics hold more meaning through vocal interpretation. You'll be playing this short and beautiful tune over and over again. Definitely look for the album (Songs From the Attic).
"Heavens to Purgatory" – The Most Serene Republic
This band has a great sound most of the time. It is Adrian Jewett on vocals with his discordant and flat tones that bring the song down. This doesn't bode well, since it's his voice we here in the opening lines. Jewett should leave the singing to fellow lead vocalist Emma Ditchburn. Once her voice comes in it's as if you are listening to a different tune – a good one.
"Animal" – Mike Snow
Snow attempts to do too much early on in this track. The first set of lyrics which are repeated combined with the stripped down instrumental sound, make the words jarring and disjointed to the listener. However, once that part is over you have a listenable tune. Although, I would wait for a special price before I purchased the album.