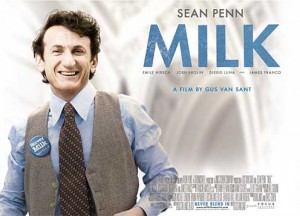 Gus Van Sant's ("My Own Private Idaho") biopic, "Milk," is a winning combination of art-house cinema with true-life events wrapped with the sensibilities of a mainstream Hollywood film.
Even though you wouldn't expect to find a mixture of these qualities in one movie, they help in telling a story that isn't only about gay rights issues, but human-rights issues as well.
"Milk" is the biography of the first openly gay man that was elected into office for California. The film is frank and doesn't portray Harvey Milk as a flat-out hero. We see the flaws that flesh out the full human character of the man. We also take a glimpse into his love and personal life that fueled his desire to fight for his rights. As a result, Milk never takes the easy road and always faces the adversity that was thrown at him . That spirit is one of many reasons to admire him.
Portraying Milk earned Sean Penn ("Casualties of War") his second Oscar, as he magically transformed himself for this specific role. It is the type of performance that allows you to completely forget that you are watching Penn and get lost in the world of this real life character.
The comeback kid, Josh Brolin ("The Goonies," "No Country for Old Men"), simply shines opposite Penn. Brolin has made one of the most impressive leaps from supporting actor to leading man in the last couple of years and is a true example of talent also having a say in Hollywood. He earned an Academy Award nomination for Best Supporting Actor in his portrayal of Dan White, Milk's biggest enemy when he was elected to office. Using a real life character that was a ticking time-bomb, Brolin allows us to understand this historical villain.
His performance even allows us to feel some sympathy for White, who couldn't accept that times were changing.
James Franco also had an impressive year that ranged from "Pineapple Express" to "Milk," exposing that he can equally handle comedy and drama. In this film, he plays Scott Smith, who is the most intelligent of Milk's boyfriends. He is an ever-present figure early on in the movie and stands by Milk for as long as he can.
The supporting cast is rounded out with two wonderful performances by Emile Hirsch ("Into the Wild") and Alison Pill ("In Treatment") as two of Milk's biggest campaign workers.
Unfortunately, there is a sour note in the cast with Diego Luna ("Dirty Dancing: Havana Nights"), who seems to be one of the least talented actors in Hollywood today. His performance is easily reminiscent of finger nails scratching across a chalkboard. Â Luckily, his screen-time is limited.
The performances are all made possible from a wonderful Academy Award-winning screenplay from Dustin Lance Black. It never strays on material that isn't needed and provides an insightful look into history.
Van Sant provides the right-tone for the movie through each step of history and the detail applied to each decade enhances the viewing experience. The film's tone is also helped tremendously by the gritty cinematography that allows it to have the feel of '70s cinema.
You may feel as though you stepped into a time machine when you watch this character driven piece – that is why "Milk" is a delightful journey of one man's attempt to change what people thought.