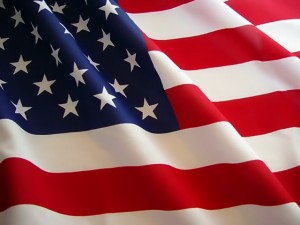 In honor of the Fourth of July weekend, here is a top 10 list of classic-rock songs that feature our great land.
1: Grand Funk -"We're an American Band"- Tired of hearing about the British bands dominating the airwaves and concert stages, this trio from Flint, Michigan, (they became a quartet later on) rocks out on a song extolling the virtues of life on the road as a member of an American band. Written and sung by drummer Don Brewer, this 1973 number-one hit chronicles the band playing poker with blues great Freddie King (" Up all night with Freddie King, I've got to tell you, poker's his thing") and meeting four young Chiquitas in Omaha and Connie Hanzy ("Sweet, sweet Connie doing her act"), groupies of varying notoriety. Above all, from the opening drum fill to Mark Farner's scorching solo, this song rocks.
2. Yes –"America"- This Paul Simon masterpiece was covered by progressive icons Yes and gives the listener a tour of the American landscape. Yes does not just manage to do the song justice, but everyone in the band makes it their own. Simon originally conceived the song when he and his girlfriend Kathy (who is mentioned in the lyrics) returned from England in search of the American dream. Through snapshots of this country ("It took me three days to hitchhike from Saginaw"), it gives the listener a travelogue with sound. Yes' version, featuring the one of a kind vocals of Jon Anderson and Steve Howe's guitar mastery, goes through time changes and is a thrill a minute.
3. Don McLean – "American Pie"- This song is 8 minutes and 38 seconds of pure magic. This opus was inspired by the death of Buddy Holly, Ritchie Valens and the Big Bopper on Feb. 3, 1959 in a plane crash. McLean calls it "The Day the Music Died." It also analyzes the end of innocence in this country and the radical changes that took place both musically and politically in the 1960s. There are many interpretations of its vague lyrics, but McLean has never clarified their meaning. "Sergeants played a marching tune" might be referencing the Beatles' Sgt. Pepper's Lonely Hearts Club Band," while "I met a girl who sang the blues and I asked her for some happy news, but she just smiled and turned away" might be paying tribute to Janis Joplin. There are too many other lyrical mysteries to mention, but above all, this song is a music and social history lesson.
4- Steve Miller Band – "Livin' in the U.S.A."- The band was originally billed as the Steve Miller Blues Band. This song from the "Sailor" album is an ode to life in the U.S.A. Miller, who took guitar lessons from his father's friend, Les Paul, was nicknamed the Gangster of Love at this time. The song fades out with the line , "Somebody give me a cheeseburger," which points to our dietary habits, but the song also covers serious issues like civil rights for American Indians and black Americans in this country. He also writes, "We're living in a plastic land," which could be talking about the superficial nature of our country and what we deem as important.
5- The Grateful Dead -"U.S. Blues"- "Red and White, blue suede shoes, I'm Uncle Sam, how do you do?" This commentary on our country and the war in Vietnam ("I learned to duck") is a rollicking romp with inspiring guitar picking by Jerry Garcia and strong vocals and harmonies. The Dead's psychedelic and free-form musical excursions are unequaled in rock history. This song is more direct and accessible to the masses and is both a tribute and an indictment of our great country.
6. The Guess Who -" American Woman"- Starting with one of the greatest riffs in rock history, this Canadian band's anti- war and anti–American woman message sprung out of the band being homesick and missing the women back home. The urban decay they witnessed on tour and the fact that there was no draft system in our northern neighbors' country inspired this 1970 rock classic. Any guitar player in a band at the time of this release and years after forgot about the political message and just jammed to Burton Cummings' impassioned lyrics and Randy Bachman's guitar imprint on the rock 'n' roll world. Lenny Kravitz and Krokus have also covered this song.
7. Tom Petty and the Heartbreakers – "American Girl"- This second track on the band's debut album has been the subject of many rumors about the origin of the lyrics. One bit of urban legend has the lyrics pertaining to a young woman who committed suicide at a University of Florida dormitory. This falsity was quashed by Tom Petty himself years ago. Petty claims the lyrics were inspired by freeway sounds in Encino, California, sounding like waves crashing on the shore. The woman described in the song ("She was an American girl, raised on promises") serves as a backdrop to the proceedings. Mike Campbell's underrated guitar playing is prominently featured, while Petty and his Heartbreakers served notice to the rock 'n' roll world that they had arrived.
8. Chuck Berry – "Back in the U.S.A."- The architect of rock 'n' roll and the most influential early guitar great was also a brilliant lyricist. The song takes you to a drive-in burger joint where hamburgers sizzle on grills night and day. It is a glorification of Americana and all the teenagers who took part in the innocence and beauty of their formative years. Lind Rondstadt (1978) also covered it, and it gave Paul McCartney his inspiration for "Back in the U.S.S.R." Berry sings, "I'm so glad I'm living in the U.S.A." So am I.
9. The Beach Boys – "Surfin' U.S.A."- This 1963 surf classic was based on the aforementioned Chuck Berry's "Sweet Little Sixteen." Berry eventually sued and the band listed him as the composer. Most of the band's early work was about surfing, surfer girls and the beach. (The funny thing is that drummer Dennis Wilson was the only member who did surf at the time.) "Everybody's gone surfin, surfin' U.S.A" is the chorus. Some of the locales mentioned in the song are "Ventura County line, Santa Cruz and Tressels, Australia's Narabine. Doesn't it make you feel like wearing your baggies and Huarachi sandals and catching some waves too?
10. Ian Hunter – "All American Alien Boy"– This song, taken from a concept album by ex-Mott The Hoople vocalist Ian Hunter, is autobiographical and chronicles his negative feelings about Britain (at the time). It addresses the immigrant experience, green cards and a Brit's relocation to the "Big Apple." Hunter's real-life move to New York, along with many other newcomers, are prime examples of what a great country we live in and how immigrants have shaped us as a nation.
As you bite into a burger or frankfurter this Saturday, be thankful you live in America.