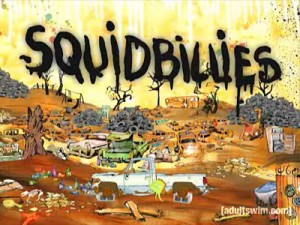 For those unfamiliar with the Adult Swim series "Squidbillies," one word can sum it up perfectly – insanity.
Following the exploits of the Cuylers, a family of squids in Georgia, the show is a "shut your brain off and laugh" thrill ride that is great after a long day of work. While there is barely any continuity in the series and things hardly make sense at times, the show somehow finds a way to capture your attention and run with it.
Comprised of 20 episodes, the second season of the show builds off the quirky atmosphere of the first and even manages to improve upon it, turning up the volume on all the characters and giving them more room to shine. A 15-minute show, "Squidbillies" was already fast-paced and chock-full of action. Over the course of the second season, the writers of the show have hit their stride: The second season of "Squidbillies" is funnier than any new episode of "South Park" and twice as outrageous.
This difficult endeavor is achieved due to the fact that there are no normal characters on the show. Each has their own problems that they can't deal with, creating a mishmash of drama, debauchery and delightful defecation that is impossible to keep your eyes away from.
Simply put, if this box set was a crap sandwich, you'd still want to eat. It's that good.
Seeing Granny (voiced by Dana Snyder from "Chowder" and "Aqua Teen Hunger Force") decides to enlarge her breasts after being severely burned, and Rusty sell his soul to the devil to learn how to play the guitar, in addition to working for Dan Halen in an effort to catch child molesters (and ironically becoming a spoiled television star in the process) are arguably some of the best moments in the series and ones that make the box set a worthy addition to anyone's DVD collection.
Making the set an even more attractive purchase are tons of extras that chronicle the stars of the show and how they managed to find their way to the series. There's also a lengthy discussion between the series creators Jim Fortier, Dave Willis and other staffers, where they talk about the history of the show and their interaction with some of the guest stars. This part of the DVD alone would have been great on its own, and its inclusion on the box set more than justifies a purchase.
Hilarious from start to finish, the second season of "Squidbillies" is a laugh riot that is a must own for any fan of the series or anyone else that is looking for a hearty helping of chuckles.