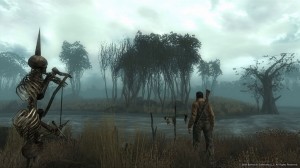 Despite offering plenty of new weapons, enemies and interesting characters, the first three Fallout expansion packs [aside from Broken Steel, which continued from the main story] weren't as exploration heavy as the main game, making them feel like their own short games, rather than extensions of the series.
While they were all fun in their own way and memorable, they lacked the depth of a truly excellent DLC, such as "The Lost and the Damned," for example.
"Point Lookout," however, the newest DLC for the series, offers plenty of room to roam around, while possessing an intriguing story and side quests, keeping you busier than any other download previously available for the game.
Feeling like a combination of "Texas Chainsaw Massacre" and "Deliverance," "Point Lookout," has an ambiance unlike any other game in the series. The storyline is quirky and features its own distinct style and wit. The dialog is also some of the best since "The Pitt" and induces several chuckles along the way. The missions, which there are over a dozen of, include everything from joining the ranks of a cult and going on a "spiritual journey," to sinking a submarine and uncovering the plans of a Chinese spy. Fun, engaging and well-thought out, these missions require you to run all over the dark and muddy swamp lands.
That act of exploration is easily the most rewarding aspect of the game. Unlike the smaller maps in the previous three games, Point Lookout's environment is absolutely huge and features 32 new locations to explore, providing hours of fun for fans who have fell in love with the series' signature RPG gameplay. Some gamers will feel the constant running around tedious, but will nevertheless enjoy killing the hordes of enemies, ranging from cult members and feral ghouls to smugglers.
Your tools in this slosh-fest through the swamps range from the trusty double-barrel shotgun, to the mega powerful and fun microwave emitter. They may lack the diversity and power of some of the other weapons in other downloads, [the Gauss rifle and Tesla Cannon immediately come to mind] but they are different and continue to help give "Point Lookout" its own sense of charm when compared to the original game.
When all these elements are put into a blender, the end result is a dangerously delicious one, full of style, blood and wit, that is sure to appease any fan of the series that has nothing else to do in the game.