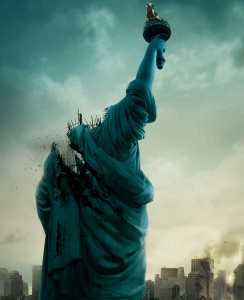 The movies love to mess with NYC.
Who doesn't love to see a good disaster, an alien landing or even a monster stomping on the beloved city? It is always more epic and nail-biting than if it took place in anywhere else in the world. It's also great to be able to relate to locations and happenings, and New Yorkers should get some pleasure out of this aspect of Cloverfield. New York aside, it is a fun spin on the old monster film genre, and it should definitely be a guilty pleasure for a lot of folks out there.
There has been a lot of talk how the camera work makes people sick (it is shot hand-held style ala The Blair Witch Project), but it should not be cause for complaint for most audience members, especially when viewing on DVD at home. The movie gets started after the setup of characters. The characters are introduced at a going away party for Rob Hawkins (Michael Stahl-David) when he gets a job in Japan. We get to know enough about the characters to know their relationships with each other, a little back story and some minor interaction. The party scene tends to drag a bit, and the first person POV gets somewhat annoying when there's nothing threatening happening.
Once the city starts to get torn up though, and our main characters are on the run, it starts to get fun. The whole film basically follows a group of friends as they try to escape a giant creature that's destroying everything in its path. Some of the good aspects of the whole concept was that the characters know little to nothing about what it is that is causing chaos and destruction, and exactly what's going on and don't seem to get much information irrationally fed to them.
That part of it sort of brings some realism to it.
Let's face it, if a giant monster was stomping around the city, no one would have any time to further the plot with a carefully constructed monologue. The ending of the film would have been even better if they omitted one particular scene, which won't be elaborated on because it would cause a spoiler.
Generally, this film has many problems (completely implausible, per se), and is overall not a quality film, but you will care enough about the characters to see what is going to happen next, causing the audience to stay involved. It is also short enough that you can kind of accept the action unfolding as it does, and stay with it for the 85 minutes of its running time.
Sure, this film feels like a jumbled mess at times, but that's part of its allure. It's a great distraction from mainstream cinema and a great experiment in it as well. The special effects are fun and aside from a boring first act, the film has a ton of action and forces you to connect with characters that you know are destined to die. Nevertheless, you root for them anyway and hope they'll find a way to survive. The "monsters" in the film are also extremely cool and different from anything you've seen in a movie before. When it's all said and done, "Clovefield" feels a combination of a soap opera and "Godzilla." Getting that kind of response from an audience while shooting from the kind of perspective J.J. Abrams decided to is no small feat my friends.

-Patrick Hickey Jr.