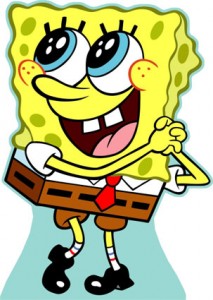 The airdate for "SpongeBob SquarePants – Pest of the West" was April 11, 2008. It turned up on DVD four days later. In that light, you could say that the episode was essentially a commercial for the DVD, which contains six others that were sure to end up on video sooner or later. In fact, since the show started its run in 1999, a bunch "SpongeBob" DVDs have come along with no end in sight. They sell lots of copies – and why wouldn't they? Everybody loves this guy.
As a matter of fact, it seems like he's worth more and more as time goes by. The DVD goes for $16.99, which is nearly $2.43 per episode. In 2007, "'SpongeBob SquarePants' – Season 5, Vol. 1" included 23 episodes and cost $36.99: About $1.61 per episode, in other words. Two years earlier, "The Complete 3rd Season" DVD came with 20 episodes and cost $26.98, so that's about $1.35 per episode. The price is slowly getting higher, but that's all right, especially if you remember that you'd have to pay $59.99 for HBO's "John Adams." It may very well be worth it, depending on your point of view.
"Pest of the West" opens with SpongeBob learning about the great-great-great uncle of his best friend, Patrick Star. (He's a starfish, of course.) He made history years ago by trying to save everybody in Bikini Bottom from a mollusk invasion. ("Trying," it seems, is the operative term here.) SpongeBob's green with envy: He starts researching his own family tree, hoping to find somebody famous hiding in it. Sandy Cheeks, a squirrel who's got a famous relative of her own (her great-aunt struck oil in Texas), agrees to come along.
They find what they're looking for in an old history book at the library: SpongeBob learns he was related to Sponge Buck SquarePants, the sheriff who restored Dead Eye Gulch in 1882. That opens the door to an entertaining parody of films like "The Good, the Bad, and the Ugly" and "High Noon," where Sponge Buck braces himself for a duel with his rival, Dead-Eye Plankton.
Most of the episodes are irresistible, but the best is "The Battle of Bikini Bottom," where Patrick's affection for bodily filth disgusts squeaky-clean SpongeBob. This means war: SpongeBob tries bathing Patrick, who fires back with residue and slop.
The only duds here are "The Inmates of Summer" and "To Save a Squirrel," which take SpongeBob and Patrick and trap them in material that doesn't work – that's because they have unrewarding cameos from characters who can't support the laughs by themselves. R. Lee Ermey has a cameo as the brutal warden of a correctional facility, but he plays it so straight that it's no fun.
That doesn't mean the celebrity cameos are wholly unfunny, though. In "20,000 Patties Under the Sea," Gene Simmons plays a sea monster who confuses another character for dessert. That's probably worth $2.43, but like I say, it depends on your point of view.