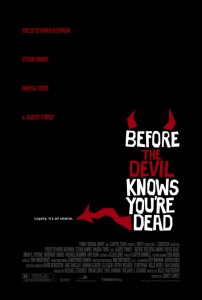 "May you be in heaven half an hour… before the devil knows you're dead."
There's so much to say about Sidney Lumet's career, and of course the fact that he is 83 years old and still actively creating wonderful films, it's obvious that there would be. The film definitely has the flavor of a Lumet film, but it stands alone as a great piece of work, regardless of the master behind it, or his age.
The cast of "Before the Devil Knows You're Dead" is primarily a theatrical based group, with Ethan Hawke and Philip Seymour Hoffman in the leads. Hoffman, once again, proves that he is one of the most versatile, evolving actors of the last few decades. The two actors bring out qualities that have not been seen in any of their previous performances. Hawke plays the truly weak-hearted brother Hank to Hoffman's distraught Andy. When their scheme to rob a suburban mom-and-pop jewelry store goes awry, their already torn-up lives spiral downward faster than they can keep up with. Lumet's use of flashbacks, where otherwise could become extremely confusing or campy, have an artful quality to them. The flash transition segments themselves have an accompanying sound music that spells out caper, but it is nostalgic rather than unnecessary. Even though the plot unfolds fairly quickly, it will put you on the edge of your seat like any good old-fashioned thriller.
With these factors, the film does take on a theater-based quality. There are moments that are truly improvised, and the actors give us a clear sense that they command this show. Truly, the cast could all be standing in a black-box theater and present this story to us with full force and presence. But Lumet seems to know this and lets the actors lead us on this visual journey that does nothing but test our senses.
Lumet said in a Q-and-A after the screening that one of the things he took a chance with was that none of the characters in this film are "relatable." The characters may carry some qualities that people will relate to, but they all are truly unlikable and even deplorable. Even the safe female characters that usually drift off into the background, or redeem themselves somehow, don't do so in this film. Gina, played by Marisa Tomei in an above-average performance, teeters, but finally falls into this world where no one can be the hero. It seems all need to play out their roles in the heist and life gone wrong to the bitter end.