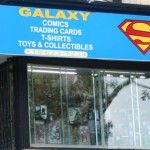 This week, Patrick and Robin talk about underrated and under-utilized characters in the Marvel and DC Universe.
Yes, Patrick mentions his love for Darkhawk, again, while Robin tries to be impartial and picks several characters that for some reason just never made the A-list in their respective universes.
Also, for some crazy reason, Patrick isn't wearing a jersey this week, sporting a Homer Simpson look of sort.
Have no fear though, Robin is still his uber-cool self.
For more information on Galaxy Comics III, you can go to their Facebook page here or call them at 718-623-1234.
They also have two other stores- Galaxy I is located at 429 5th Ave,  (718) 499-3222 and Galaxy II is in Bay Ridge at 6823 5th Ave,  (718) 921-1236.
You can also e-mail them at [email protected].
Photos by Ron Hatcher.