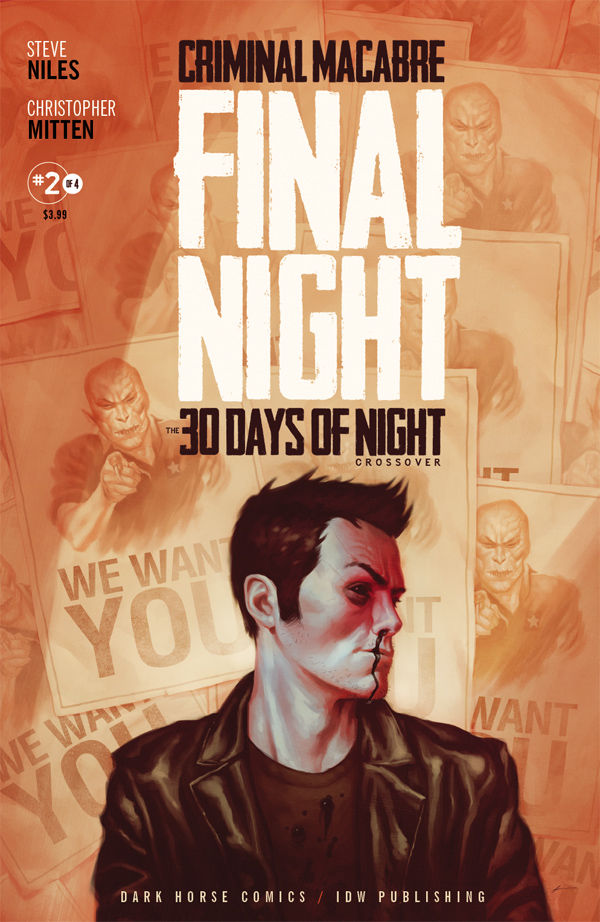 Writer Steve Niles' crash course through the two series that made him a household name in comic books continues and with it, fantastic art and a developing story rear their blood-soaked heads. It may not be as exciting as the first issue of the four-part series, but the ending and fight scenes alone make up for a few lulls.
As the case when combining separate comic book worlds, it takes take to get them to fit. While Criminal Macabre and 30 Days of Night already have plenty of things in common, this issue fleshes everything out and mixes the characters together more. At this point, nothing feels forced or out of place. Much of this amalgamation is done by simple conversation. The rest is done by death. There's enough in this issue to satisfy the blood-thirsty comic fan.
Artist Christopher Mitten spares no expense in this issue with two, one-page pieces that sell the importance of the story all by themselves. They tell the reader two things: time is running out and don't piss off a zombie. The rest of his work is gritty, yet fun. He captures the antics of McDonald and the seriousness of Eben to a T.
The same thing goes for the work of colorist Michelle Madsen. Although the book has a dark, noir look, Mitten mixes in various shades of blue and red at all the right times. Although there is no color in the eyes of the main characters, the white in them, usually just a dot or two, tells a story all by itself.
Behind the slow, but sure development, gory pictorials and a cliffhanger ending, Niles and his crew continue to deliver the experience fans of both franchises deserve. That said, the 30-night wait for the next issue of this comic will be a torturous one.