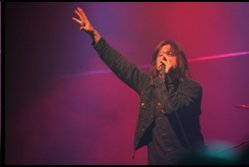 Oakland-based vocalist Thadeus Gonzalez has left the front role in Electric Sister to pursue solo and collaborative opportunities. In addition to recording a debut record in Los Angeles this spring, he is debuting some acoustic songs at the Songsalive NAMM showcase on Thursday, January 24, at the Hilton Anaheim.
At that showcase, Thadeus will be performing with one of Yamaha's NAMM-featured guitars. The A-Series Acoustic-Electric Guitar, featuring the state-of-the-art S.R.T. (Studio Response Technology) Pickup system. The SRT System allows the player to perform with a selection of mic sounds and a piezo pickup in any live environment. Yamaha's booth is in the Marquis Room at the Marriott.
"I'm looking forward to all of 2013 being as exciting as January has started. I'm putting together the best team to record and produce my solo record, which hopefully will lead to other great collaborations with artists I respect," said Thadeus.
With Electric Sister, Thadeus enjoyed critical acclaim from not only the release of THE LOST ART OF ROCK & ROLL, but also supporting gigs with KISS/Motley Crue, Slash, Black Label Society, and Danko Jones.
While proud of what the band was able to accomplish independently, Thadeus felt it was time to both showcase his own songwriting and guitar work (both of which are notable), as well as be open to working with other artists and spending much more time on the road. His debut record, UTOPIAN SOCIETY, will drop this summer.