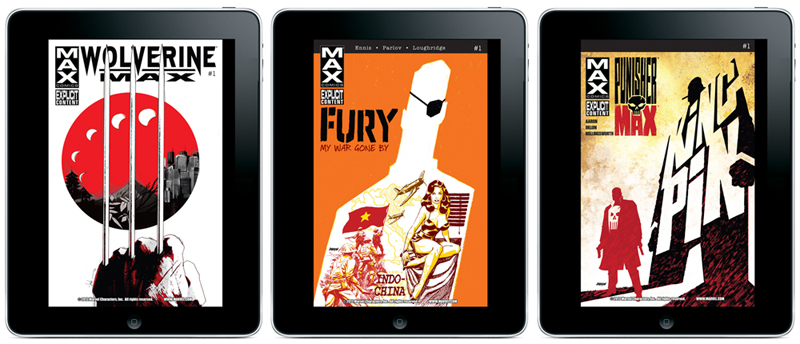 ComiXology, the revolutionary digital comics platform that recently surpassed 100 million downloads of comic books and graphic novels, and Marvel Entertainment, one of the world's most prominent character-based entertainment companies, announced the exclusive digital debut of the MAX imprint on comiXology.
"The MAX line is well known for having great content by some of the most regarded creators in the business" said comiXology co-founder and CEO David Steinberger. "Comic fans around the world have long requested the inclusion of the MAX imprint as part of comiXology's immense catalog and now we have it! Not to mention that these stories look fantastic in our Guided View reading technology."
"The MAX imprint offers our mature, adult readers a chance to experience some of the most violent and explicit comics they've ever seen" said Ruwan Jayatilleke, Associate Publisher/SVP, Marvel Entertainment. "Some of the the top creators in the industry—such as Garth Ennis, Jason Aaron, David Lapham and more—have brought their unique visions to popular characters like Punisher and Wolverine as part of MAX."
The MAX imprint offers adult fans of comics a place to experience more explicit content featuring some of their favorite characters. With single issues sold exclusively to retail comic shops across the world, the MAX line has long been a place where top comic creators can take storytelling to the extreme.
MAX is now exclusively available on the comiXology platform across the iPhone, iPad, Android, Kindle Fire, Windows 8 and the Web.
Debut titles include:
Wolverine MAX 1-2
Fury MAX 1-7
PunisherMAX 1-11
PunisherMAX X-Mas Special
About comiXology
Founded in 2007 with the mission of bringing comics to people everywhere, comiXology has revolutionized the comic book and graphic novel world. With the development of the comiXology digital comics platform – with buy-once, read-anywhere availability across across iPhone, iPad, Android, Kindle Fire, Windows 8 and the Web— comiXology provides the easiest way worldwide for people to enjoy comics anywhere they happen to be! Regularly ranking as the top grossing iPad app in the entire iTunes App Store, comiXology is one of the leading drivers of the iPad economy. Providing the most digital comics on the most devices, comiXology will not stop until everyone on the face of the planet has been turned into a comic book fan.
About Marvel
Marvel Entertainment, LLC, a wholly-owned subsidiary of The Walt Disney Company, is one of the world's most prominent character-based entertainment companies, built on a proven library of over 8,000 characters featured in a variety of media over seventy years. Marvel utilizes its character franchises in entertainment, licensing and publishing. For more information visit www.marvel.com