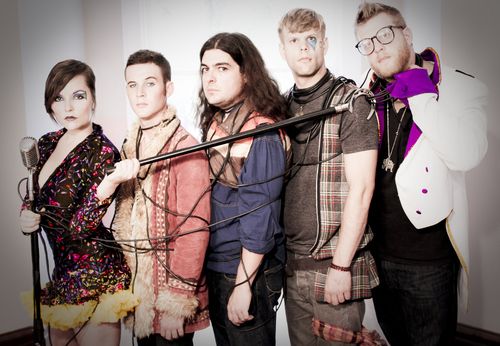 Portland, Oregon-based indie record label In Music We Trust Records is pleased to announce the signing of Louisiana's own Super Water Sympathy. In Music We Trust will be releasing the band's sophomore full-length, Hydrogen Child, on April 23, 2013. The band will follow the release of the album with extensive U.S. touring, which includes an offer to return to the stages of Vans' Warped Tour.
Hydrogen Child, the next chapter in the development of Super Water Sympathy's self-made genre Water Pop, is a twelve-track synthesis of classic symphonic ambience with modern rock'n'roll anthems. These new songs confirm the undeniable talents of this five-piece band who have been packing Southeast venues for the past few years.
"I'm a sucker for a strong pop record," says In Music We Trust founder Alex Steininger. "From track one until the final note, the record is full of hooks, great vocal harmonies, and just plain old memorable songs. I am quite pleased to be working with Super Water Sympathy, to say the least. I can't wait to get this record out in the world."
In the summer of 2012, before heading out to perform on the highly-coveted Vans' Warped Tour, the band flew to London to record with producer Cam Blackwood (Florence + The Machine, Coldplay, Morrissey), and emerged with Hydrogen Child.
Formed in 2010 and consisting of brothers Billy and Clyde Hargrove (bass and guitar, respectively), Ryan Robinson (drums), Jason Mills (keys), and Ansley Hughes (vocals), the group clicked from the start, sharing a similar vision for the band's sound. By fostering and combining their individual strengths, they've produced an electrifying and unforgettable musical experience.
Super Water Sympathy's debut album, Vesper Belle , was released in 2011 and two tours of the United States followed. The band also lent their writing and production skills to B.O.B's Strange Clouds with the track "Chandelier," and Vesper Belle 's songs were heavily featured on the MTV series "Caged."
Visit Super Water Sympathy online:
Official website – http://www.superwatersympathy.com
Facebook – http://www.facebook.com/superwatersympathy
YouTube – http://www.youtube.com/SuperWaterSympathy
Twitter – http://twitter.com/swsympathy