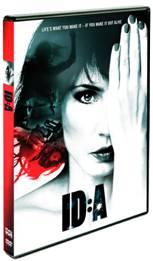 IN STORES EVERYWHERE ON MAY 7, 2013
FROM SHOUT! FACTORY
From Lars Von Trier's Zentropa Entertainment comes an electrifying Scandinavian noir-thriller in the tradition of Bourne and the TV series The Killing. Internationally acclaimed actress Tuva Novotny (Eat Pray Love) stars in ID:A, a riveting tale of suspense and conspiracy, debuting for the first time in North America on DVD May 7, 2013 from Shout! Factory. Directed by Oscar®-nominated filmmaker Christian E. Christiansen (Om Natten – At Night, The Roommate), ID:A is a gripping and intense story of a young woman in search of her identity, and boasts a plot that expertly teases the viewers by gradually revealing fragments of information before unveiling the final shocking truth. Flemming Enevold (Headhunter) and Carsten Bjornlund (The Thing) also star in this masterfully crafted thriller. Delivering gritty action combines with stylish visuals, ID:A is a must-have home entertainment collection for movie fans, collectors and world cinema enthusiasts. The DVD is priced to own at $19.97 SRP. Pre-order is available now on ShoutFactory.com and Amazon.com
Pre-order link: http://www.amazon.com/Id-Tuva-Novotny/dp/B00BCMT0MY/ref=sr_1_2?s=movies-tv&ie=UTF8&qid=1360772410&sr=1-2&keywords=tuva+novotny

SYNOPSIS:
Aliena wakes up in a river in France with a bag with 2 million euros, a scar across her abdomen and no memory. She seeks refuge in the nearest town but soon discovers that mysterious men are following her. With the help of the French hotelier Pierre she temporarily gets away from the pursuers. Aliena discovers that her accent is Danish and decides to go to Denmark in the search for her identity.
When she arrives in Denmark, she meets the international opera singer Just Ore, who becomes the starting point for her investigation. Slowly traces begin to appear about the past. Aliena is still being pursued and she gradually learns that her past life was more complicated than she first thought.