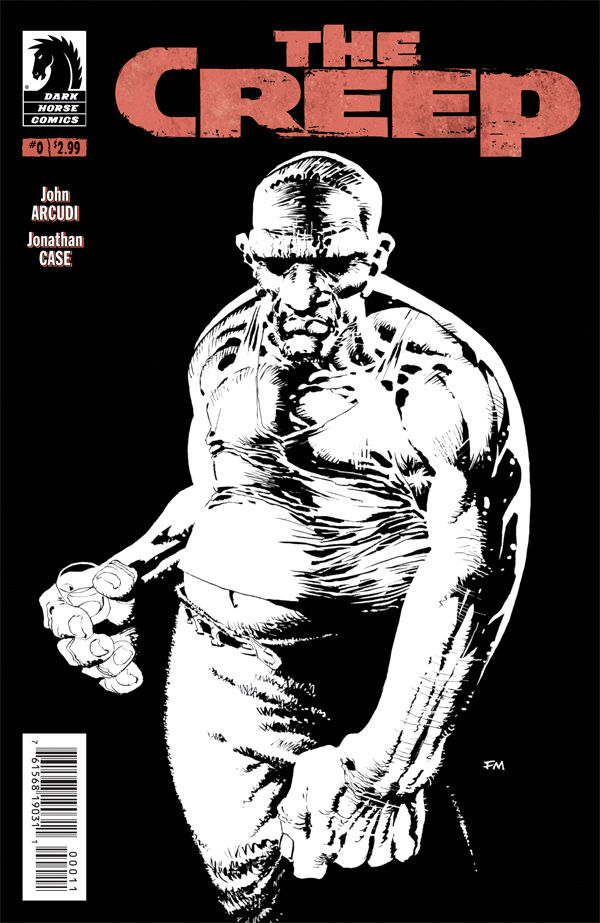 Oxel's life is a sad one of loss- of love, of dignity and even hope. A chance reconnection with an old flame changes his life and brings the ill desk jockey turned private investigator into a world of pain even he failed to know.
John Arcudi and Jonathan Case's thriller "The Creep" is a comic book that screams old-school noir in the vein of James Cain and Frank Miller. He's a man who's only escape from a world of despair is to give closure to those who need it even more than he does. Can you get any more noir than that?
The writing of Arcudi brings Oxel's life of quiet desperation into full focus. A fantastic detective, with a huge heart, matched only by the size of his deformed frame, Oxel is a character for the ages. The stunning pictorials of Case bring Oxel to life and the journey quickly goes from its pages to a place in your mind not easily forgotten.
In terms of comic books, "The Creep" is a masterpiece, a tale of noir crafted around a mysterious series of suicides and a man who must solve the case before he can find closure from a lost love. In terms of literacy presence, "The Creep" is a prime example of how some comic books can transcend the genre. No super heroes. Not even a super man. Oxel is just a man. This is just a story. But it's enough to make you a fan of the medium for life.
"The Creep" finds its way into the chambers of your heart by capturing Oxel's daily plight. Suffering from Acromegaly, his body refuses to stop growing. Visually, Oxel is a combination of former Washington Bullets center Gheorghe Muresan and the late WWF legend Andre the Giant. That, for lack of a better term, means he's huge. Case's ability to show the meagerness of Oxel's life, the depth of his heart and his abundance in size is just as difficult as Arcudi's task of telling the story. But they both find common ground in their approach.
Through the use of somber, dark tones, Case invites us into Oxel's world. Despite the level of listless despair, you won't want to leave. Arcudi's crafting of the tale through the use of heartfelt conversational language makes "The Creep" anything but simplistic and conventional.
It is one of a kind.