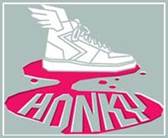 With a talented cast, intriguing set design and witty, down to earth dialogue, Greg Kalleres' "Honky" is a watchable and sometimes enlightening experience, but its inconsistent and dark humor may end up being a bit too real for some.
It feels almost petty to point out a production's weakest points when it has so much going for it. However "Honky" suffers from a misappropriate categorization. Although you will laugh during the course of it, you'll think more than you'll chuckle. To call this a "dark comedy" isn't fair to those who have expectations when they come to the theatre. It's also not fair to a production that transcends any singular genre. This is a psychological game of ironic politically-incorrect chess that grabs a hold of you for 90 minutes and makes you think of all the instances where you've been in each and every characters' shoes. Pun intended. Although some may not find the ironic use of racial terms that plague the piece in good taste, others will find it a bold and satisfying attempt, through irony, to tell a story where no one wins.
The production centers on three men, Davis, Peter and Thomas. Davis (Philip Callen) runs a shoe company that is attempting to expand its business past the "urban" market. If that means exploiting the same people who buy the shoes, in order to make good on "white guilt," Davis is fine with that. Thomas (Anthony Gaskins) is his star employee, but when his latest design may be the catalyst to broaden the company's scope, Thomas feels like he's betraying his race. The inner-turmoil Thomas feels is at the heart of the production. Peter (Dave Droxler) is the director who's commercial for the shoe causes the death of a black teenager. Like Thomas, Peter deals with his own sense of guilt throughout the play.
All three men give gritty and solid performances and go through similar paths, defending themselves against what they perceive to be racist tendencies. When a magic pill comes along that can cure them of their racism, everyone's lives are changed.
The cast has even more depth in both Danielle Faitelson (who is amazing in her Off-Broadway debut) and Arie Bianca Thompson, who add a level of humanity and reason as Andie and Emilia. Realistically portrayed, as well as smart and sexy, the two have a bright future in New York City theatre.
In spite of the strong cast-wide performances, it is Chris Myers and Reynaldo Pinella that steal the show. Playing random teenagers on the train, they cross paths with several of the characters throughout the production. Their antics personify the stereotypical behaviors of many New Yorkers on the train, but their interactions and facial expressions in particular are hilarious. The same can be said for the performance of Scott Barrow as Wilson and Dr. Driscoll. Charming, yet unmistakably evil as the Dr. and oblivious as Wilson, Barrow shows solid range and is able to help satisfy the main goals of the production.
While the plot may have some slow to develop chunks and the subject matter is sometimes brazenly attacked, "Honky" is able to induce a response out of the audience that lasts well after the play is over. Whether it is a positive or negative one is beyond the point.
Honkey is currently playing at Urban Stages on 259 West 30th st. in New York City through April 7.