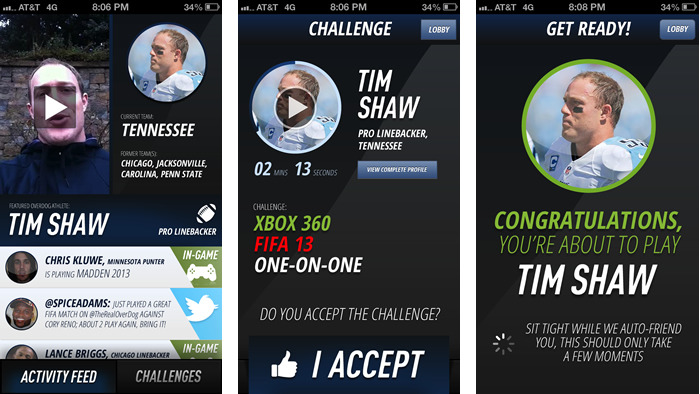 Review Fix chats with former Chicago Bears Linebacker Hunter Hillenmeyer, who discusses his current Kickstarter campaign for his new app OverDog, which links professional athletes with their fans on Xbox Live and the Playstation Network. Ever wanted to play your favorite video game with your favorite athlete? That's Hillenmeyer's mission.
You can learn more about the project by heading to their Kickstarter page, here.
Review Fix: When and how did the idea for OverDog hit you?
Hunter Hillenmeyer: We started with a very general challenge of searching for better ways to connect athletes and fans. There's no need to over think it. At its simplest we are building a simpler and more fun way for athletes who love video games and fans that love video games to connect and share that experience.
Review Fix: Did you often play video games with your fans when you were on the Bears? What were your experiences like?
Hillenmeyer: I didn't, but I think part of the reason for that is there is no easy way to make that happen right now. The athlete has to share his gamer tag publicly, risks getting harassed, once he does and that still leaves all the steps of friending each other on the console, and getting the game started. OverDog automates all of that.
Review Fix: In just a few decades, you've been a pro football player, a writer and now an entrepreneur. How do you want to be remembered?

Hillenmeyer: I'm too young to worry about my legacy. As a player I suppose I'd like to be remembered as a hard worker who got the absolute most out of his natural ability. I was a guy who worked hard to be a great teammate and add value in ways that might not show up to the casual observer.
As a person, I'm all about pursuing your passions. For me, that involved a lot of things, family and faith first, but I have always the start-up itch and getting the chance to build a company like this in the sports space is just too cool not to embrace.
Review Fix: What are your long-term goals for this project?
Hillenmeyer: We want to build a platform for connecting people for any fun activity. Playing Guitar Hero with Slash or some trivia game with Ken Jennings just sounds like too cool of an experience for someone not to be providing. We had one training camp where half the team was obsessed with Words with Friends. Wouldn't it have been cool to bring Bears fans in on that action?
Review Fix: How will this project generate income once it's up and running?

Hillenmeyer: Fans buy a modest subscription, but that is also an advertising component.
Review Fix: How receptive have video game companies and athletes been to OverDog?
Hillenmeyer: The console makers have been great about getting us the access we need. Same goes for the big game publishers like EA, 2K Sports and Activision. They realize that every time an athlete plays one of their games that amounts to free marketing for them.
Athletes are excited. It's typically an uphill climb to get athletes to do anything. We don't even have our product in the market yet and we already have Pro Bowlers, Cy Young winners, Olympic golf medalists, and All-Stars in multiple sports signed up and ready to go.
Review Fix: Are there any athletes out there that you'd like to play video games with?
Hillenmeyer: Even though I'm an athlete myself, I'm also a huge fan. I will definitely be on there trying to play against guys from teams I like. I might try to take down a few Packers players too, just to put them in their place.