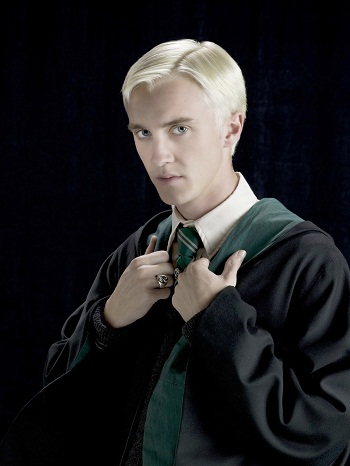 'Draco Malfoy' From 'Harry Potter' Joins 'Happy Days' Actor, Successful Producer, Director As Additions To Inaugural Event At America's Center; Stan Lee, Laurie Holden, Billy Dee Williams, WWE® Superstar Randy Orton®, Superstar Comics Creators Also Headlining
Tom Felton, best known for his portrayal of "Draco Malfoy" in the Harry Potter series, and Henry Winkler, who first became a pop culture icon as "The Fonz" in the classic TV series "Happy Days," have been added to the standout celebrity roster at the inaugural 2013 Wizard World St. Louis Comic Con, March 22-24 at America's Center. The two join previously announced guests Stan Lee, Laurie Holden, Billy Dee Williams, WWE® Superstar Randy Orton®, James Marsters and Dean Cain among the headliners.
Felton, who began filming commercials at age eight and auditioned for the Malfoy role at age 12, appeared as the increasingly prominent villainous character in all eight films based on J.K. Rowlings' blockbuster fantasy series, from Harry Potter and the Sorcerer's Stone in 2001 through Harry Potter and the Deathly Hallows: Part 2 in 2011. He also appeared as "Dodge Landon" in Rise of the Planet of the Apes in 2011.
After taking the entertainment world by storm in his breakout role as "Fonzie" in the popular sitcom "Happy Days" (1974-84), Winkler established himself as an award-winning producer and director, mixing in a few well-placed acting roles like Scream, Waterboy and last year's Here Comes the Boom along the way. After achieving success as "Fonzie," originally written as a minor character but which soon earned him billing alongside other series stars Ron Howard and Tom Bosley, Winkler quickly transitioned to produce the successful television series "MacGyver" and direct the film Memories of Me, among dozens of off-screen credits over the past four decades.
Felton will appear at Wizard World St. Louis Comic Con on Saturday, March 23, and Sunday, March 24, while Winkler is scheduled to attend all three days.
Wizard World Comic Con events bring together thousands of fans of all ages to celebrate the best in pop-fi, pop culture, movies, graphic novels, comics, toys, video gaming, television, sci-fi, gaming, original art, collectibles, contests and more. Wizard World St. Louis Comic Con show hours are Friday, March 22, 3-8 p.m.; Saturday, March 23, 10 a.m. – 7 p.m.; and Sunday, March 24, 10 a.m. – 5 p.m.
For more on the 2013 Wizard World St. Louis Comic Con, visit http://www.wizardworld.com/home-stlouis.html.
About Wizard World:
Wizard World produces Comic Cons and pop culture conventions across North America that celebrate graphic novels, comic books, movies, TV shows, gaming, technology, toys and social networking. The events often feature celebrities from movies and TV, artists and writers, and events such as premieres, gaming tournaments, panels, and costume contests.
The full event schedule can be found at www.wizardworld.com.
***** SAVE THE 2013-14 DATES *****
February 22-24 – Wizard World Portland Comic Con
March 22-24 – Wizard World St. Louis Comic Con
May 30 – June 2 – Wizard World Philadelphia Comic Con
June 28-30 – Wizard World New York City Experience
August 8-11 – Wizard World Chicago Comic Con
September 20-22 – Wizard World Ohio Comic Con
October 18-20 – Wizard World Nashville Comic Con
November 22-24 – Wizard World Austin Comic Con
February 7-9, 2014 – Wizard World New Orleans Comic Con