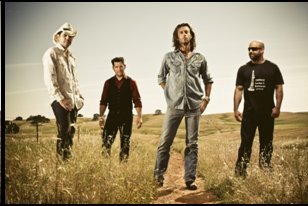 Arizona-based Roger Clyne & The Peacemakers are announcing spring tour dates that take the band down the west coast and up the east coast. Fans can also connect with RCPM at their new monthly live web show, the Cantina-cast, and start making plans for Circus Mexicus XXII, the band-hosted music festival weekend in Mexico this summer.
Starting at The Depot in Salt Lake City, RCPM hits the road (the band's endless sweet spot) March 27, headlining great clubs down the west coast, highlighting two special hometown dates in Tempe, then taking high-profile stages out east. "There are countless ways now to share music but still the most enduring, the most meaningful, most powerful, most human, most fun is sharing it live," says Roger.
March 27 The Depot Salt Lake City, UT
March 28 The Reef Boise, ID
March 29 Hawthorne Theatre Portland OR
March 30 Crocodile Cafe Seattle WA
March 31 The Center of Spokane Spokane WA
April 2 The Assembly Sacramento CA
April 3 The Red Devil Lounge San Francisco
April 4 Fulton 55 Fresno CA
April 5 The Coach House San Juan Capistrano
April 6 Rialto Theatre Tucson AZ
April 12 Marquee Theatre Tempe AZ
April 20 Marquee Theatre Tempe AZ
April 27 Whiskey Off Road Prescott AZ
May 2 State Theatre Falls Church VA
May 3 World Café Philadelphia PA
May 4 BB King Blues Club New York NY
May 5 Middle East Boston MA
May 25 Day of Rock Denver CO
Circus Mexicus XXII is June 6 – 9 in Rocky Point, Mexico. Now yearly, the beachfront music festival attracts RCPM fans from all over the U.S. (and last year, from seven other countries!). Some call it RCPM's "annual pilgrimage" others call it their "can't miss long weekend." This year's lineup is very special, featuring a reunion of The Refreshments with original members together for the first time in fifteen years. Previous guests include Todd Snider, David Lowery and Johnny Hickman of Cracker, Dead Rock West, Cross Canadian Ragweed, and Eddie Spaghetti from The Supersuckers. While there is a full weekend of events planned, the highlight is always the 3+hour RCPM concert. More info is available at circusmexicus.net with a full media announcement due end of March.
With the goal of continual fan connection, RCPM started a new monthly web series, the Cantina-cast. Broadcasting live on livestream.com (with a "studio" audience), the show features acoustic performances, special musical guests, and the anticipated RCPM banter, much like an old school variety show. Fans can submit requests prior to each cast, so every show is tailored just for the audience. The upcoming March 20 episode will include acoustic duo performances, behind-scenes footage from Roger's studio, and a recipe segment featuring Roger's Mexican Moonshine tequila brand.
Roger Clyne & The Peacemakers have released six consecutive albums that have debuted in the top 10 on Billboard's Internet Sales chart, the first independent band to ever accomplish that feat. Two of those albums, 1999's Honky Tonk Union and 2004's ¡Americano!, debuted at #1. That streak of creating timeless rock music continues with RCPM's most recent studio album, Unida Cantina. In addition to their headline shows, RCPM have opened for Dierks Bentley, John Fogerty, Willie Nelson, Barenaked Ladies, Live, Blues Traveler, Sammy Hagar and Kid Rock, among others.
"The music they play is impure, dirty, raw, immediate and larger than life; yet it comes squarely from its center; it's timeless…" – All Music Guide
"…the Bruce Springsteen of the Southwest." – Asbury Park Press
Clyne enjoyed an accomplished stint with The Refreshments, a late-90s rock band whose cult-classic album Fizzy, Fuzzy, Big & Buzzy produced the hit singles Banditos and Down Together. Clyne also wrote and performed the theme song for FOX's animated hit, "King of The Hill." Also in The Refreshments was RCPM's drummer, P.H. Naffah. The band is solidly rounded out by Jim Dalton on guitar and Nick Scropos on bass.
All Roger Clyne & The Peacemakers albums are available in stores and online, and all merch can be purchased at peacetimegoods.com.