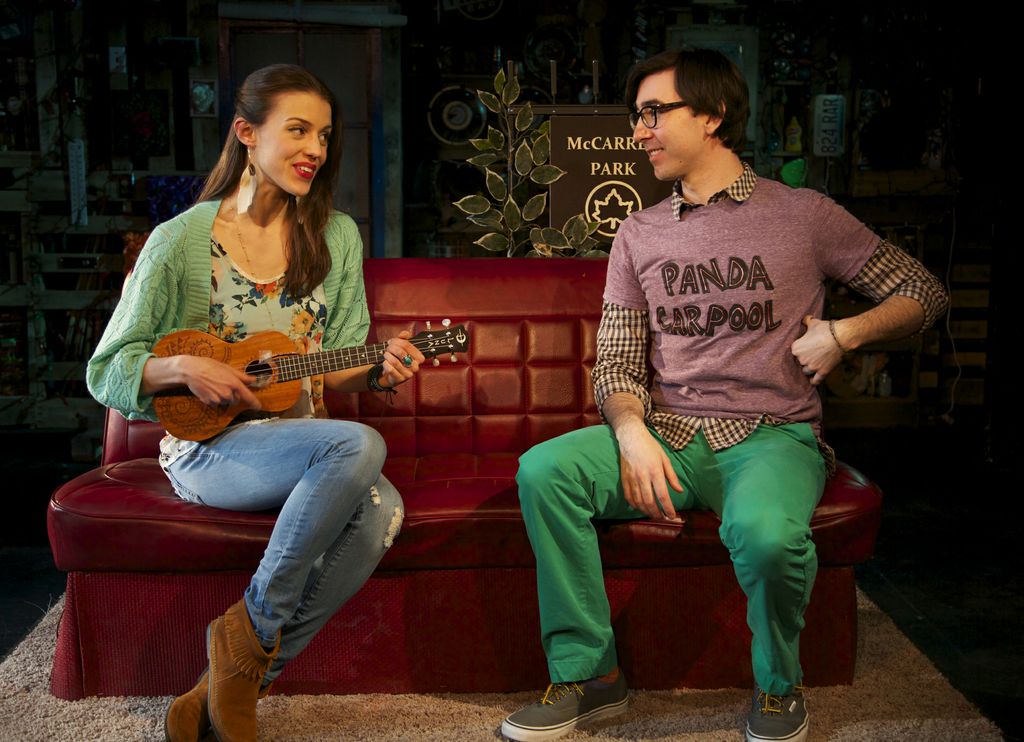 A hot chick on the ukelele, puppets, an orgy and a live band, David Eric Davis' "F#%king Up Everything" has it all.
With memorable music, hilarious, but believable acting and a slew of twists, this production marvels.
Christian Mohammed Schwartzelberg (Max Crumb) isn't your typical Jewish 20-something in Brooklyn. A queer studies major in college and now a trained puppeteer, he's a hipster to the highest degree. When the adorable Julianna (Katherine Cozumel) comes to town, his life is changed forever. This could be it for Christian. He's in love. But when his best frienemy and indie rocker Jake (Jason Gotay) meets the new flame, all of Christian's desires are in jeopardy.
Add in two other love stories, witty pop culture references (Michael Cera will love this play) and the type of dialogue that would make any "Friends" fan smile and you have an engaging performance that absolutely flies by. It's almost sad when it's over.
The laughs and great music just never stop. Davis' script and music are almost in perfect harmony. Just when you get the hunkering for another fun, punk rock or silly track, it comes, almost naturally. Crumb's voice is solid, but it's Cozumel and Gotay that steal the show on vocals. Gotay tries hard to be a punker and although it works, he's more suited for the slower boy band-esque stuff he sings later on. Cozumel is beyond endearing with the ukelele. Imagine "Juno" with extra heart.
That's not to say Crumb can't sing. The guy can totally rock. He just entertains more with his puppets, ranging from Noam Chomsky to The Cure's Robert Smith. Wacky, but inspiring, it's safe to say Crumb's character embodies the shy, lonely person in all of us. While he lacks the sex appeal of Gotay and some of the other characters, you'll instantly love him and enjoy his antics.
The other players include Tony (Douglas Widick), the stoner bassist in Jake's band, Tony's girlfriend and Jake's "bestie," Ivy (Dawn Cantwell) and the monosyllabic drummer (George Salazar). Widick may not have a tremendous role in the performance, but his bass playing and reggae-inspired songs are fun and serve as an excellent catalyst between the more serious scenes. The same thing goes for Salazar, whose facial expressions alone make him a hit. Cantwell may have the best voice on the cast and like Widick, does an excellent job of not being forgettable despite not having a lead role.
However, it is the sexy Arielle (Lisa Birnbaum) who makes the most of a small role. In the show-stealing scene, she sings about her bucket list, which is actually her own way of extending her own needed debauchery. Think Johnny Cash's "I Been Everywhere," but with a more "internal" meaning. At the same time, Arielle has a heart and is able to connect the viewer to the story's larger premise. For such a small role, Birnbaum captivates quickly and makes herself an important part of the production.
With not a wasted song and memorable cast-wide performances, "F#%king Up Everything" is easily a contender for best Off-Broadway show of the year and one that you'll tell all your friends about. "Rock of Ages" meets "How I Met Your Mother," this production has something for everybody.