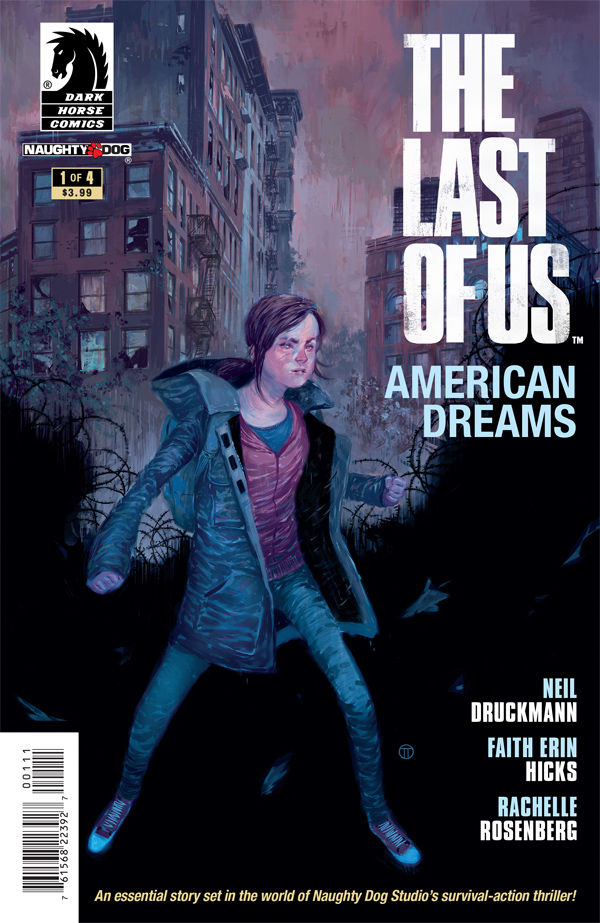 Anyone that has gotten a chance to play "The Last of Us" demo on the Playstation 3 or read about the upcoming game knows it's going to be special. A smart, engaging survival horror romp, it may be the last hurrah on Sony's current generation console.
While co-writers Neil Druckmann and Faith Erin Hicks' comic book prequel "The Last of Us: American Dreams" is far from a mediocre tale, it pales in comparison to the grit and overall grim and gritty nature of the game. More a coming of age gal pal tale, it's readable, but doesn't pack too much of a wallop.
If you dig some of Hicks' pervious work, this will be a must-read. While the art style encapsulates the world well, using dark and dirt tones, the writing is more tame. If you came to the book expecting the same drama from the game, you'll feel like you've been a victim of bait and switch advertising. Those who hunker for every bit of " The Last of Us" paraphernalia will find the change of pace refreshing and different, even if it's more unexpected than anything else.
It's kind of like turning the TV on to watch UFC and getting "Modern Family" instead. While they're both solid shows, they attract a different type of audience. Not everyone will be able to acknowledge the strengths of each. They just want what they want.
Like the video game, Ellie plays a central role. However, her story is the prime focus this time around, not her safety. She got this cute "Juno" kind of way about her; that's what will keep many readers' eyes on the pages. At the same time, issue one doesn't expose or show much- it's more a teller. You'll see Ellie's descent to the militarized zone and her effort to find her way there. That's about it.
While it's essentially void of action, the drama and character development is intriguing. Hicks is fantastic at writing strong female characters. Ellie is that and then some. You'll root for her. She's likable. On that notion alone, the book is a compelling and forgiving read.
The end of the first issue also brings some relief in the fact that it appears Ellie's adventure looks ready to begin. Hopefully that could return the book to its roots and attractive more faithful readers. As it stands now, the first issue of "The Last of Us: American Dreams" is enjoyable, but not in the way you'd expect.