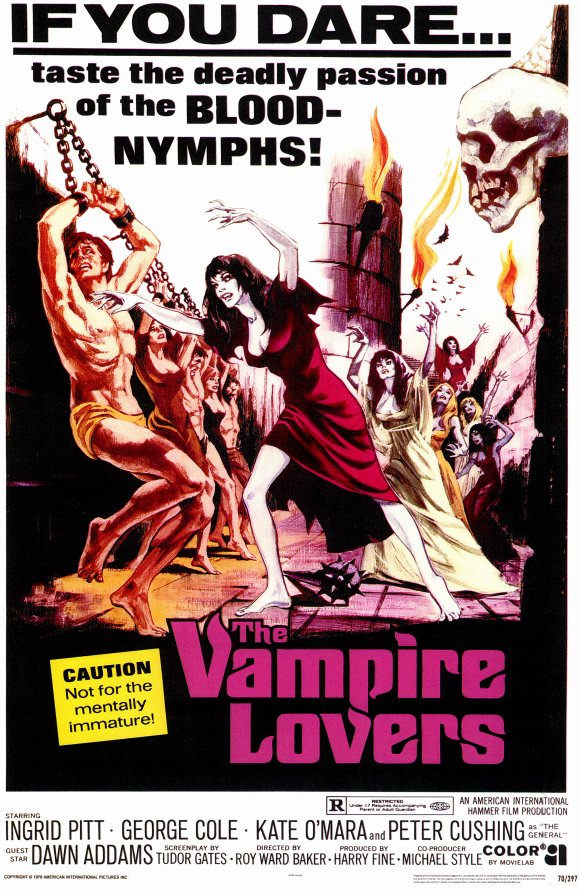 "The Vampire Lovers" will bite on the heart of fans that have a taste for busty, fanged women and sexual innuendo. It provides viewers with a well-written narrative of the feminine perspective that is taken away from the testosterone-dominated world of bloodsuckers.
It also has enough beauties to induce some lustful drooling from Dracula himself.
This movie's taste for women goes more than fang deep with shots filled with beautiful actresses and scenes that display their voluptuous round bouncing bosoms. It seems as if Hammer Film Productions wanted to get a rise out of the masculine audience and though it may sound like soft-core porn, director Roy Ward Baker manages to incorporate nudity without taking viewers away from the spectral plot.
The actors put on a well-performed showing behind the vintage film's sight pleasing green locations and walks through decorative castles of 1700s Europe. The soundtrack creates tension in the characters times of distress and adds to the well-rounded production.
But by the roll of the credits "The Vampire Lovers" will leave you with some unanswered questions. Even though it's centralized around a female vampire, there is a recurring ominous feeling of male dominance. You also won't be impressed by the poorly attempted and almost clumsy stunts.
The cast includes Kate O' Mare, George Cole, Madeline Smith, Douglass Wilmer and Dawn Adams, known mainly for their roles on British television. B-Film legend Peter Crushing rounds out the cast as General von Spielsdorf. Known for numerous films and TV productions, dating back to his first on screen appearance in 1939 up until his last time in front of the camera in 1986, Cushing's name gives the film some credibility.
The star of the film, Ingrid Pitt, was mostly known for her small roles in Spanish films during the 1960s. Later on she earned a supporting role in 1968's "Where Eagles Dare," opposite Clint Eastwood. It wasn't until two years later that she was cast as Carmilia in "The Vampire Lovers," where she became known as the lesbian vampire of the 70s generation.
Director Roy Ward Baker was known mostly for his film, "A Night to Remember," which received a Golden Globe for best English-Language Foreign Film in 1959. His later career consisted around British television and horror productions between Amicus and Hammer Films.
Despite it's noteworthy spot in vampire film lore, this flick is probably not for the most hardcore fans of horror. Regardless, it's great to watch with someone who just wants to hear an interesting tale of lusty chicks with a hunkering for blood. Fun but focused, it's an intriguing take on the vampire tale.