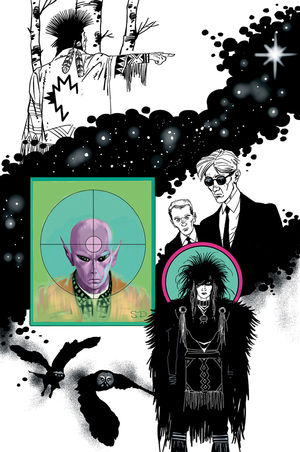 Review Fix chats with "Resident Evil" Suicide Blonde" writer Peter Hogan, who gives us the skinny on what's next in the awesome murder mystery series from Dark Horse Comics.
After the events in the series' first run, the comic's newest adventure, "Suicide Blonde" gets started quickly. In recovery from a gunshot wound, Harry spends issue #0 more in reminiscence than action. Regardless, the thorough backstory shed on the intriguing character, Hogan's intimate writing and Parkhouse's signature art make the latest addition to the series instantly comfortable to returning readers.
Review Fix: After the first run of the series, what was it like to jump into "Suicide Blonde"?
Peter Hogan: A little daunting – things necessarily had to become more complex and there were also more aspects to juggle, since you'll now be seeing more about the government's interest in Harry.
Review Fix: What can fans of the series expect from "Suicide Blonde"?
Hogan: Just that – things get more complex. There'll be more supporting characters, and another murder mystery for Harry to solve. Or is there ? Because as the title suggests, this is a case which is either suicide, or else a murder that's been made to look like suicide, and Harry has to discover which one it is … and his motive for solving it is a personal one, because if it IS murder, then the prime suspect is one of his friends.
Review Fix: What goals have you set for yourself on this new adventure?
Hogan: To make people fall even deeper in love with this comic.
Review Fix: What's your favorite element of the series?
Hogan: Harry himself, because he's so likable.
Review Fix: Issue #0 sheds a lot of backstory, can we expect more of the same in the next batch of issues?
Hogan: There's a lot more backstory to come, but you'll only be seeing a little more of it in the rest of this series. Most of the focus will be on the case that Harry's trying to solve.
Review Fix: From the looks of issue #0, Asta looks to have an expanded role. Without giving anything away, what do you think of her as a character?
Hogan: She's not as sure of herself as she pretends, but she's definitely maturing. In this series she's been warned by her shaman father that Harry could be in serious trouble if he leaves Patience – which is something he has to do to investigate this case. So Asta tags along for the trip, basically to try and protect Harry.
Review Fix: Is she ready for the challenges ahead?
Hogan: Oh yes, I think so.
Review Fix: How do you want this run to be remembered?
Hogan: Well, I think we're slowly building up the town and the supporting cast, as well as all the things that immediately concern Harry and his past. So, this is probably the series where people realize that the story's maybe more involved than it at first appeared to be.