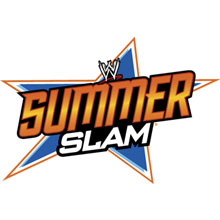 Review Fix breaks down the entire Summerslam card and picks winners for each bout. Continue reading to find out who could come home the big winners and losers in the WWE's annual summer pay-per-view extravaganza.
Matches:
Natalya Neidhart vs. Brie Bella: This could be considered a throwaway match, but it could be an important one considering how Neidhart has been due a real push for months. This could be the beginning of something new for her. A win here for Neidhart puts her right in the Divas title hunt.
Cody Rhodes vs. Damien Sandow: Sandow will be a future World Champion and Rhodes is far from a slouch as well. This will be one of the better matches of the night, a 15-minute, high-energy counter-fest that will end with a Sandow victory via some sort of trickery.
Dolph Ziggler and Kaitlyn vs. Big E. Langston and Divas Champion AJ Lee: Expect this to be one of the opening matches. While Ziggler is an amazing worker, this match is more about Kaitlyn and Lee. Expect Kaitlyn to get her redemption here. This sets up another match between Lee and Kaitlyn for the Divas title.
Kane vs. Bray Wyatt w/The Buzzards: This ring of fire encounter simply has to be won by Wyatt. Otherwise, all the momentum the family has gathered over the last month and half will be for nothing. A loss, done the right way, doesn't hurt Kane's character a bit and propels Wyatt higher up the card.
United States Champion Dean Ambrose vs. Rob Van Dam: Much like the Kane/Wyatt encounter, Rob Van Dam doesn't lose anything here if he doesn't win the U.S. title. Ambrose, on the other hand, needs this win big time. After his promo this week on RAW, where he put himself in the same league as CM Punk and John Cena, a win here helps him try to begin his legitimization process. A loss doesn't help him at all.
World Heavyweight Champion Alberto Del Rio vs. Christian: Del Rio, in spite of his amazing skills in the ring, has run out of steam. A change of pace with a Christian title run makes sense. The fan favorite will also make a solid opponent for Sandow and the host of heel youngsters in the company. This match will be a long-drawn out one, with Christian overcoming a plethora of obstacles and kicks from Del Rio before earning the win.
CM Punk vs. Brock Lesnar w/Paul Heyman: This is going to be a war. Punk will have to deal with Lesnar, Heyman and Curtis Axel. It's not a slight against Punk, but unless he gets some help, the deck may be stacked too much against him. If he wins, it'll be a memorable Summerslam moment. If not, expect this battle to continue, all the way to Wrestlemania.
WWE Champion John Cena vs. Daniel Bryan: This match is eerily reminiscent of the Diamond Dallas Page/Goldberg encounter at Halloween Havoc in 1998. DDP had so much momentum and there were plenty of people that saw him coming out victorious, but even after a hell of a match, DDP didn't have it in him to beat the undefeated Goldberg. The same appears to be the case for Bryan. Although it's obvious now he could thrive as a WWE Champion, Cena's seat on top of the WWE kingdom looks secure, for now. The added element of the McMahon's and Triple H could change the outcome, but all signs still point to a Cena victory. A Bryan title reign would be pretty sweet though.